Drinking
Spooky Must-Try Cocktails For Halloween
By
|
Halloween season is a time for nightmarish excitement, eerie stories, and wouldn't be complete without a thrill themed cocktail to complement these peculiar nights. Mixed in a season that celebrates superstitions, the afterlife, and enchantment, the cocktails below are sure to frighten your taste buds this haunting season.
Breakfast is witching hour when you head to one of Breakfast Republic's eight locations for their Witch's Elixir Mimosa. This concoction is infused with a shot of tropical detox antioxidants cradled by brut bubbles, all finished with a raspberry rim.
Dark Side of the Moon at 20|Twenty
20|Twenty invites you to try the Dark Side of the Moon while you're out seeking a fright in Carlsbad this Halloween season. This concoction features Nolet's Gin, lemon juice, a pinch of butterfly pea flower powder, lavender-infused syrup and is topped with sparkling wine, a dusting of activated charcoal and a small piece of dry ice. This lunar inspired cocktail is so eerie, it will have you howling at the moon.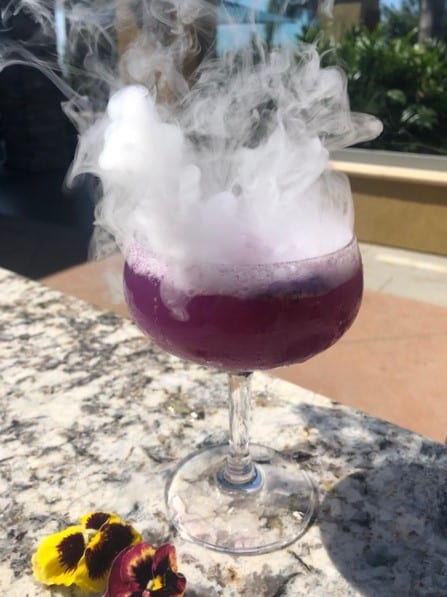 Despite the wariness one may have about Halloween's iconic felines, The Westgate Hotel serves a Black Cat Martini that's free of superstition. This enchanting martini is mixed with Blue Ice vodka, pomegranate liqueur, simple syrup, lemon juice, and is topped with one small cube of dry ice to awaken the "spirits". Take a seat at the Plaza Bar this witching season to enjoy local jazz music while sipping on this alluring mix.
After an exhilarating scare at the Haunted Trail near Balboa Park, the Corner Drafthouse offers a less-than-frightening cocktail to sip as you calm your nerves. The Spookytini features Pumpkin Bailey's Irish Cream and Captain Morgan, while sweet caramel drips from the rim.
Creep on in to Little Italy's Cloak & Petal for an intimate dining and drinking experience. Order the Devil's Advocate, a blend of Caribbean rum, cashew milk, lime, and high ester Jamaican rum, accentuated by Peychaud's bitters. This tropical treat will pair well with any of the bites found on Cloak & Petal's sushi menu.
Stop into El Jardin Cantina for dinner and those 21 and older can sip dreadfully delightful drinks, such as the Handsome Devil. We guarantee you'll love the mix of reposado tequila, fresh lime juice, ginger beer and, raspberry purée.
New Orleans is one of the most haunted cities in the U.S., which means Louisiana Purchase, designed to mimic a restaurant you'd find in the French Quarter, is a great spot to spend Halloween! Venture in to try the oh-so-spooky Voo Doo Carre cocktail. Made with cognac, whiskey, sweet vermouth, Amaro Nonino, peach balsamic, Peychaud's and aromatic bitters, this Southern sip was inspired by the Vieux Carré signature drink of New Orleans. They've also got a drink served from a skull!
Chula Vista's neighborhood eating and drink spot, Tavern at the Vogue, boasts an impressive lineup of beer and brats, but did you know they also feature a mixed drink menu? Come in during the week of Halloween to try the Bloody Maria, a unique twist on the classic Bloody Mary. You'll devour the delicious blend of agave wine, bloody mix and lime, with a Tajin rim.