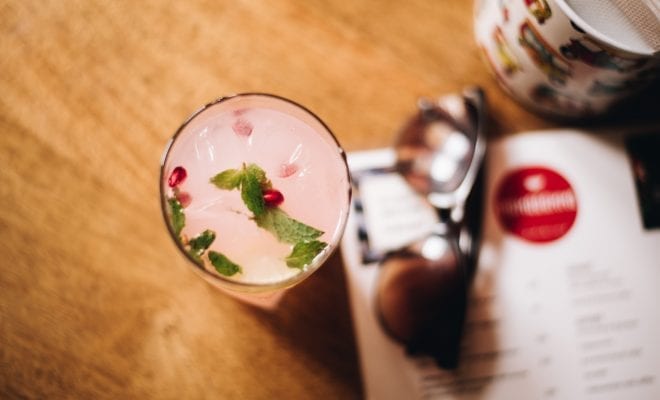 Drinking
Thirsty Thursday: Cozy Winter Cocktails
By
|
We are so spoiled in sunny San Diego all year round that even during the winter months, you'll still find locals strolling the streets in a T-shirt and flip flops. The daytime offers clear skies and mid-60s, even in December, and when the sun goes down, the temperature follows. Still, you're about an hour's drive from getting a glimpse of snowy weather in Julian.
With thin California skins, we do all we can to bundle up and brace for the colder months, and what better way than to start from the inside out? With the winter season comes winter flavors that deliciously warm our bellies with every sip. Check out our favorite picks for cozy winter cocktails that are a must-try this season.
Rum
Although there's no such thing as a white Christmas in Bankers Hill, the Up To Snow Good holiday cocktail at BANKERS HILL BAR + Restaurant will make you feel the spirit of the season. Created by lead bartender Corey Thomas, Up To Snow Good is a combination of Malahat Spiced rum, apple brandy, Amaro Montenegro, allspice dram, black walnut bitters, egg white, and house-made apple cider reduction, garnished with grated nutmeg and fresh cranberries.
The Little Rummer Boy at Havana 1920 will have San Diegans jingling through the holiday season. The cocktail is made with Havana Club Añejo rum, caramelized plantain purée, fresh lime juice, fresh-pressed sugarcane, and R&D Aromatic #7 bitters.
JRDN – Time Killer
This Pacific Beach beacon boasts a stunning view of San Diego's coast. Watch wishful tourists and skateboarders pass as you sip on their Time Killer, the latest libation from JRDN at Tower 23. Mixed with three spiced rums and coconut over crushed ice, the Time Killer brings the California coast a bit closer. Grated nutmeg, Amarena cherries, mint and an orange slice top this drink off. Raise a glass to the holiday season as you watch the sun dip below the horizon.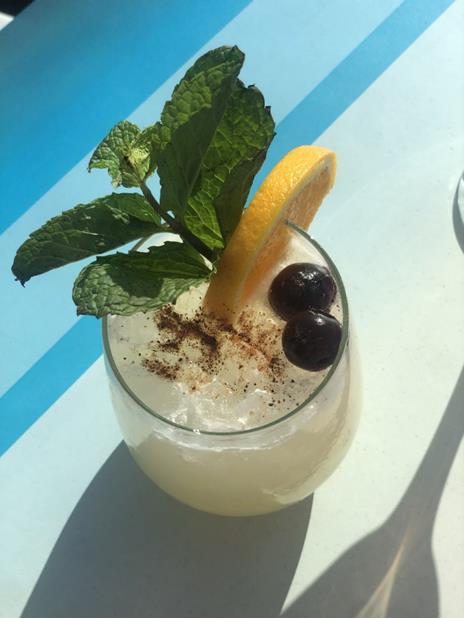 Vodka
Mezé Greek Fusion is making spirits bright with the Cup of Cheer, a holiday cocktail made with vodka, lemon juice, pumpkin cordial, R&D house bitters and pumpkin spice.
Good things come in threes this holiday season at Sugar Factory American Brasserie at Theatre Box with a limited time special of holiday-inspired Smoking Candy Goblets. Our favorite, the Mistletoe Mule Smoking Candy Goblet is made with cherry vodka, ginger beer, cranberry juice, grenadine, lime juice and cherry syrup, topped with candy Christmas wreaths and candy cherries.
barleymash – Mexican Hot Chocolate Martini
Located in the heart of downtown, barleymash is shaking up unique cocktails and dishing up irresistible comfort food. Settle in and sip on the decadent Mexican Hot Chocolate Martini featuring a rich chocolate flavor and a toasted marshmallow to top, this is the ideal holiday libation.
Tequila
El Chingon is bringing Whoville to San Diego with its Resting Grinch Face cocktail, a combination of pumpkin cordial, horchata, and tequila.
Cinnamon lovers are in for a treat at Oceanside's Jalisco Cantina. The Canela Girl showcases a rich balance of cinnamon-infused blanco, spiced rum, orange marmalade and cinnamon syrup mixed with muddled orange, pineapple, and orange bitters. Enjoy with an order of the
Whiskey & Bourbon
Prohibition – Ugly Sweater Weather
The colder weather means it's time to whip out the ugly Christmas sweaters at Prohibition. Ugly Sweater Weather, the featured holiday cocktail is a spin-off the traditional Old Fashioned, made with house-made pumpkin cordial, R&D citrus and R&D house bitters.
If you're looking to enjoy a saucy seasonal experience, Duck Dive's December Cocktail of the Month – Cranberry Sauce'd – is your best bet. Relish the medley of Buffalo Trace bourbon, house-made cranberry simple syrup, cloves and orange bitters for a holiday in a cup.
Set the milk and cookies aside and enjoy the next best thing at Breakfast Republic. The hotspot for egg-cellent breakfast, ambiance and savory sips, head in and try the Bourbon Milk Punch. With bourbon, Averna, sweet vanilla, milk and sea salt, this creamy concoction will be your new go-to.
Elevate your holiday spirit with a give-back mentality and enjoy cocktails for a cause at Farmer's Bottega, in Mission Hills. Order the All for One, a cocktail that donates $1 to a Local Firehouse nonprofit! Sip and savor Irish whiskey, lime juice, muddled mint, and ginger-infused simple syrup, a combo that is sure to warm you up all season long.