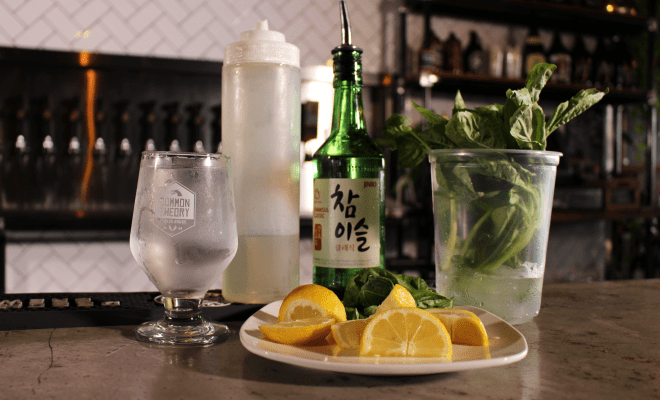 Drinking
Thirsty Thursday – Basil Lemonade From Common Theory
By
|
Happy Thirsty Thursday, San Diego!
The SD Entertainer continues to provide our readers with the best new finds and trends that San Diego has to offer. Every Thirsty Thursday, we continue to work with some of the most sought after Mixologist's in the area. This week, we met up once again with Cody from Common Theory Public House to get an insider look at the Basil Lemonade.
Watch the video below to make this recipe for friends and family or stop by the restaurant to try this cooling cocktail.
The Basil Lemonade is a nice, refreshing cocktail spritzer that the restaurant offers and is most popular during the summer time. The tangy drink contains fresh basil, fresh lemon, Soju as the base spirit, simple syrup, and soda water.
The first step in making the cocktail is to muddle the fresh basil and the fresh lemon with simple syrup to capture the lemonade essence. The muddling essentially releases all of the flavors of the fresh ingredients and is always done before adding the Soju.
Bartender Cody then adds about four ounces of Soju before topping the drink off with ice. He then gives the drink a nice hard shake, and strains the liquid into a signature branded Common Theory Public House glass.
To finish up this delicious, but simple cocktail, Cody adds more ice, soda water and garnishes the beautiful drink with fresh lemon and fresh basil.
While this cocktail will cool you off every summer, it's rich flavor will do the trick all year long. If you're feeling lazy, stop in to see Cody at Common Theory Public House. Tell us what you think of the Basil Lemonade and show us your at-home creations!
Until next Thirsty Thursday, San Diego.