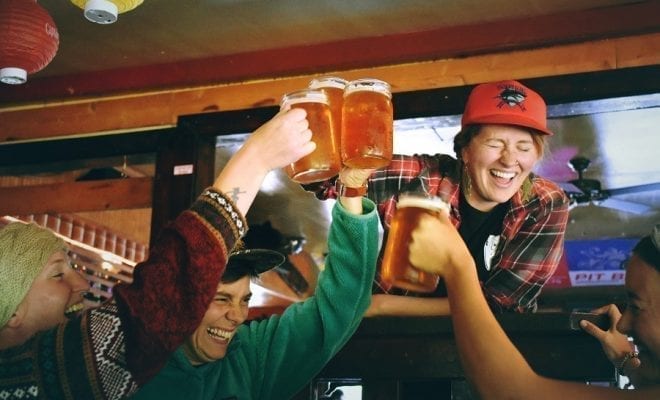 Drinking
San Diego's Best Sports Bars
By
|
With summer over, we are forced to say goodbye to hot, sunny days, but this isn't a case to worry! We are entering into prime sports time. San Diego has an interesting relationship with sports. With no championships to speak of and years of mismanagement by home-town teams, it's no wonder San Diego fans need a drink to get through the season. That, combined with our sizable military community, tons of colleges with out-of-town students and a huge tourism industry, it can be an interesting dilemma to find a spot to watch a game. Still, San Diego has a knack for getting into the spirit for all the upcoming sports action; whether it be MLB, NFL, or NCAA, it all brings us together. Even if you're rooting for different teams, there is still some fun in a little friendly rivalry, delicious food, and an ice cold drink.
Just in time for the weekend, we've put together our top list of sports bars to catch a game. With college football and NFL games on the roster for the weekend, these bars provide a wide variety of options for sports fanatics and casual observers. Do you prefer to watch the NBA, NHL, UFC, soccer, or any other sporting event? Don't worry. These bars will surely cover anything that's on TV, so rest assured. What better way to enjoy a day of games than to check out some of the best sports bars in all of San Diego? From the best deals around to mind-blowing giant-screen TV's, these are the places you'll want to be with all your friends on game day. 
PACIFIC BEACH SPORTS BARS
832 Garnet Ave, San Diego, CA 92109
This laid back bar and restaurant is perfectly "PB". With a coastal American menu and a ton of TVs, it's a great spot to watch sports. Sunday brunch, DJs, and good food make it a good spot for any night of the week.
4656 Mission Blvd, San Diego, CA 92109
Located on the northern end of Pacific Beach, Dirty Bird's is a smaller sports bar known for great wings (there are over 37 flavors of wings). On Monday, they have All You Can Eat Wings for $15.99 from 6pm-close. With Saturday and Sunday specials including $4 Resident Drafts, $14 Resident Pitchers, $12 Champagne Bottles, $3 Mimosas, $17 Domestic Beer Buckets, why not check out Dirty Birds?
1269 Garnet Ave, San Diego, CA 92109
Tap Room is one of the best spots in Pacific Beach to find a huge selection of craft beer on tap. With a selection of TVs to choose from, it's a good spot to check out a game.
Mavericks
860 Garnet Avenue, Pacific Beach
Located just steps from the ocean, Mavericks has proven to be one of the premier destinations for getting your fill of sports viewing. This multi-level entertainment complex is complete with 5 indoor/outdoor bars, 38 TV's, and Baja-inspired food. Mavericks is the mecca for sports-filled Saturdays.
Carlsbad
3040 Carlsbad Blvd, Carlsbad
One of the newest additions to the Village, Park 101 is quickly becoming a fantastic location to check out for your next sports bar venue. This multi-level plaza style complex is mostly outside, with plenty of tables, TV's, and games to keep you entertained. 32 local craft beers on tap, a hearty BBQ menu, and the Carlsbad ocean air – Need I say anything more? Plus their 5-5-5 Football Specials, offered every Sunday and Thursday includes $5 Select Brews, $5 House Bloody Marys, $5 Cupcake Prosecco Mimosas, and 1/2 Off Wings.
Bayfront/Mission Hills
3701 India St, San Diego, CA 92103
This English pub in Mission Hills is the hot spot to watch football of the international variety (aka soccer). They serve authentic Fish and Chips that have won numerous awards over the years. Draught and bottled beers here reflect the very best from Britain, Ireland, and mainland Europe. Their website says, "enjoy games from the Champions League, Barclays Premier League, and The FA Cup, as well as Rugby, NFL, MLB, NBA and more. Although Shakespeare Pub & Grille is best known for its live broadcasts of Football (Soccer) matches, we also proudly support The Padres, Chargers and other sports." So there you have it.
North Park
3815 30th St, San Diego, CA 92104
True North, located on 30th Street in the heart of North Park, this bar is big. With a ton of TVs in the main area with more outside, plus some patio seating out front with great views of the TVs, it's a hot spot on Football Sundays. Food is good and beer is great. They have some cocktail options and carafes that are pricey, but delicious. The crowd can get pretty big, but as mentioned, there's lots of space to accommodate.
End Zone Sports Bar & Grill
2859 University Ave, San Diego, CA 92104
This lesser-known sports bar in North Park stands up against the competition. With good beer (as you'd expect in North Park), great service, and a wide variety of games, this place is a great place to be. This smaller-scale bar may get crowded on game nights, but check it out now before it gets noticed by too many folks around town.
Ocean Beach
5083 Santa Monica Ave, San Diego, CA 92107
Located in the heart of OB, this ocean view sports bar is the perfect mix of So Cal vibes and sports fandom. They've got a decent beer list, solid food, and a view that can't be beat. With $20 Buckets of Beer,you'll be lubed up and ready for the game.
Gaslamp/Downtown
600 Fifth Ave, San Diego, CA 92101
Great food, tons of local beer on tap, and a jumbo-tron? This upscale but casual sports bar brings the best of all worlds. Located in the heart of downtown, you won't be disappointed.
715 J St, San Diego, CA 92101
Located right next to the ballpark, it's a hot spot before baseball games. Football fans flock to the area as well. With lots of space, a wide selection of beer, and TVs spread around the bar, you'll be able to check any game you want.
1065 4th Ave, San Diego, CA 92101
From NFL and college football to UFC, they've got a great selection of games to catch. Food is great and beer list is impressive. They often have specials, such as endless champagne on Sundays until 2pm.
815 J St #101, San Diego, CA 92101
Just steps from legendary Petco Park, Social Tap is in the thick of it when it comes to sports. This is the premiere spot for Padre game days, but with their Directv sports package, you'll be able to catch every game on. Hopefully they're playing your preferred game on one of the stunning 90" and 110" screens! The kitchen serves up killer free-range burgers, carnitas tacos, and a wide range of sandwiches and other mouth-watering meals. Social hour runs from Mon-Fri 3-6pm and Sundays 4pm-close, with $3.50-$4.50 glasses of wine and beer of the day.
Bay Park
1801 Morena Blvd, San Diego, CA 92110
The call themselves "San Diego's Original High Class Dive Bar." With traditional home-style cooking, craft beer (or the regulars), and even pinball machines, it's a great spot for a good time. With Sunday Funday $10 bottles of bubbly, the whole crew will have a good time. They don't have a ton of TVs, but the vibe makes up for the lack of large screens lining every wall.
Point Loma
1872 Rosecrans St., Point Loma, CA 92106
This laid-back bar is perfect for NFL Sundays, with their $15 bottomless mimosas starting bright and early at 9:30am. On Mondays, catch the $5 IPA's from 7pm-close, and Thursday's Kick The Keg, showcasing specialty beers from the best craft breweries around. All the while, catch the game on crisp 4K TV's.
Kearny Mesa
8199 Clairemont Mesa Blvd., San Diego, CA 92111
With a whopping 60 flat screen TV's and an HD projection screen, you're gonna find it hard to not even be in a direct line of sight with your game of choice. The Bullpen has what it takes to be a sports bar, hands down. On football Sundays, they open bright and early at 9:30 am. Into UFC? Check out their Fight Nights for an experience like no other. Grab an order of their wings and an ice cold beer, and you're set.