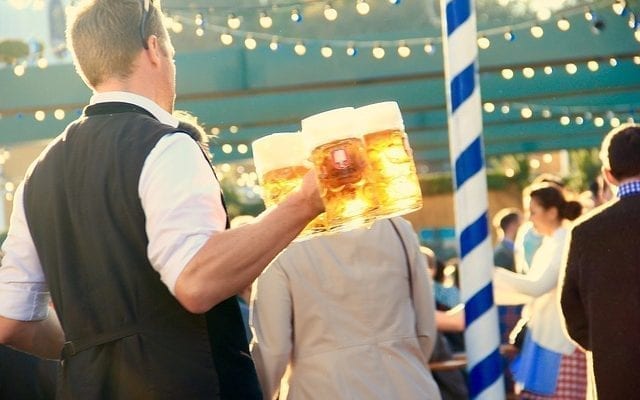 Drinking
2018 Oktoberfest Events in San Diego
By
|
Ah, Oktoberfest. Originally celebrated in honor of Germany's royal family in the early 1800's, this festival has three simple goals: drink a lot of beer, eat a lot of food, and enjoy the company of those around you. Lucky for you, there's no need to make it all the way to Germany when there are plenty of Oktoberfest celebrations right here in San Diego!
September 28 – October 7
This 10-day celebration is taking place at Liberty Public Market, and it's shaping up to be a festival to remember. Seven of the top craft breweries will be filling steins all day. There will be a variety of fun games to play with awesome prizes to be won, and each day will feature a different event. From beer and cheese tasting on Monday, to the Beerlympics on Thursday, don't miss out on this event!
October 6-7
"The Pursuit of Hoppiness" is coming to Downtown Columbia District. Sponsored by Music Box, this event will span a 55,000 sq. ft. block of India Street, with booths serving up traditional Bavarian pretzels and bratwursts. German music will be blasting through speakers, and did we mention there will be beer? Lots of it. If costume contests are your thing, come dressed in your finest Oktoberfest gear, and be ready for a celebration to remember. Tickets will range from $15 to $50.
October 6-7
This fall tradition will bring thousands of people to enjoy German food, beer, live music and entertainment! With a festival kick off courtesy of Rob the DJ, along with live bands like Bluebirds, there will be plenty of memories made. Grab some authentic German grub, maybe a beer or two, and enjoy the evening. Plus, there will be plenty for the kids to do! With a pumpkin decorating contest, inflatable jumpers, face painting, and whole bunch of other activities, the whole family is set to have a great time! Tickets will range from $10-$20; children under 10 are free.
October 12-13
A beachside festival revolving around beer, food, and live music? Could it get any better? The OB Oktoberfest has all of that and more. This two-day celebration kicks off Friday, with an all-ages live music stage, craft and merchandise vendor areas, Stein-holding contest, and 21+ Beer Garden. Saturday brings another day full of activities, including a Sausage Toss competition, Bratwurst-eating contest, and much more! This event is free, with Beer Garden entrance fee of $5.