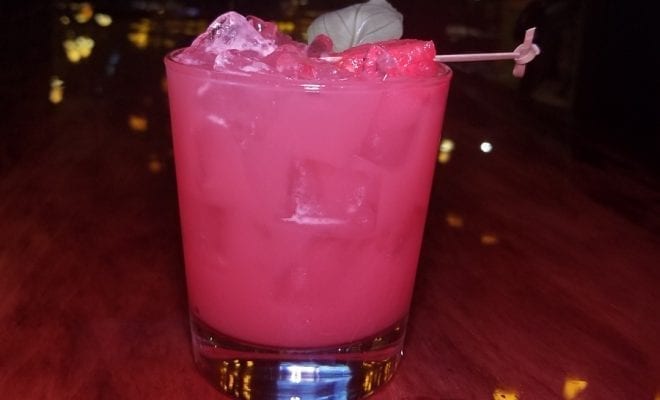 Backdoor Betty's "Bright Delight" Cocktail
Drinking
The Secret is Out: Backdoor Betty's Quietly Launches in Hillcrest
By
|
Hillcrest's newest cocktail lounge Backdoor Betty's breaks the mold  — an upscale concept from the masterminds that brought us Mo's, Gossip Grill, and Baja Betty's. The speakeasy in the back of Baja Betty's offers elevated cocktails in an intimate setting. It almost feels like an irreverent shrine. In addition to the typical speakeasy décor (skulls, dim lighting, faux candles, dark wood), some of Hillcrest's most established hospitality heroes are capture in Dia de Muertos style portraits. Your drinks are not made by a bartender but by a "spirit guide." And, to add a little mischief, a mash-up of sexy slap scenes from Telenovelas play on repeat.
But the highlight at Backdoor Betty's is the cocktails. And the cocktails shine with out-of-the-box ingredients, unique spirits, and creative flavors. The most popular cocktail, the Beso de Muerte, features local liquor Skrewball Peanut Butter Whiskey, which I predict will soon take San Diego by storm. The peanut butter flavored whiskey is combined with Mr. Black Cold Brew Coffee Liqueur and Bitterman's Mole Bitters, served up with a smoked sea salt rim. The Beso de Muerte is sure to become the signature cocktail that puts Backdoor Betty's on the map.
With a similarly rich and complex profile, the Rye Chai brings together High West Double Rye Whiskey and Chai Latte Syrup, with Fee's Aztec Chocolate Bitters, orange rind, and a cinnamon sprinkle.
Another highlight is the El Fantasma De Francisco. The spirit forward cocktail features Woodford Double Oaked Bourbon and combines it with Francisco Chamomile Fernet and Bitter Queens Chinese Five Spice Bitters. Fernet is a favorite of bartenders, but trying the Chamomile version was a first for me. The chamomile subtly balances the menthol of the liquor, while boosting the herbaceous flavors.
For a lighter, fresher cocktail, try the Bright Delight. Perfect for summer, Bright Gin is combined with basil syrup. fresh watermelon juice, and fresh lemon juice, served on the rocks. (Feature Photo)
To get to Backdoor Betty's, visit Baja Betty's and enter your name and info on the iPad at the front. Use the code you are given at the keypad near the yellow mirror. Open Tuesday-Saturday 7pm-12am at 1421 University Ave, San Diego, California 92103.