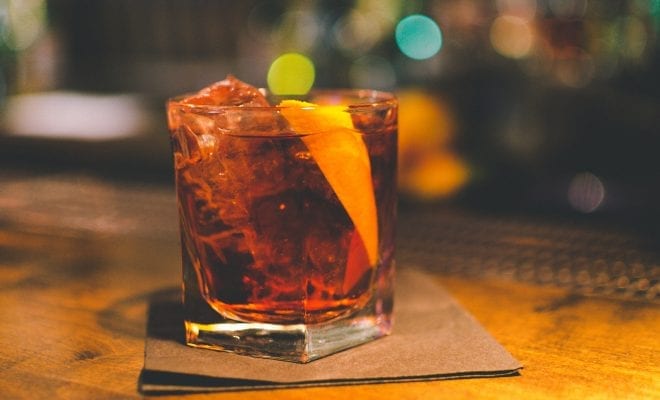 Drinking
Father & Son to Roll Out Premade Craft Cocktails and Limoncello
By
|
A few years ago, I was in Carmel-by-the-Sea and our group popped into a fabulous Bistro in downtown Carmel called Little Napoli. Not only was it a cool spot with it's Italian motif, but the food was some of the best Italian I've had in California.
During one of the visits, I introduced myself to the owner, Rich Pepe, affectionately known to friends, family and regulars as Pepe. We chatted and he was a very interesting guy, clearly passionate about food, wine and spirits, and about his restaurant.
So when I discovered that Pepe and his son Christian had created some unique libations recently, I simply had to follow up (all in the line of duty, of course) with them. I caught up with the pair a few weeks ago and they filled me in on their exciting new offerings, and of course, I was required to ask for samples, once again proverbially taking one for the Entertainer & Lifestyles team.
E & L Magazine: Pepe, thanks for taking a moment with me. As the patriarch, you have created your very own Limoncello, aptly named PepeCello. PèpeCello is an all-natural limoncello liqueur that's hand-crafted in small batches in Sorrento, Italy. The family recipe is made with only 100% I.G.P. certified organic Sorrento lemons, which make all the difference in taste. Not to mention it's origin story dating back to 1902, which recipe has been passed down in your family for generations. What makes PèpeCello unique and different from other limoncellos in the market?
Pepe: Well, you just said it. Most commercial limoncello is made from common lemons, sugar, water, and grain alcohol with the addition of lemon flavorings, yellow color, and preservatives. PèpeCello is made only from organic, estate-grown Sorrento lemons which are grown exclusively for the oil, flavor, and aroma of the thick lemon skin. Because PèpeCello follows the rules of the Limoncello di Sorrento IGP Consortium, no flavorings, colorings or additives are allowed. It's the real thing!
E & L Magazine: Nice! Why was authenticity important to you when it comes to making PèpeCello?
Pepe: When you think about Italy's most famous food and beverage products, such as Reggiano Parmigiana, Prosciutto di Parma, Pomodori di San Marzano, or Brunello di Montalcino, these are all protected names with strict growing or processing rules. PèpeCello is proud to claim a similar distinction with its Limoncello di Sorrento IGP. Like I said, it's the real thing and the flavor is totally unique to that region.
E & L Magazine: Christian, you are in charge of Doc Pepe's lab. And right now, you are presenting some very unique pre-made cocktails. Tell us about makes Doc Pepe's Lab unique and different from other pre-made cocktails in the market? 
Christian Pepe: Doc Pepe's Lab cocktails are barrel-finished, meaning that the entire cocktail has been rested in a barrel selected to enhance the blended flavors of the cocktail. For example, the Old Fashioned is one of these pre-made cocktails. The cocktail is rested in a Caribbean Rum barrel to bring out notes of caramel and vanilla. Also, many of the individual cocktail ingredients are prepared at the Lab to ensure authenticity. In the case of the Negroni, all three of the classic cocktail ingredients (London Dry Gin, Bitter Orange Liqueur, Sweet Vermouth) are batched individually at the Lab before being blended together. The hand-made, small-batch, labor of love nature of the product is what sets us apart.
E & L Magazine: Christian, why did you decide to start making Doc Pepe's Lab? Can you talk a little bit about the process it takes to make a single bottle?
Christian Pepe: Conceptually, I immediately loved the idea of a barrel-aged cocktail, specifically the idea that one could create a mixed drink that was more than the sum of its parts, something that could not be replicated from scratch in seconds like every other mixed drink at a bar. I remember the first time I tasted a Negroni that had spent 6 weeks in a small bourbon barrel and being amazed at how rich and flavorful it was. It had incredible texture, very velvety and smooth, with added vanilla and spice notes from the bourbon barrel, and I was smitten. I bought some 5-gallon charred oak barrels and started experimenting, and eventually started bottling what I created. I wanted to do what really hadn't been done before, which was to create an ultra-premium pre-mixed cocktail, which is a concept that is still baffling to many people. I want to change the paradigm.
Using the Negroni as an example, here is the basic process of creating a single bottle. Gin is distilled in a London Dry style using a recipe that I've been tinkering with for years using high-quality Italian juniper berries. Bitter Orange Liqueur (the red stuff), is prepared by maceration of fresh Valencia orange peels from California, as well as nearly a dozen other roots, herbs, and spices in a base of organic wheat spirits. Sweet Vermouth is prepared according to a very old recipe for Torino-style Vermouth that uses a base of California Muscat wine, and an infusion of traditional botanicals, many of which are difficult to source. Once each of these three ingredients is ready, they are blended together in a large tank, and then transferred to used bourbon barrels sourced from Kentucky, and left to rest for at least 3 months, but usually a little longer. Once out of the barrels, the liquid is then filtered, bottled, and labeled.
E & L Magazine: Guys, thanks so much for the 'look behind the curtain', and of course, the samples- they are all incredible!