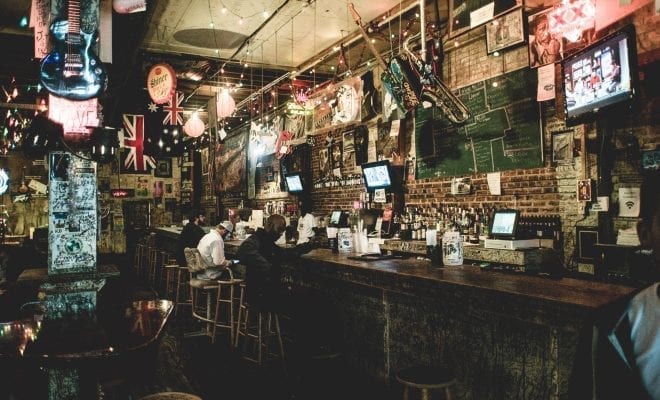 Drinking
Authentic Irish Pubs to Celebrate St. Patrick's Day
By
|
What better way to celebrate St. Patty's Day than in an Irish pub? Whether you are looking for a shot of whiskey, a place to play lawn games, some authentic food, or good music–San Diego has it all! Here are a few of our favorite pubs that we thought you might want to check out.
Every night is an Irish night at The Field. Located in the Gaslamp, taste their classic fish and chips with a glass of Guinness for an Irish experience that will make you feel like you are in the homeland. Pieces of this pub were shipped directly from Ireland, and the heart and soul behind this restaurant are unmatched. Their top priority is creating an inviting atmosphere, bringing the true Irish hospitality to the heart of San Diego.
Location: 544 Fifth Avenue, San Diego, CA 92101
The Ould Sod is one of San Diego's oldest bars. Technically, the bar itself is actually the third oldest licensed establishment in San Diego, first opening its doors to patrons away back in 1940 as "Ryan's bar". On New Years Eve 1989 it was transformed into "The Ould Sod." Located in Normal Heights on Adams Avenue, the space has recently grown, adding a beer garden and patio area for its guests to enjoy more open seating and bar games. They are celebrating the holiday on the weekend, with $10 off Midelton Rare, $2 off premium Irish Whiskey, and only $4.50 for a regular Irish Whiskey. Deals will be going all day on Saturday and Sunday, with a karaoke special from 9PM-1:30AM on Saturday night.
Location: 3373 Adams Ave, San Diego, CA 92116
Pieces of Dublin Square have been shipped from its 300-year-old sister store in Ireland. How cool is that? If you are looking for a place that feels authentically Irish, this Gaslamp District pub won't steer you wrong. Order the "Molly Malone's Shamrock Trio" for a combination of shepherd's pie, Irish lamb stew, and O'briens onion rings. What's more Irish than that? 
Location: 554 4th Ave San Diego, CA 92101
Nestled in the heart of Clairemont, this pub knows how to party. You know if a bar has a pre-party the week before, than the real shindig is going to be off the hook. Head on over to the pub that is known for its Irish tunes and great bartenders, and celebrate the holiday the classic way. 
Location: 5617 Balboa Avenue, San Diego, CA 92111
"If you cannot go to Ireland- Come to O'Sullivan's!" With a tagline like that, who can resist? Check out O'Sullivan's Carlsbad or Escondido location this St. Paddy's Day for an afternoon of music and good food. Doors open at 10AM, with band performances starting at 1PM. Come prepared for a $10 cover charge starting at 3PM. The party continues Saturday and Sunday night as well, if you're looking for a little more Irish in your weekend.
Location: 640 Grand Ave., Carlsbad, CA 92008 and 118 E. Grand Ave., Escondido, CA 92025
Don't want to settle on just one bar? Check out the San Diego Shamrock event for food and drink from over 25 restaurants!