Dining
Fall Flavors We Can't Get Enough Of
By
|
There's something special about the fall season that makes everything so comforting. The colder weather, cozy clothes, warm drinks, seasonal cocktails, and fall flavors all add to this lovely time of year. To get in the spirit of the season, here are some delicious meals with fall flavors we can't get enough of, and we bet you'll absolutely love them. 
Food
Executive Chef Timothy Ralphs is bringing his signature flair to the flavors of fall with a brand new dinner menu. Fresh starters include a Persimmon Carpaccio with candied grapefruit, petite anise and mascarpone, a Portobello Pizza with roasted mushroom crust, baby greens and truffle ricotta fennel confit, and his Ahi Taquito with mango, avocado and tobiko. Larger plates include a Campbell River 'Pastrami' Salmon with golden beets, apple puree and dill mustard cream and Venison Rack with garnet yam, blackberry and port wine. Don't forget dessert either, as they have a killer new Freddo, made with frozen yogurt, plum jam, beet cake, and pecan pie. 
In celebration of its 5th anniversary, The Cork & Craft is debuting a fall seasonal dinner menu helmed by Executive Chef Scott Cannon. Starters include choices like his Roasted Beets with Compressed Pear with goat cheese, shaved brioche, frisée and ginger green goddess, and Steak Tartare with grilled sourdough, celery salad, beef fat powder and celery root purée. For an entree, check out Cannon's Grilled Salmon with Squid Ink 'Chowder', roasted celery root, broccolini and celery root purée. Meat lovers can enjoy the Pork Tenderloin made with maitake mushrooms, poached sunchokes, swiss chard and honey mustard tarragon jus.
Drinks
Coffee shops make the fall season go round' and Spill the Beans is no exception. Stop by and try out new fall flavors like the Maple Blondie, made with white chocolate, brown sugar, maple spice, milk, and espresso. Cold brews are always an option regardless of the weather, and the Punk-in Cold Brew is a nice blend of pumpkin, white chocolate, and cream. Of course, you can always switch it up with a Caramel-Apple Chai, infused with a rich caramel-apple simple syrup. If you're feeling hungry, spring for a Holiday Turkey Sando topped with cranberry spread and served on a holiday bagel. 
Cinnamon is an absolute fall staple, and the Rum Butter cocktail here exemplifies this flavor delightfully. Crafted with Captain Morgan, apple cider, and cinnamon, this cocktail is simplistic yet packed with exceptional flavor.
Try their Sucker Punch, a seasonal concession which includes Jameson, blood orange ale, fresh beet cordial, ginger, and bubbles. Sure to warm you right up, make sure you visit between 3:00-6:00 PM Monday through Friday to get half off!
Whiskey is a staple liquor during the fall, and if there's anywhere that does this drink right, it The Whiskey House. Order one of their classic Whiskey Sours, tastefully topped off with bourbon, passionfruit, cinnamon bark, and lemon.
Offering a Farm Made Red Sangria, Farmer's Table gets in on the fall spirit with the sweet and seasonal drink that pairs perfectly with any meal. Plus, a dollar from every Sangria sale goes towards supporting PAWS4THOUGHT Animal Rescue.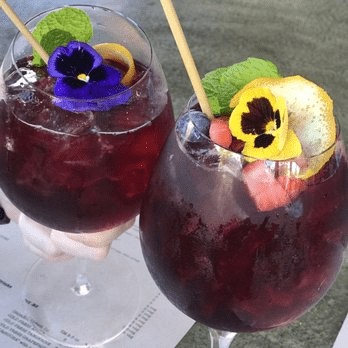 A bid to the bold, Waterbar is offering The Conch of Triton, a smooth sipping drink made with Appleton Estate Rum, Grand Marnier, lime, orgeat, simply syrup, and passionfruit foam.
Treat yourself to their Smokey Apple cocktail, an elegant drink including applejack, benedictine, averna, Rose Vermouth, and Xicaru Mezcal for a touch of smokiness.