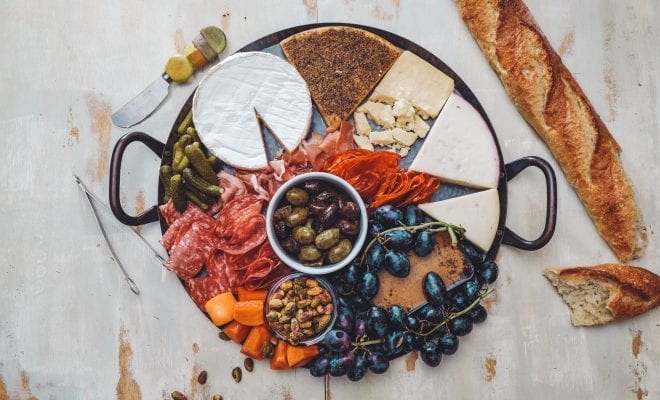 Dining
How To Make the Perfect Charcuterie Board
By
|
A charcuterie board is perfect for any occasion: afternoon outdoor picnic, date night in, or appetizer for a holiday party. You name it, a charcuterie board is a real crowd-pleaser. I mean, what's not to love? Exotic cheeses, smoked meats, and all the fixings that make snacking with loved ones that much more delicious. If you're playing host this holiday season and want to impress your guests, here are some tips on how to build the perfect charcuterie board.
First Thing Is First…
The Perfect Board
Figure out the sizing of the board you want to use. For a rustic vibe, you may want to go for a handcrafted wooden board. For something more modern, a round marble board works well. A dark stone board can provide a sleek look. Whatever occasion and style you're going for, select a board that has more than enough room for the many bites you'll be laying out, so that there is enough space between nibbles. Don't forget to include toothpicks, napkins, serving spoons, and appetizer plates for your guests.
Our Picks:
This board comes with 4 bowls and 4 knives for a top-notch charcuterie presentation. ($53.99)
This board has handles for easy portability. ($42.99)
Assembly
There is a lot of ground to cover when assembling your board. You want to make sure you have a wide variety of flavors that can pair well with each other. Different textures are also important for a charcuterie board. Give your guests an idea of what items pair well together by keeping them close together.
1. Cheese
For cheese, think about having a variety of textured cheese including soft, firm, smoked, and or creamier cheeses. The best cheese to include in a cheese board are:
Soft and Creamy: Brie, Goat, Camembert, Mozarella
Firm: Manchego, Parmigiano-Reggiano, Edam, White Cheddar
Crumbly: Gorgonzola, Feta, Goat
Smoked: Smoked Gouda, Provolone, Cheddar
2. Meats
When adding meats to your board, you should have a variety of cured meats such as; smoked, salty, peppered. These will pair well with the fruits and cheese on the board. Some of our favorite options are:
Salty: Prosciutto
Peppered Meat: Black Pepper Dry Cured Sausage, Salame Calabrese, Pepperoni
Smoked: Salame Napoli
Herb: Italian Herb Dry Cured Sausage
Deli Meat: Sliced turkey, sliced ham
3. Bread & Crackers
Bread and or crackers are essential to the charcuterie board. They provide a finger size plate for all the goodies on the board. Here are some suggestions:
Breadsticks
Whole Wheat Crackers
Pretzels
Sliced Baguette
Garlic and Onion Triscuit Crackers
4. Sauces
Add some sauces to the board to complement the cheeses and meats. Spicy or sweet mustards go great with meats, while honey and jams balance out the cheeses. Here are some sauce recommendations we love:
Spicy Brown Mustard
Sweet Mustard
Fig Jam
Honey
5. Fresh Fruits
Then add some fresh fruits to your board so you have a good balance of salty and sweet. Ideas include:
Figs
Grapes
Berries
Apple slices
6. Nuts & Olives
Garnish your board with some savory finger food bites. Some good options include:
Pistachios
Almonds
Cashews
Cerignola Olives
Kalamata Olives