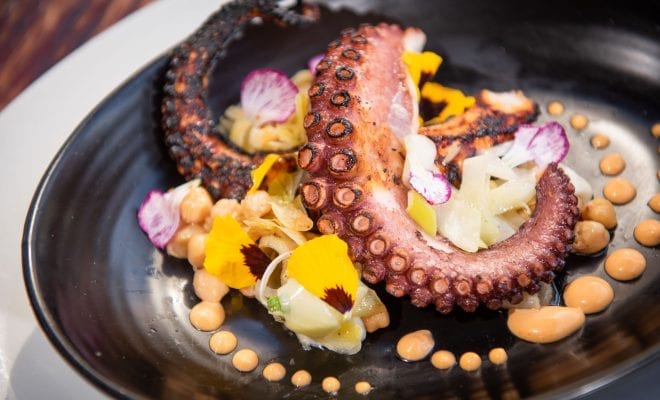 Dining
Experience the Best Of San Diego's Culinary Excellence at Osetra Seafood and Steaks
By
|
When it comes to fine seafood dining in San Diego, there are few out there that have exemplified such a degree of culinary excellence as that of Osetra Seafood & Steak. Nestled in the heart of the Gaslamp Quarter, Osetra has been serving the city of San Diego since 2006, making a name for itself as an elite dining establishment in an already competitive culinary scene.
Osetra's 9,500 square foot restaurant provides an upscale dining experience that is the epitome of San Diego nightlife. The restaurant counts among its many accolades the titles of Best Seafood and Best Romantic Dining in San Diego, making it the perfect spot for any luxurious occasion. Quality and elegance are apparent from the minute you step in. You're met with a sleek bar, opulent private dining rooms, and a three-story wine tower.
Speaking of wine, Osetra's selection is world-class, offering a dizzying selection of fine reds, whites, and sparkling. The bar offers an excellent collection of craft cocktails, as well as a list of local craft beer and sake.
They take pride in offering only the best locally-sourced seafood, electing to prioritize consistency in execution and highlighting the fish itself in each of their dishes. Guests are encouraged to start off their dining experience with a selection from the raw bar, with favorites including East and West Coast Oysters, Chilled Lobster, or the Seafood platter, which includes freshly caught Oysters, Alaskan king crab legs, and Maine lobster.
For the main course, Osetra offers a comprehensive selection of seafood and prime cuts. All of Osetra's steaks are dry-aged, with options ranging from Filet Mignon to hand-cut to order Japanese Wagyu Beef. The seafood menu is, of course, accentuated by a selection of Fresh Catch options like Chilean Sea Bass, Swordfish, and Whole Maine Lobsters boiled or steamed to perfection.
A comprehensive sushi menu is another attractive option for sampling their incredible, fresh seafood. Elect to try the Osetra Roll, complete with shrimp tempura and spicy lobster roll in soy paper and topped with tuna, avocado, garlic aioli, chili oil, eel sauce, and microgreens. Of course, the Nigiri Plate, which includes fresh tuna, shrimp, salmon, and yellowtail, is an ideal choice for the pure seafood lover.
Dessert is a no-brainer here, with each sweet delight followed up with suggested wine pairings for a truly sublime culmination of your evening. You can't go wrong with the Crème brûlée, served with fresh strawberries and a crisp caramel shell. Chocolate lovers will go mad over the Melting Hot Chocolate Lava Cake, accompanied by a hearty scoop of vanilla gelato.
Of course, Osetra offers some of the best deals in fine dining around town. Happy Hour is daily from 4-6:30 pm at the bar and includes drink specials, sushi rolls, slides, and $1 oysters to name a few. If you're looking for a spot for a nice Sunday dinner, Osetra's Lobster Sundays feature Steamed Maine Lobster with Whipped Mashed Potatoes for just $39.95.
If you have a large part of 10+, consider taking advantage of their private dining promo, which will include a complimentary dinner for 2 and a $25 gift card for every guest in attendance. Be sure to book it by November 30th to take advantage of this great deal!