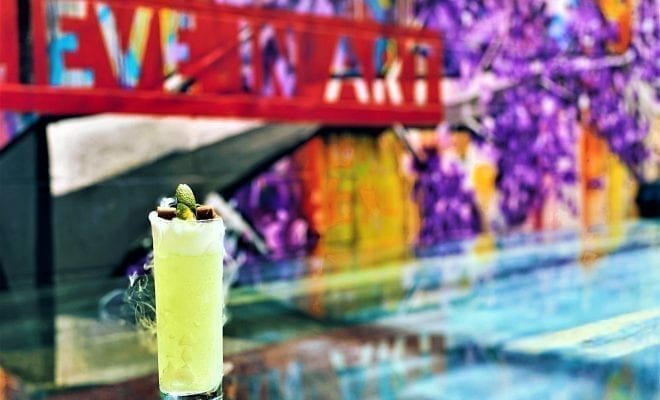 Drinking
Thirsty Thursday: Franken-Lime
By
|
Halloween season is a magical time of year, where we can all play dress-up, indulge in a sugary frenzy, and revel in an evening of eerie tales, creepy creatures, and all things that go bump in the night. Ghosts and goblins roam the streets, spirits surround us, and ghouls linger on every corner. Halloween also kicks off the party festivities for the rest of the year, and on this night, anything goes. For those of you hosting your very own monster bash, we've got the perfect cocktail for you to wow your ghouly guests with.
IT'S ALIVE! Spook your party guests this Halloween with a lively concoction, and try your hand at Breakfast Company's recipe for their Franken-Lime cocktail! Touting a green hue indicative of its Frankenstein predecessor, this creepy creation bestows tartness mixed with green apple suited to the season.
Franken-Lime
Recipe courtesy of Jeff Ekkart of Breakfast Company
Serves 1
INGREDIENTS
1.5 oz lime vodka
.5 oz Triple Sec
.75 oz lime juice
1 oz Apple Pucker
.5 oz cane syrup
Topped with soda water with a lime twist and Rolo candy skewered on each side.
INSTRUCTIONS
Pour lime vodka, Triple Sec, lime juice, Apple Pucker, cane syrup ingredients into a shaker.
Shake and strain into a Collins glass.
Add dry ice and top with soda as well as special Rolo lime twist skewer.