Dining
Enjoy a Thanksgiving Day Feast at These San Diego Restaurants
By
|
'Tis the season to stuff ourselves with platefuls of turkey, mashed potatoes, pumpkin pie, and all of other Thanksgiving Day fixings. If putting hours in the kitchen just isn't jiving with you this year, you're in luck. San Diego's culinary kings and queens are pulling out all the stops to make your Thanksgiving meal one to remember. Just bring your appetite and stretchy pants to one of these San Diego staples for terrific turkey day feast.
880 Harbor Island Dr, San Diego
Price: $59.95
Join Island Prime/C Level on Thanksgiving Day as they serve a delectable 3-course menu from 1-7 pm. Indulge in seasonal favorites such as Diestel Farms Free Range Turkey or Center Cut Filet Mignon.
1549 El Prado, San Diego
Price: $59.95
Celebrate Turkey Day in beautiful Balboa Park. The Prado will be serving a delicious 3-course menu from 1-7 pm. Indulge in Oven Roasted Turkey Breast, Pan Seared Day Boat Scallops or try our Prado Paella. Save room for Pumpkin Crème Brulee or Orange Cheesecake!
1205 Auto Park Way, Escondido
Price: $59.95
Celebrate Thanksgiving at North County's hottest restaurant, Vintana and feast on their delectable 3-course menu from 12-7 pm. Hit items include Diestel Farms Organic Roasted Turkey, Bacon-Wrapped Filet Mignon or Macadamia and Coconut Crusted Sea Bass.
333 N Pacific St, Oceanside
Price: $59.95 for adults, $14.95 for kids
Treat your family to a special Turkey Day with views of the Oceanside Pier. 333 Pacific will be serving a delectable 3-course menu from 12-7 pm. Enjoy Miso Glazed Turkey or Braised Beef Short Rib.
1536 India St, San Diego
Price: $45.95, $14.95 for kids
Celebrate Turkey Day in stylish Little Italy with Indigo Grill. Their 3-course menu includes seasonal favorites such as Herb Roasted Free Range Sonoma Turkey or our classic Alderwood Plank Salmon.
4996 W Point Loma, San Diego
Price: $45.95, $14.95 for kids
Gather family and friends for a special Thanksgiving Dinner in Ocean Beach. BO-beau Kitchen + bar will be serving a savory 3-course menu from 1-7 pm. Feast on a Turkey Duo featuring a slow-roasted breast and confit leg or savor BO-beau classics such as our Potato Gnocchi.
8384 La Mesa Blvd, La Mesa
Price: $45.95, $14.95 for kids
Come out to East County and celebrate Thanksgiving in the neighborhood of La Mesa. BO-beau Kitchen + Garden is serving a delicious 3-course menu from 2-7 pm. Choose from BO-beau favorites such as Beef Bourguignon and Slow Roasted Pork Shank or try their traditional Rosemary Roasted Turkey.
1027 University Ave, San Diego
Price: $45.95, $14.95 for kids
Gather family and friends for a special Thanksgiving Dinner in Hillcrest. Join BO-beau Kitchen + cache for a 3-course menu from 1-7 pm. Enjoy Slow-Roasted Turkey or choose from BO-beau specialties such as Roasted Dijon Crusted Salmon and Pan-Seared Ribeye.
800 Seacoast Dr, Imperial Beach
Price: $59.95, $17.95 for kids
Treat your family to oceanfront dining this Thanksgiving. SEA 180° in Imperial Beach will have a buffet from 11 am-8 pm. Indulge in there seafood and carving stations, featuring Fresh Shucked Oysters, Ceviche, Roasted Prime Rib, Smoked Turkey Breast and more.
880 Harbor Island Dr, San Diego
Price: $64.95, $17.95 for kids
Head to Coastera for a delicious Thanksgiving buffet from 1-7 pm. Feast on Especiales de la Casa featuring Oven Roasted Chicken and Grilled Mahi as well as delicious Thanksgiving classics such as Traditional Sage Stuffing and Garlic Mashed Potatoes. Guests can enjoy Roasted Turkey and Slow-Roasted Prime Rib at their Carving Station.
901 Bayfront Court, Suite 105, San Diego
Price: $59.00
Celebrate Thanksgiving in style and sophistication at Del Frisco's Double Eagle Steakhouse on the waterfront downtown. Executive Chef Brian Christman will showcase a premium three-course menu, where guests can choose an appetizer, entrée, and dessert. The menu stars Thanksgiving Day favorites such as Slow Roasted Turkey Breast with Apple-Sausage Stuffing and all the trimmings, plus seasonal dessert options like the Pecan Pie À La Mode.
4161 Voltaire St, San Diego
Price: varies
Cesarina will be serving up two Thanksgiving-inspired pasta options such as Lasagna Zucca e Tacchino—homemade lasagna with turkey short ribs and butternut squash— and Ravioli Patate e Taccino— sweet potato stuffed ravioli with homemade turkey sausage and cranberry. For a more traditional option, the Arrosto di Tacchino headlines thinly sliced roasted turkey with homemade turkey demi, sweet potato mash, fagiolini all'agro and cranberry sauce.
1055 2nd Ave., San Diego
The Westgate Hotel is offering two experiences for family and friends to feast. The Traditions of Thanksgiving Buffet will be in the charming Le Fontainebleau Room. Seating is from 11:00 a.m. to 5 p.m., and the buffet is $99 per person; $40 for children ages 4-12; and complimentary for children under the age of 3. Guests may add bottomless house wine or champagne for an additional $20. Tax and gratuity are additional.
For those seeking a more formal atmosphere, The Westgate Hotel will also offer a four-course prix fixe menu in the grand Westgate Room, highlighting the time-honored classics of a Thanksgiving dinner. Seating is from 11:00 a.m. to 9:00 p.m. and the cost is $79 per person; $40 for children ages 4-12;
860 West Washington St., San Diego
Price: $50; $15 for children
Prepare yourself for a true farm-to-fork Thanksgiving experience at Farmer's Bottega. Their robust menu will feature a selection of the restaurant's specialty dishes intermingled with Turkey Day classics, including items such as Burnt Carrots, prepared with local avocado, red onion, cilantro and feta, all tossed in citrus thyme vinaigrette, Butternut Squash Ravioli, topped with brown butter sage and fresh parmesan, and. For dessert, enjoy Julian Apple Pie served with vanilla ice cream.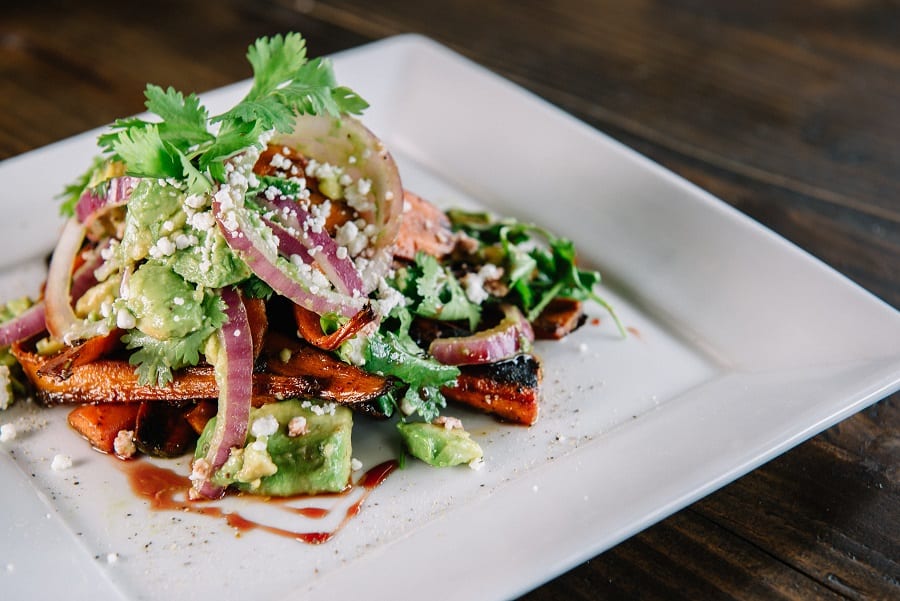 2000 Visalia Row, Coronado
Price: $45, $15 for kids
Idyllic for families seeking a traditional Thanksgiving meal, this picturesque dining destination will feature a plateful of all the classics from 2 – 6 p.m. Protein options include Roasted Turkey, Prime Rib And Fish, accompanied by a selection of Mashed Yams, Mashed Potatoes or Mac 'n' Cheese. Enjoy a variety of vegetable options, including Green Bean Casserole, Roasted Carrots, and Brussels Sprouts.
721 Grand Ave., San Diego
Price: $31.95, $17.95 for kids
PB AleHouse is serving a three-course menu featuring options such as Roast Kabocha Squash Bisque with shallot and rosemary oil, as well as California Gold Salad tossed with toasted almonds, feta, gold raisins and dried apricots in garlic basil vinaigrette. Play it safe this Thanksgiving and let Pacific Beach AleHouse do the deep-frying when you order their Deep Fried Turkey Breast as your entrée, or indulge in Pineapple and Clove Glazed Ham, Fried Turkey Leg or the Impossible Vegan Meatloaf with Mushroom Gravy.
1108 S Coast Hwy 101
Price: $26.95
Start Thanksgiving Day off right with brunch from 8 a.m. – 2 p.m. and feast on Pumpkin Pancakes and $15 Bottomless Mimosas. Dinner specials are available from 2 – 8 p.m., showcasing Lemon & Herb Turkey Breast Dinner which also includes your choice of Brandied Cherry Goat Cheesecake or Pumpkin Pot de Crème. Vegans can delight in Vegan Meatloaf with Heirloom Tomato Glaze which includes Chia Seed Pudding with Bruleed Banana for dessert.
333 Fifth Ave., San Diego
Price: $29.95
Prepare for Turkey Day with a three-course menu with options such as Butternut Squash Bisque infused with chipotle coconut crema, pepitas, pumpkin oil and fried sage, Smoked Turkey Breast served with truffle mashed potatoes, sausage sage sourdough stuffing, green bean and wild mushroom succotash, and vanilla spiced cranberry sauce, and Pumpkin Pie, among other delectable menu items.
4325 Ocean Blvd., San Diego
Price: $21.95
Dig in with Waterbar's Traditional Turkey Dinner available from 11 a.m. – 9 p.m. The dinner includes carved turkey breast and braised dark meat, accompanied by cheddar mashed potatoes, green beans, chicken sausage stuffing, homemade gravy, cranberry sauce, and a dinner roll. Other specials available that day will include The "Next Day" Sandwich, packed with turkey (white and dark meat), cranberry sauce, leftover stuffing, lettuce, tomato, and gravy-soaked bread.
3387 Del Mar Heights Rd
Price: $70, $35 for kids
International Smoke's expansive 'Thanksgiving Feast' buffet will feature Smoked Turkey, a Fish Station, serving Court-Bouillon Poached Shrimp Cocktail and Grilled Verlasso Salmon, a Ribs and Meat-carving Station, serving American Style BBQ Ribs, Brown Sugar and Chili Prime Rib, and a Dessert Station featuring assorted fresh desserts. The restaurant will also serve up spins on traditional Thanksgiving sides, including Smoked Sweet Potatoes, Mac & Cheese and Apple Caramelized Fennel Stuffing. Vegan and vegetarian options will be available upon request.
616 J Street
Price: $55; Free for children 6 & under
Escape the in-laws and let the Chef Steve at JSix do the cooking for you. The three-course family-style menu features a fusion of holiday classics and unique twists including Parker House Rolls, Maple Bourbon Brined Turkey Breast, Chorizo Cornbread Stuffing, Buttery Mashed Potatoes, Charred Brussel Sprouts and a Chef selection of seasonal desserts. BONUS: a portion of the proceeds will benefit No Kid Hungry! 
2210 Kettner Blvd
Price: $65; $16 for children
Chef Brian Malarkey's stunning Little Italy restaurant will celebrate Thanksgiving in style with a three-course prix fixe menu, available from 4-8 pm. First-course highlights include Confit Turkey Salad, Hamachi with sweet potato, hazelnut, scallion, winter spice, Kumquat, and a Kuri Pumpkin Soup. For the 2nd-course, choose from options like Roasted Turkey or, Prime Rib. All tables will be served family-style sides of mashed potatoes, stuffing, green beans, parker house rolls, and turkey gravy. For the sweets, diners will have a choice of Pumpkin Cheesecake, Pecan Pie and Chocolate Cream Pie.
600 Fifth Avenue
Price: $45
This Gaslamp District spot for delicious bites will be hosting a three-course Thanksgiving dinner beginning at 2:00 p.m. The first course consists of your choice of butternut squash soup, house salad or Caesar salad. The main course is Andouille Stuffed Turkey Roulade, with garlic mashed potatoes, brown ale biscuit stuffing, Brussels sprout casserole, and roasted baby carrots. For the third course, chose between Spiced Apple & Raisin Bread Pudding and Sweet Potato and Pecan Pie, topped with vanilla Chantilly cream.
326 Broadway, San Diego
Price: $95 for adults, $85 for seniors, and $45 for children ages 12 and under.
Celebrate the season with The US Grant's Thanksgiving Day buffet. A bountiful array of fall cuisine including soups & salads, chilled seafood, prime meats, seasonal accompaniments, & much more await. The all-encompassing family celebration is complete with live music and complimentary valet parking.
The US Grant will also be hosting a fine Thanksgiving dining in an intimate setting with a delightful holiday dinner menu curated by Chef John Duran's in the AAA-four Diamond Grant Grill and Lounge. Thanksgiving dinner at Grant Grill is $95 per person or $140 per person with wine pairings.
1500 Orange Ave
Give thanks and celebrate with family and friends during an elegant Thanksgiving Dinner Buffet in The Del's oceanfront Ballroom–complete views of The Del's holiday magic at Skating by the Sea–or the famous Crown Room. The lavish buffet will feature all of the traditional trimmings and live music. Pricing is $140 for adults, $50 for children ages 4-10, and complimentary for children under three.
The Hotel will also be hosting a Thanksgiving Dinner at Sheerwater. Celebrate with a festive three-course, pre-fixe menu by Master Chef Patrick Ponsaty. Pricing is $95 for adults, $30 for children ages 4-10, and complimentary for children under three.
Serēa, an innovative sea-to-table dining experience at the iconic Hotel del Coronado, invites guests to join the oceanfront destination for Thanksgiving dinner. In addition to their regular sustainable seafood menu, Executive Chef JoJo Ruiz will be serving a special menu with delicious seasonal ingredients from 2-8 pm. This specialty Thanksgiving menu is $95 per person, $30 for children 4-10 and complimentary for children 3 and under.
5921 Valencia Circle (Box 9126)
Price: $145 per adult; $55 per child eleven years and under; complimentary for kids under three.
Indulge in Thanksgiving and Fall delights during Rancho Valencia's decadent Thanksgiving buffet. Stand out stations include a live sushi bar, cold seafood station, charcuterie and cheese station, seasonal starters, carving table with an assortment of meats including a slow-roasted traditional turkey breast, entrees from land, sea, farm, and grain, various sides and classic desserts.
17550 Bernardo Oaks Dr
Savor a specially crafted 3-course Thanksgiving menu at Rancho Bernardo Inn's signature restaurant, AVANT, from 2-7 p.m. You'll find nothing short of the finest California cuisine with a strong focus on artisanal foods and seasonal garden-to-table offerings. Cognac Pumpkin Soup, Cranberry Cornbread Turkey and Hazelnut Cheesecake are only a few of AVANT's delicious Thanksgiving offerings. $85 for adults; $40 for children.
Celebrate the holidays with a 3-course Thanksgiving menu and breathtaking golf course views at Veranda Fireside Lounge & Restaurant, also located at the Rancho Bernardo Inn. Guests and locals can join for lunch from 11:30 a.m.-4 p.m. and dinner from 5-10 p.m. Menu highlights include Butternut Squash Bisque, Herb Roasted Turkey Breast, Pumpkin Tart and more. Adults are $60 per person and children are $40 per person
1555 Camino Del Mar
Price: $55-$65
The ocean view restaurant is a holiday favorite amongst families. Join Pacifica for a special 3-course menu, and choose from a variety of holiday classics, like Free Range Roasted Turkey, Prime Rib, Sugar Spiced Salmon and more. Open 11am-9pm.
1132 Prospect St
Price: $94; $45 for children age 6-12
The Pink Lady is one of the most popular and iconic places to dine on Thanksgiving. A beautiful buffet stocked with a raw bar and carving station will accompany seasonal selections like a carving station with free-range turkey and beef with rosemary wine, bourbon sweet potato casserole, a raw bar, and a festive dessert display. The buffet will be available from 1-7 pm.
7955 La Jolla Shores
Gather at Cusp this Thanksgiving for an ocean view meal the entire family will love. The 11th-floor restaurant will be offering Chef Ingrid Funes' entire menu, plus a classic holiday turkey dinner. Choose from dishes like Heirloom Tomato Crostini or Apricot Glazed Crispy Cauliflower to share. Entrees include Rack of Lack Mole Rojo and Cusp Fresh Catch of the Day with chive spätzle, chanterelle mushrooms, asparagus, and yuzu beurre blanc. Kids 10 and under will receive a complimentary ice cream with their meal! Dinner will be served from 2-8 pm.
5480 Grand Pacific Drive, Carlsbad
Price: $89; $30 for children
Executive Chef Julian Quiñones and the 20|Twenty team invites guests to gather for a classic, homemade Thanksgiving buffet from 1-8 pm. Located in the Westin Carlsbad Resort and Spa, the 20|Twenty buffet selection will include whipped potatoes, slow-roasted free-range turkey, traditional cornbread stuffing, and pumpkin and pecan tarts.
723 Felspar St
Price: $45-55; $25 for children 12 years and under
Dig in at San Diego's favorite oceanfront setting and gather by the sea for a Thanksgiving feast at JRDN in Pacific Beach. On Thursday, Nov. 28, Executive Chef David Warner and the JRDN team invite you to delight in a three-course, locally sourced dinner featuring all of the season's favorites. Reservations are available from 12 p.m. to 8 p.m.