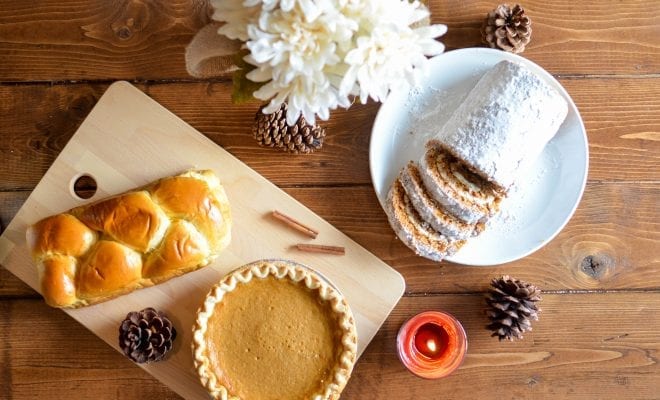 Dining
Delicious Thanksgiving Appetizer Recipes
By
|
Thanksgiving has its core staples: the turkey, mashed potatoes, stuffing, cranberry sauce, greens, the list goes on. While there are a few variations of the meal, there are some things that can't be messed with. Luckily, that rule does not reign true for appetizers. Appetizers seem to be the only area that has a lot of wiggle room, and where hosts can get really creative in the kitchen.
If you're set on your Thanksgiving meal staples, but want some fun and tasty appetizers to add some flair, check out the delicious recipes that are sure to impress your guests this holiday season.
Corn Tamale Bites
Wow your guests with Corn Tamale Bites, a spicy treat made with poblano and topped with a sprinkle of cotija cheese.
Recipe provided by Jalisco Cantina
Serves: 2 – 4
Ingredients:
4 cups corn
½ stick of butter, softened
6 tbsp sugar
2 tsp salt
¾ cup flour
2 cups Masa Harina (corn dough)
½ cup chopped, roasted poblanos
Cojita cheese
Fresno chiles
Instructions:
Blend the corn, butter, and sugar well.
Add flour and the Masa Harina and blend again, until all ingredients are combined.
Remove from blender and fold into chopped roasted poblano peppers.
Fry until golden brown, and sprinkle with Cojita cheese and sliced Fresno chiles.
Frying Tips:
For frying at home, you can add 4 – 6 cups of oil to a pot/pan and set stove burner to medium, letting the pot/pan of oil heat for 5 – 10 minutes.
Use a meat thermometer to check the temperature of the oil, which should be between 350 degrees Fahrenheit (177 Celsius) and 400 F (205 C). If oil is not hot enough, raise the burner heat a little and continue to check the temperature.
Add corn tamale bites to oil and leave to cook until they become a golden brown.
Scoop out the bites using tongs and place on a cooling rack until ready to sprinkle with Cojita cheese and sliced Fresno chiles.
Featuring gooey melted cheese and warm sourdough bread, don't be surprised if it's gone in the blink of an eye.
Prep time: 10 min + 25 min bake
Serves: 8
Ingredients:
1 unsliced round loaf sourdough bread (1 pound)
1 pound Monterey Jack cheese
1/2 cup butter, melted
1/2 cup chopped green onions
2 to 3 teaspoons poppy seeds
Directions
Preheat oven to 350°. Cut bread widthwise into 1-in. slices to within 1/2 in. of the bottom of the loaf. Repeat cuts in the opposite direction. Cut cheese into 1/4-in. slices; cut slices into small pieces. Place cheese in cuts in bread.
In a small bowl, mix butter, green onions, and poppy seeds; drizzle over bread. Wrap in foil; place on a baking sheet. Bake 15 minutes. Unwrap; bake until cheese is melted, about 10 minutes longer.
Crescent rolls stuffed with chicken, peppers, onions, and cheese and baked to perfection. What's not to love?
Prep time: 15 min + 20 min bake
Serves: 16
Ingredients:
2 tubes (8 oz. each) refrigerated crescent rolls
1 cup shredded Colby-Monterey Jack cheese
2/3 cup condensed cream of chicken soup, undiluted
1/2 cup chopped fresh broccoli
1/2 cup chopped sweet red pepper
1/4 cup chopped water chestnuts
1 can (5 oz.) white chicken, drained or 3/4 cup cubed cooked chicken
2 tablespoons chopped onion
Directions:
Arrange crescent rolls on a 12-in. pizza pan, forming a ring with pointed ends facing the outer edge of the pan and wide ends overlapping.
Combine the remaining ingredients; spoon over wide ends of rolls. Fold points over filling and tuck under wide ends (filling will be visible).
Bake at 375° for 20-25 minutes or until golden brown.
Freeze option: Securely wrap the cooled wreath in plastic and foil before freezing. To use, remove from freezer 30 minutes before reheating. Remove wreath from foil and plastic; reheat on a greased baking sheet in a preheated 325° oven until heated through.
Give your meatballs a bit of a kick with this sweet-and-sour recipe featuring a splash of Kentucky bourbon.
Prep time: 30 min
Serving: 3 dozen meatballs
Ingredients:
2 packages (22 oz. each) frozen fully cooked Angus beef meatballs
3/4 cup packed brown sugar
1/4 cup white vinegar
1/4 cup bourbon
2 teaspoons spicy brown mustard
Directions:
Prepare meatballs according to package directions.
In a large skillet, whisk together remaining ingredients. Bring mixture to a simmer; cook 5 minutes. Stir in meatballs; simmer until heated through, about 5 minutes.
This perfect finger food is stuffed with a tasty filling of breadcrumbs, parmesan, and minced garlic.
Prep time: 30 min + 25 min bake
Serves: 6
Ingredients:
Cooking spray
1 lb. Brussels sprouts, trimmed and halved
1 c. ricotta
1/2 c. freshly grated Parmesan, plus more for sprinkling
1/4 c. Italian bread crumbs
Zest of 1/2 lemon
Pinch crushed red pepper flakes
1 clove garlic, minced
Kosher salt
Freshly ground black pepper
Extra-virgin olive oil, for drizzling
Directions:
Preheat oven to 400º. Grease a large baking sheet with cooking spray. In a large pot of salted boiling water, blanch Brussels sprouts until bright green, 2 minutes. Rinse under cold water, then drain.
Using a small spoon, scoop out insides of sprouts (reserve for another use), then transfer hollowed sprouts to a prepared baking sheet.
In a medium bowl, stir together ricotta, Parmesan, bread crumbs, lemon zest, and red pepper flakes, and season with salt and pepper. Spoon mixture into Brussels sprouts, drizzle with olive oil and sprinkle with more Parmesan.
Bake until ricotta mixture is warmed through and Brussels sprouts are crispy, 20 to 25 minutes.
Thanksgiving wouldn't be complete without at least one pumpkin-flavored dish on the table, and this dip provides a nice kick to go along with it.
Prep time: 20 min
Serves: 6
Ingredients:
1 (15 oz.) can chickpeas, drained and rinsed
1 (15 oz.) can pumpkin puree
2 tablespoons extra virgin olive oil, plus more for serving
2 chipotle chilies in adobo
1 clove garlic, grated
1 tablespoon honey
1/4 teaspoon cinnamon
1/4 teaspoon cayenne powder
1/2 teaspoon cumin
1/2 teaspoon oregano
1 teaspoon chili powder
kosher salt and pepper
Directions:
Combine the chickpeas, pumpkin and olive oil in a food processor and puree until smooth.
2. Finely chop the chipotle chilies and add to a bowl. Mix the chilies with the garlic, honey, cinnamon, cayenne, cumin, oregano, chili powder, and salt and pepper. Stir half chipotle mix into the hummus, and add the remaining to the top of the hummus. Drizzle with olive oil and sprinkle with pepitas seeds before serving.
3. Serve with chips, naan or other foods for dipping.