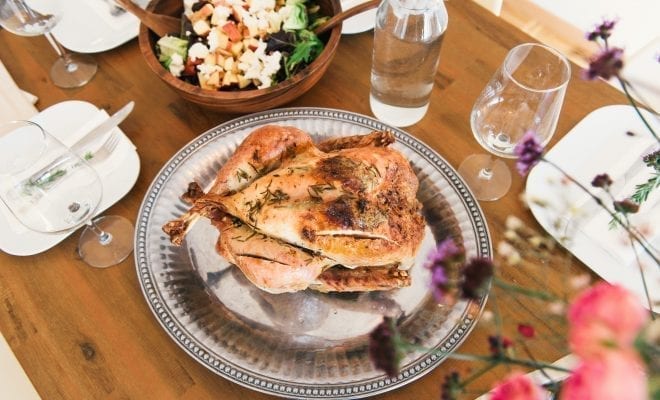 Dining
Where To Get Your Thanksgiving Meal Catered in San Diego
By
|
Thanksgiving is about spending time with loved ones and bonding a delicious meal. There are a lot of characters that come into play when it comes to the meal itself. Of course, the turkey is the shining star, but the supporting cast is just as important. We would be nowhere without the mashed potatoes, stuffing, cranberry sauce, greens, and last but not least, the pumpkin pie! There is a lot of pressure to cook the perfect Thanksgiving feast – after all, this day only comes once a year.
Nowadays, more and more folks are taking the stress away from the master chefs of the family by getting their Thanksgiving meal catered. While a very non-traditional practice, Thanksgiving catering is gaining popularity because it allows families to spend even more time with each other, rather than in the kitchen. Whether you want to take a leap of faith this year, or are already on team catering, here are the local options offering a Thanksgiving dinner catering services to make this holiday a little easier.
Leave it to the experts to ensure you have the best Thanksgiving meal this season. The La Jolla hot spot is offering an extensive Thanksgiving menu with customizable platters and adjustable serving sizes for any party size. Mix and match time-honored Thanksgiving dishes such as Roasted and Carved Natural Turkey and Truffle & Parmesan Mashed Potatoes, with unexpected, gourmet fares like Fresh Lobster Salad with celery and apples or Frangelico-Chocolate Truffle Lollipops for dessert.
Participating locations: Coaster Saloon & Del's Hideout
Bring the expertise of Chef Tim Eylens home this Turkey Day. With two pick-up locations, Coaster Saloon in Mission Beach and Del's Hideout in Del Cerro, savvy hosts can pre-order BBQ provisions, like a Whole Smoked Turkey or a Whole Smoked Brisket. CRG's hassle-free take-out options also include necessary fixings, Mac & Cheese and Collard Greens, along with two beloved dessert options, Apple Cobbler and Pecan Pie. Orders can be placed by phone until Monday, November 25th.
Prepare yourself for an unforgettable Thanksgiving meal courtesy of Elijah's. Choose from turkey, beef brisket, or ham served with a variety of side dish staples. Plus, they also offer delivery service
Maybe you got the turkey thing down, but dessert isn't your game. No fear! Pre-order your pies from one of San Diego's premier bakeries: Mootime Cookies & Creamery in Liberty Public Market. Available for pre-order for $25 each, choose from Pumpkin, Chocolate Bourban Pecan, and Dutch Apple pies. These crave-worthy confections serve 6-8 people and will make a grand finale to any Thanksgiving Day feast. Place your order via phone (619.546.8885) or in-person until Friday, November 22nd.
Del Mar's latest barbecue experts at International Smoke are offering a special Thanksgiving menu this year. Enjoy Low and Slow Smoked Turkey with Chef's Gravy and special fixings like Cornbread with Thai Curry Butter, and conclude with the Chef's Fall Pie. Orders need to be received 72 hours in advance and will be available for pickup on Thanksgiving Eve or Thanksgiving morning.
From a gourmet extravaganza to a humble family gathering, Bekker has you covered for your Thanksgiving meal needs. Check out their Traditional Holiday Feast, served with Oven Roasted Turkey Breast, Prime Rib au Jus, and a solid mix of Thanksgiving favorites like Scalloped Potatoes and Green Bean Casserole.
If you want to maybe switch it up this Thanksgiving, check out quaint Italian restaurant, Giardino for your holiday feast. They'll be offering traditional Thanksgiving dishes as well as Italian-inspired dishes like Cannoli Waffles and Nutella Cakes. Head to their website to check out their holiday to-go menus, order ahead of time, and pick up on Thanksgiving.
We all know pies are the backbone of any Thanksgiving dessert spread. Let the experts do the baking, while you do the eating and pick up a fresh-baked seasonal pie from Rancho Bernardo Inn.
Maximize the time spent with your family this Thanksgiving, at let Ranch 45 do the heavy lifting. Order from their extensive to-go menu featuring a variety of salads, soups, sides, proteins, and desserts. Choose from dishes like Roast Butternut Squash Soup, French Onion Soup, Olive Oil Smashed Potatoes, Roasted Root Vegetables, Herb Crusted Prime Rib, Smoked Turkey, Apple Pie, Pumpkin Pie and so much more.
The national chain offers many options for Thanksgiving catering. A variety of meal packages are available for all of your holiday needs such as vegan dinners, just the sides, appetizers, desserts, and more.