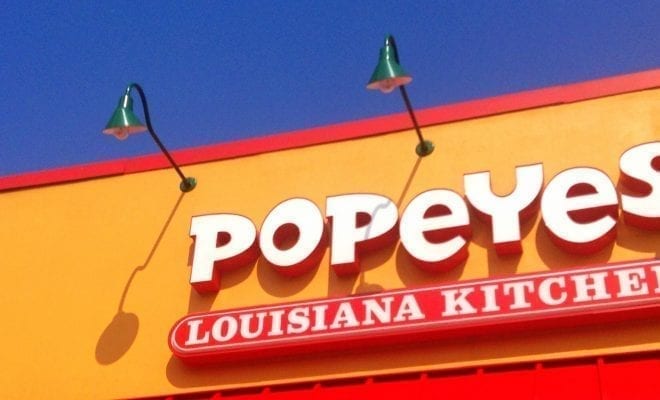 Dining
Popeyes Chicken Sandwich is Making A Triumphant Return
By
|
Chicken sandwich fans rejoice! The elusive and oddly mythical Popeyes Chicken Sandwich will return after quickly selling out earlier this year. Back in August, the fast-food chain had prepared inventory for a stock meant to last three months. However, the sandwich chicken went viral on social media, causing stores around the country to sell out in just a few weeks. For those who didn't get the chance to try the most talked-about sandwich, you can race to your nearest Popeyes next month.
Popeyes used this opportunity to throw some shade at their main competitor, Chick-fil-A when they announced the return of their best-seller on Nov. 4, Sunday – a day where Chick-fil-A is closed nationwide. Regardless of the fast-food chain drama, Popeyes has revelled in its major success and viral attention caused by the chicken sandwich. 
Popeyes store sales grew by nearly 10% during its release, achieving its best figures in nearly two decades. The sandwich wasn't cooked up overnight either, it was the result of nearly two years of testing by Popeyes's culinary team. In an interview with Yahoo Finance, Popeyes American President Felipe Athayde referred to the sandwich as "a cultural phenomenon," and went on to call it "the iPhone of Chicken Sandwiches." 
The sandwich itself is fairly simple with just four ingredients – a buttered brioche bun crispy fried chicken filet, natural-brined pickles, and a cajun-inspired mayonnaise that many are calling the best part. While Popeyes has achieved the status of selling the elusive chicken sandwich in the US, online reviews of the sandwich are mixed.
I was able to snag one during the last few days of its reign, and in all honesty, it's a tasty sandwich, but nowhere near mind-blowing as social media has made it out to be. Nevertheless, I'd recommend trying it out if you get the chance.
While its initial release saw people lining up outside locations on average 50 deep, the fast-food chain hopes to have enough inventory to last a bit longer than last time. But with the way the hype train gets going on social media, who knows what will happen.