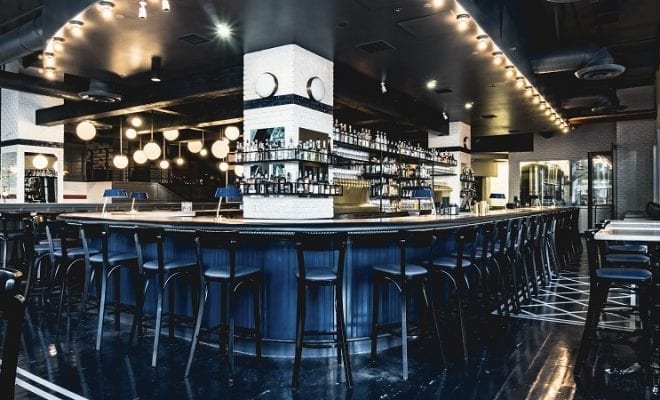 Dining
New downtown brewpub features innovative fare and eclectic beer offerings
By
|
Downtown's brewpub scene expanded in January with the addition of The Bell Marker. Located at 6th and Broadway in the old The Beer Company facility, The Bell Marker stands out with fresh, flavorful pub fare and a wide selection of craft beers and unique cocktails to choose from.
With brewer Ignacio "Nacho" Cervantes and a Noah Regnery at the helm of the beer program, there is no doubt that San Diego's rich brewing culture will shine for downtown regulars and out-of-towners alike. Both brewers have a long history working for Pizza Port, an iconic name in the San Diego craft beer scene. Nacho previously received Gold and Bronze awards at the Great American Beer Festival as well as two medals at the World Beer Cup. Back with his previous teammate, the pair are producing a wide variety of beer styles including cream ale, hefeweizen, pale ale, brown ale, and of course, IPA.
On our visit, we sampled a variety of the beer options. Interestingly enough they offer an Irish Red and an American Red, an English Blonde and an English Brown, an English Pale and an American Pale, plus the always-popular-in-San-Diego Session IPA and IPA. All the beers were drinkable, some more packed with flavor than others. A few truly stood out and showcased the brewers' creativity and left us excited to see what they come up with next. The Czech Style Pilsner, The Founder, is light and crisp with more body than a traditional Pilsner. The founder's favorite, it is refreshing and delicious if you're looking for a pilsner.
All house beers are brewed on site with The Bell Marker's 15-barrel brewing system which is visible from the dining room. As they continue to grow their beer list, their focus will be true-to-style beers, mainly focusing on classic American, English, German and an occasional Belgian offering. The remainder of the tap menu will consist of a selection of guest beers that will rotate frequently and complement the house offerings. On our visit, the selection of beers was well rounded with a lot of high quality options to choose from. So, if you can't find a style you like (or you like to try more varieties), there'll be something for you.
In addition to a wide selection of beer, the food is a perfect fit for San Diego. The unmistakably California-centric menu features gourmet pizzas, locally inspired food and with several vegan and non-vegan options. Brought to you by Culinary Director Trevor Faris, menu options include some inventive spins on pizza classics such as the Squash Pie with fresh cream, winter squash, red wax gouda, pomegranate molasses and red onion; or try the Fennel Sausage Pizza made with crushed tomatoes, impossible meat (looks and tastes like beef, but vegan!) or pork fennel sausage, mozzarella and shallots. The thin crust pizza is nicely charred, a little bubbly, and a great vehicle to deliver whatever toppings you choose.
In addition to pizza, there are non-traditional takes on traditional apps like the Smoked Fish Dip with fresh Idaho River trout, green garlic, tabasco and crackers; or try the Ricotta Fritters with housemade ricotta and chili jam. On our visit, we ordered the Mushroom Paté which is served with pickled mustard seeds, and a light and airy horseradish foam on toast.
The more substantial end of the menu includes the Shrimp Roll made with chilled jumbo shrimp, lemon aioli, celery, dill and served on a pretzel roll; the Spicy Chicken Melt with shredded chicken breast, red wax gouda, tomato, harissa aioli on sourdough bread; and the entirely plant based Impossible Burger. The Bell Marker's Impossible Burger was my first exposure to this vegan meat substitute, and I wasn't sure it would live up to the hype. The burger was topped with lettuce, tomato, onion, vegan nut cheddar, their not-so-secret sauce, served on vegan brioche. The Impossible patty looked and had the texture of a regular beef patty. Brown on the outside with a hint of pink in the center, it would fool almost any meat-lover. Even if you love cheeseburgers and hate vegan options, it's 100% worth a try. It was juicy (don't ask me how), flavorful and had a level of unctuousness that satisfied this meat-lover.
Wash down that Impossible Burger with a beer, and finish the night (or start it) with a cocktail. Cocktail names nod to historical moments in Bell Marker history such as Daisy Anna, which was my choice to finish the night. It's named after Anna Pitcher who initiated an effort to preserve the yet commemorated route of Alta California's Camino Real.  Featuring Los Altos Blanco Tequila, Giffard Pamplemousse, Grapefruit, Agave, Lime, Pink Himalayan Sea Salt, and Serrano Bitters, it was tart, refreshing, with a hint of spice to warm you up before heading out the door.
The Bell Marker is a great space, in a great location, serving good beers, cocktails and inventive food. They have truly paid attention to every detail from the glass partition that showcases the brewing system to the open kitchen with views of the pizza oven, comfortable booths and a huge bar area, The Bell Marker is worth a trip. In the ever changing food and beer scene in San Diego it can be hard to stand out. With big names backing the beer and cocktail programs, plus the delicious and inventive pub-inspired menu, The Cellar Maker should be on your list of San Diego dining destinations to try.