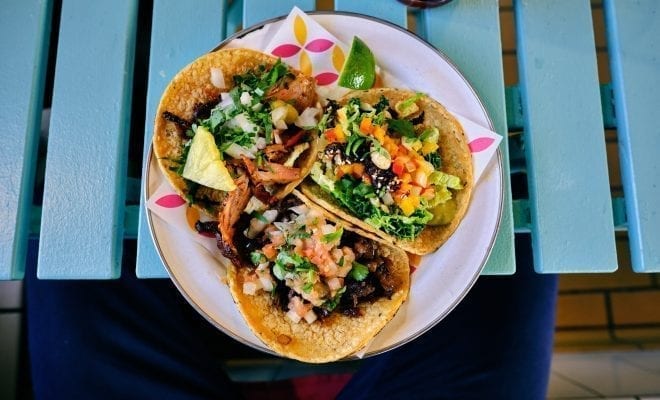 Dining
Guide to Taco Tuesday Deals in San Diego
By
|
Every Tuesday is a chance to celebrate, especially in San Diego. Taco Tuesday is a favorite for most who live in these parts because tacos are the staple of any San Diegans' diet. Now, we all know Tuesday is the best day for tacos…so why not combine them with happy hour?
San Diegans are connoisseurs of Mexican food, especially when it comes to tacos. For anyone who has spent some time in San Diego, you know for a fact that Taco Tuesday is basically a holiday. If you've ever needed an excuse to devour the offerings from the best taco joints around San Diego you're in luck, it's Tuesday, A.K.A. Taco Tuesday. Give one (or all) of these awesome restaurants a try to satisfy your authentic taco craving. For this Tuesday and all the coming Tuesday's, we put together a list of some of the best happy hour deals for you to take advantage of. Prepare your appetites.
Time: 4-6 pm
The newly reopened El Jardin Cantina in Liberty Station returns with a killer Happy Hour menu that is available all week long. Offered Tuesday – Friday from 4 p.m. – 6 p.m., and Saturday and Sunday from 3 p.m. – 6 p.m. Drink specials are $3 – $6 and include Tecate, house wine, wells, and a Cocktail of the Day. Or try thier Margarita flight, 1/2 portions of their house, prickle my pear, and berry nice margaritas for $15. On the food side of the menu, enjoy several different taco options like Carnitas, Lamb Barbacoa, and Portabello Mushroom for just $3 – $4. Pair your tacos with their other discounted bites like chips and guacamole, Cantina Nachos, and their Traditional Ceviche ranging from $3 – $7.
Time: All Day
City Tacos is one of San Diego's best. Walk up to the counter and order from their list of delicious taco and beer choices and find a seat inside or on the patio. Their tacos are a sight to behold, with mango salsa, pico de gallo, or flower petals beautifully displayed on top. Visit on Taco Tuesday and enjoy any taco for $3 and Imported Mexican Beer for just $2. Live music blasts from the curb right outside their store, reminding you that tacos are truly a thing to celebrate. You can find their deal at their storefront in North Park or at Mike Hess Brewing Company in North Park.
Time: 5-10 pm
San Diego's top party destination located steps from the beach turns up the heat on the traditional Taco Tuesday with their one-of-a-kind tacos, tequila and tunes. Every Tuesday night, taco fanatics can head to Mavericks for $10 All U Can Eat taco bar, from 5:00 – 10:00 p.m. Load up on toppings like fajita veggies, pineapple salsa, avocado and more. Drink deals include $4 margaritas, El Jimador Tequila shots and Mexican beers, as well as Mavericks Six-Pack Cooler specials. Guests also have the chance to win raffle prizes and weekly Mavericks swag giveaways during Taco Tuesday. Plus, they have live music from Sleeping Giant DJ, along with mariachis bands!
San Diego's staple taco haven and local favorite, The Taco Stand, has a cult-like following, and for good reason. In addition to its mainstay menu of tacos, burritos, and sides, this location also offers several beers on tap, making it a perfect Taco Tuesday choice. The Taco Stand excels with their handmade corn tortillas made in house daily, fresh ingredients, and tempting sauce bar with delicious salsas, cilantro sauce, and chipotle sauce. The hands-down taco champion is the Al Pastor – rotisserie marinated pork with cilantro, onions, cilantro sauce, and pineapple – for the most flavorful taco you've ever had.
Time: 4-6:00pm
$5 drinks, $5 tapas. Cueva Bar offers unique taco choices, like "Cola Diablo," which features chicken thighs cooked and simmered in a spicy green tomatillo sauce, served with chipotle crema and pickled onions, and "D'camaron" which excite with sauteed shrimp and diced onions and jalapeño, topped with melted crispy cheese, avo-slices, pickled onions, and cilantro cream. Both of these options are gluten free, too. Cueva Bar specilizes in tapas, so you get plenty of options if you want to skip tacos this week.
La Vecinidad, Hillcrest
La Vecinidad Neighborhood Tacos is one of the best places on this side of the border to get an authentic serving of tacos. On Tuesdays, tacos are 2 for $6 and include seasoned steak, shrimp, fish, and chile relleno. One of their yelpers said this place feels like Cheers, for the warm and welcoming atmosphere they have created. If you are looking for a place that can begin to look and feel like home, stop by on a Tuesday and see what the fuss is all about.
Time: 6-11pm
Baja Betty's is a Hillcrest institution. With a wide variety of tacos specials from $2 – $3 each, plus beer and tequila shots at the same price point, this spot is a Taco Tuesday winner. Wash it all down with a $6 margarita and you'll be good-to-go.
This modern Mexican restaurant is located on 6th Avenue, adjacent to Balboa Park. Head on over on Tuesday for discounted tacos ($3.50-$4 each). Select from chicken, spicy chicken, carnitas, soy chorizo, fish, shrimp, salmon and more. Their drinks are killer too – enjoy a $7 house margarita for $7, or get the blood orange or roasted jalapeno blackberry margarita for $8.
Time: 4-9:30pm
Discount drafts, $5 sangria glass ($25 pitcher), $6 house margaritas ($30 pitcher). There are plenty of taco options, as well, and you can pick any 3 for $10. Del Sur is vegan and vegetarian-friendly, dog-friendly, and kid-friendly, so everyone is welcome to come enjoy the deals.
Time: 4pm-close
Discounted draft beer, $6 Patron shots, $4-6 margaritas, plus a la carte tacos from $3-5. We also highly recommend appetizers including chicken rolled tacos, quesadillas, chingaderas, nachos and cheesy fries. Fred's is a casual dining setting, so head there when you get off work, relax, and enjoy your tacos.
Time: 3:30-10pm
Old Town's legendary Cafe Coyote is as close to Mexico as you can get, without having to cross the border…you can tell by their tacos. Cafe Coyote has a great taco selection and drink specials every Tuesday, including a variety of tacos from $3 to $4, large margaritas for $7.50, and $4 draft beer.
Time: 3pm – close
La Puerta serves savory carne asada, carnitas, pollo, cochinita, pastor-style pork or ranchero shrimp for only $3 each. If you want something different this Tuesday, La Puerta also serves "T.J. style" hot dogs for $3 each. Enjoy a Downtown atmosphere without having to break your piggy bank this Tuesday at La Puerta.
Get your tacos in the heart of Barrio Logan at Salud! Walk up to the counter to order from their long list of taco options including: chorizo, al pastor, veggie, and more. For just $6 you can get 3 of their tacos. Not part of the deal, but definitely worth the extra $5 is their Mexican Street Corn. This deconstructed corn concoction that comes in a cup will make your mouth water and beg you to come back for more.
Time: 3-10pm
Puesto is cranking out fresh tacos, made from scratch every day. Options are unique and interesting, from lamb tacos to filet mignon, it's just what you'd epect from a hip San Diego taco spot. Enjoy $3.50 tacos and $4 Modelo, plus their Puesto Perfect Margarita for $9 (until 5pm only).
Time: 3-11pm
$4 margaritas are only from 3-6pm, but $1.75 street tacos and $2.50 shrimp tacos are available from 3 pm until the restaurant closes at 11 pm. Just steps from the beach, you can enjoy your dinner at the restaurant then watch the sunset right after.
Time: 4pm-close.
Pacific Beach Shore Club is serving up a variety of Taco Tuesday specials, including their tenderly succulent Brisket Tacos. Make it a plate with Jasmine rice and black beans for a real treat. You'll get $4 beers, $6 margaritas, $2.50 tacos (chicken, veggie, brisket or steak), $3.50 tacos (shrimp, lobster or mahi). They've also got discounted nachos and $5 well drinks from 8pm to close.
Time: 4pm-close
After you win a round of mini-golf at Belmont Park, tacos at Sandbar Sports Grill are a surefire way to celebrate. Take in the sparkling lights of the park's Ferris wheel during sunset over some TKO Style tacos, which boasts locally sourced fish, chipotle aioli, uniquely beer-brined escabeche slaw and lime crema among its tasty mates. Not a fish person? Opt for the Ti-Juan-A Taco, made up of succulent pork adobado and sweet roasted pineapple. Happy hour runs until 7pm where you can enjoy $6 22oz drafts and goblets and $4 tacos. Starting at 7pm, sip on $4 margaritas and enjoy $2 tacos.
Time: 3-6pm for drink specials. Tacos on special all day.
$1 off draft beer and wine by the glass, $4 mimosas, select cocktails $5. Select tacos are $3, and select appetizers are half off. South Beach Bar & Grill has a variety of tacos, both grilled and fried. With meat options like shark, lobster, shrimp, calamari, and oyster, there's something new to try every Tuesday.
While Tacos El Gordo doesn't specifically have Taco Tuesday specials, their prices (and quality) are too good not to include on the list. These tacos come with fresh, homemade tortillas, and options for fillings are impressive…from adobada, carne asada, cabeza, lengua, and more… these Tijuana Style won't disappoint.
Time: 4-8 pm
Here, the focus is on tacos, tequila, and margaritas. No complaints with that. On Tuesday's, dig in with their All You Can Eat Tacos with rice and beans for just $6.95.
Time: 3-6 pm
A great place to kick back and relax with some good food and an ice cold beer. At Bub's, you can choose from seriously creative tacos, like their Buffalo Chicken or Fried Avo taco. On Tuesday's, taco will only run for $3-$4.
While they may have world-class cocktails, U-31 also serves up some pretty fire tacos. Taco Tuesday will have you enjoying their Beer Battered Fish or Chipotle Chicken tacos for only two bucks.
Located in a historic building, Bier Garden is the perfect place to unwind after a long day. Enjoy $3 street style tacos and $6 El Jimador Margaritas.
Come out to this eclectic spot and enjoy $2.50 tacos every Tuesday, along with $5 margaritas and daily wine and beer specials during mid-day happy hour.
A great place to dine with family and friends, Hacienda has an incredible $2 taco deal every Tuesday. Choose from carne asada, pollo asado, or carnitas, and don't feel bad ordering an extra, you deserve it.
This cool spot is great for grabbing a great meal for lunch or dinner, not to mention their tacos are to die for. With a variety of tacos to choose from, ranging in price from $3-$7, you're sure to feel nice and full when you leave. If you're feeling bold, try out their Lobster Taco.
Offering contemporary American cuisine in a casual beach lounge atmosphere, The Duck Dive also has some pretty incredible tacos. $3 tacos every Tuesday night and daily drink specials are calling your name.
Overlooking the beautiful view of the ocean, Crab Catcher has been serving up the freshest seafood tacos to the San Diegans for a long time. Interested? Well $2 fish tacos should be enough to get you over there on Tuesdays.
If you're passing through Gaslamp, you have to check out Taste & Thirst. Known for being a fantastic sports bar with plenty of giant HD screens, their also known for having some pretty tasty tacos, all starting at $2.
A local college favorite, Players Sports Bar serves up $2 ground beef or shredded chicken tacos, or $3 fish tacos every Tuesday.