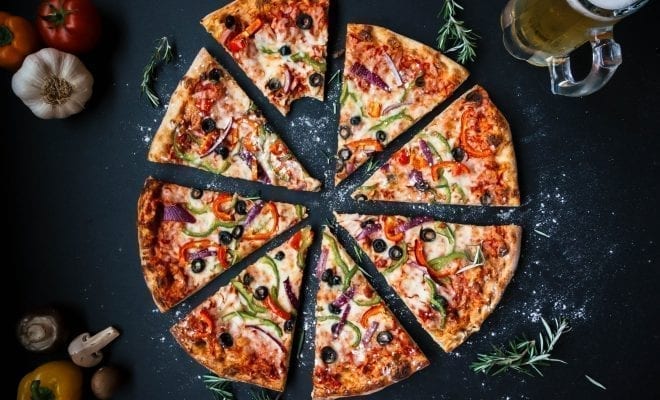 Dining
Homemade Pizza So Good You Won't Want Delivery
By
|
Pizza is practically a universally loved meal, and it has never been easier to have a steaming hot pie delivered to your door in less than an hour. But if you have never had homemade pizza before, boy are you missing out. Nothing beats making fresh dough and sauce, and the flavor is unmistakably incredible. Plus, it's super fun to do, and makes for a unique date night too!
Before we get started, you've got to plan ahead with the right tools. Most home ovens don't get hot enough for a standard New York style pie. A pizza stone (or pizza steel) is necessary for a crispy crust. Without one and you're looking at a more soft crust – still delicious, but less desirable. You will also want a cookie sheet with no edges. This will aid in transportation of your pizza in and out of the oven. The recipe below also uses a food processor to save time and energy on kneading the dough. you can knead by hand as well, but it will take longer.
Pizza Dough
Ingredients for 1 lb of dough (enough for two 12″ – 14″ pizzas)
3/4 teaspoon active dry yeast
1/2 teaspoon fine sea salt
1 2/3 cups bread flour, plus more for surface (bread flower will make the crust crispier. All-purpose can be substituted, but the crust will be more chewy)
Preparation
Set aside 3/4 Cup of warm water. Water should be 100°F–110°F (hot water from the faucet is likely too hot, so add some cold water or an ice cube). Add the yeast, salt and 1 2/3 cups of flower into the food processor and process to combine. With motor running, add water until a ball forms. Continue to pulse for 30 additional seconds to further develop the gluten in the pizza. This gives the crust that chewy texture. Turn out dough onto a lightly floured work surface. It should stick be tacky to the touch. Knead by hand until dough becomes smooth and elastic. Divide dough into 2 balls and store in a plastic bag in the fridge over night (or up to 2 days). The longer the dough sits, the more flavor will develop.
Pizza Sauce
Ingredients
1 (28-ounce) can whole peeled tomatoes
2 tablespoon extra-virgin olive oil
2 medium cloves garlic, smashed and peeled
1 teaspoon dried oregano
pinch red pepper flakes
Kosher salt
2 stalks fresh basil (approximately 8-10 leaves)
1 medium yellow onion, peeled and split in half
1 teaspoon sugar
Preparation
Use a blender, immersion blender or food processor to puree tomatoes until mostly smooth. Transfer to pot and combine with remaining ingredients. Bring to a simmer, reduce heat to low and cook, stirring occasionally, until reduced by half, about 1 hour. Discard onions, garlic and basil stems. Season to taste with additional salt.
Assembly
When it's time to make your pizza, take the dough out of the fridge and let warm to room temperature. Set your oven to 500 degrees, or as hot as it gets. Make sure your pizza stone or steel is in the oven during the pre-heat so it can get up to temperature as well.
When your oven and pizza stone is hot (approximately 30 minutes), it's time for the fun part! First, you'll want to properly shape your pizza. To do this, work on a heavily floured surface. Get your dough, and pat it down into a circle, rotating it. With the tips of your fingers, push the around the edge of the circle, making it thinner and thinner until it reaches to about 12 inches in diameter. Once its reached the desired diameter, gently place the pizza on a flowered flat cookie sheet (no edges).
Lightly apply sauce to the middle of the pizza, and use a spoon to spread it around the dough, moving in a circular fashion. Drizzle a bit of olive oil on top, then you're ready to put your toppings on. We all have our favorite pizza toppings, so I'll leave this part to your own creativity. I do however recommend a generous amount of mozzarella and paramesan cheese. You can't go wrong with that combo.
A little tip: don't over top your pizza. Stick to 2-3 toppings and keep the layers light. This will allow the crust and toppings to cook at the same rate, leaving a nice crispy crust that won't turn soggy.
After your toppings are placed on your pizza, it's time to cook! Quickly slide your pizza off the pan and onto the pizza stone. This may take a little effort to get right. Cook for 5 minutes or until the cheese is melted and the crust is slightly blackened. Enjoy!