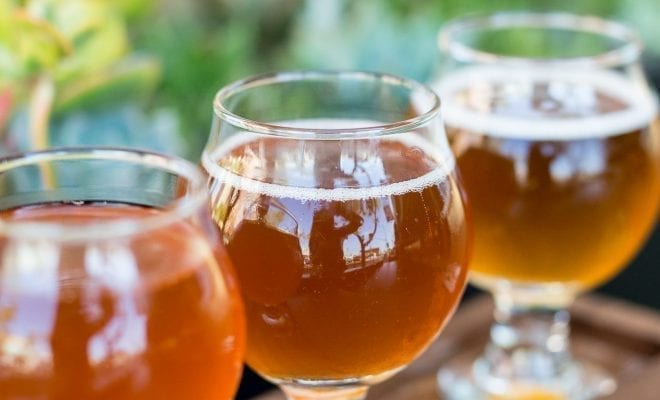 Dining
Bivouac Ciderworks: The King of the North (Park) for Brews + Local Bites
By
|
Working in the heart of North Park for over three years has me well acquainted with most of the OG restaurants around these parts. The stretch along University Ave. between Louisiana Ave. and 32nd St. is riddled with every flavor under the sun. Ramen, sushi, tacos, Thai – you want it, you got it.
When craving a refreshing cider and locally sourced bites, Bivouac Ciderworks is king. During Farm to Fork Week, these guys have created a tasting menu highlighting vegan and gluten-free dishes, cider pairings and a specialty cocktail. Available from Sept. 10 – 15th, diners can enjoy a three-course menu with items such as the vegan grazing board with Fitzgerald Farms & JR Organics house jams and fruit, a vegan kebab made with Tutti Fruitti Farms heirloom tomatoes, and finish things off with a chocolate custard and peanut buttercream dessert or grilled stone fruit pie.
The three-course tasting menu will run you $35 bucks and diners have the option to tack on a cider pairing for an extra $20. Be a little adventurous and get the cider pairing. Matthew Austin is the master behind the ciders and makes the stuff in-house. They're damn delicious – I can attest.
Founded by Trish Watlington, Farm to Fork members are a grassroots group of restaurants, beverage makers, businesses and non-profits that support local farmers and fisher families and a fairer, more sustainable food system.
Bivouac is a cider tasting room, local hangout featuring a creative menu inspired and sourced with help from farmers at the nearby North Park Thursday Market. Located at 3986 30th St., San Diego, CA 92104, reservations are encouraged.