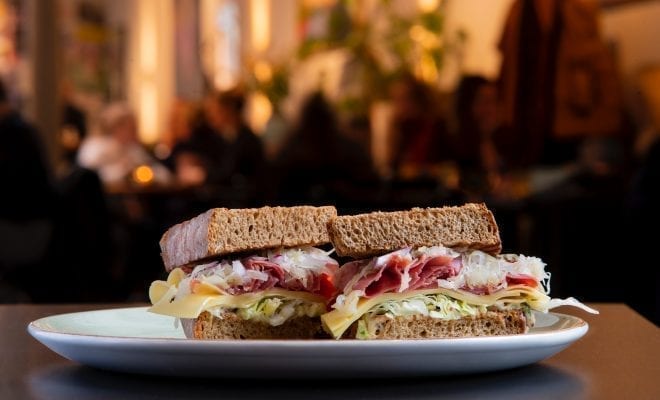 Dining
Delectable Delis in San Diego
By
|
You really can't go wrong with grabbing a fresh sandwich from your local neighborhood deli. Whether you're gearing up for a hike, stopping in on your lunch break, or just needing to scratch that cold-sub itch, a mom & pop deli is the way to go.
Rubicon was created with one goal in mind: to refine the creative approach to sandwiches and ensure each experience is unforgettable. When a place bakes their bread fresh daily, you already know a great sandwich is in store. If you're a cold sandwich fan, the Stallion is a take on the classic Italian sub with added applewood smoked ham and all the fixings.
Family-owned with an emphasis on customer service and loyalty, Beyer Deli exemplifies the very essence of what a deli is. You can be assured you're met with a smile upon walking into Beyer Deli, and each sandwich is made with freshly baked bread and the finest ingredients. The New Yorker is a standout amongst their incredible menu. Piled high with corned beef and pastrami, you'll feel as if you picked it up off a deli from a New York street corner.
Classic mom and pop deli, Crossroads serves fine sandwiches made with the finest meats from Boar's Head. There's no skimping on portions here, as their sandwiches are positively huge, you're guaranteed to save some for later. While appearing simplistic, you will immediately be blown away by the quality of their sandwiches. Some selections, like the Falafel, are made from the owners traditional family recipes, and the flavors certainly back that up. On Thursdays, swing through to try one of their daily specials, which includes new and creative sandwich ideas.
Small and family-run, the Surf and Sub Deli knows a thing or two about serving up some seriously excellent sandwiches. Reasonably priced at $5-$7, you can grab yourself a fresh-to-order sandwich and enjoy a nice lunch on their outdoor patio. A killer selection includes the Meatball Sandwich, smothered in marinara sauce and warm melted cheese.
Just 10 minutes from the beach, OB Deli is the perfect stop for some sandwiches before spending a sunny day near the ocean. They offer a menu of classic sandwiches along with specialty sandwiches that are unique to OB Deli. The Cable St. Sandwich is a triple-decker monstrosity in the best way, piled with deli bread, turkey, crisp bacon, and provolone cheese. They also offer online ordering, and every 10th order nets you a free sandwich!