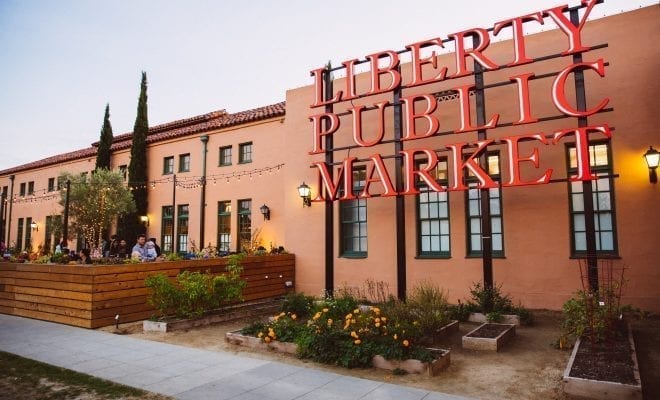 Dining
Food Hall Frenzy: Liberty Public Market Introduces Five New Chef-Driven Concepts
By
|
As the food hall craze continues to gain traction, Liberty Public Market has secured its place as San Diego's trailblazer, consistently attracting the local community and the national spotlight for its collection of gourmet artisan and chef-driven concepts. Having opened its doors within Liberty Station in March of 2016, the evolution continues as ownership, renowned Coronado-based Blue Bridge Hospitality, announces five new incoming concepts that join the over 30 globally-influenced specialty purveyors. Coming this summer, everything from over-the-top donuts to chef collaborations will debut at Liberty Public Market:
After their flagship's success in Pacific Beach, Frat Boy Donuts will bring an inventive selection of gourmet donuts, cronuts and pastries available fresh daily. The elaborate and over-the-top variations of classic and innovative donuts and baked goods are showcased in the bakery, with the addition of locally-sourced coffee and cold brew beverages.
Brothers Eric and Alex Howard of Wicked Maine Lobster bring their uncle's famed Wisconsin artisan popcorn to the West Coast. Minocqua Gourmet Popcorn Company offers creative flavors like White Chocolate Pretzel and White Cheddar Chive.
Three new yet-to-be-named culinary concepts will debut this summer in the market's Mess Hall:
Chef Hanis Cavin of Carnitas Snack Shack fame is teaming up with Chef/Partner Eric Gallerstein of market favorite Mastiff Sausage to develop a new barbecue smokehouse venture, showcasing a selection of proteins all smoked over natural oak and cherry hardwoods right on site.
A new hotspot will deliver a bold fusion of Korean and Mexican flavors to the Liberty Station lineup from the culinary mastermind of Junya Watanabe, who currently draws in crowds with his award winning RakiRaki Ramen & Tsukemen.
Landini's Pizzeria – The incoming Landini's Pizzeria, an offshoot of the original Little Italy Location, will offer a lineup of pizza variations from the vegetarian Michelangelo to the Meatball Ricotta Marinara.
San Diego locals and travelers can expect to explore these five incoming concepts come Summer 2018. Apart from the new additions, market visitors can enjoy a variety of culinary options such as a healthy salad or grain bowl at Local Greens, top-quality sandwiches at the Liberty Meat Shop, and artisan breads and pastries at Crafted Baked Goods, to name a few. Market visitors can enjoy happy hour offerings throughout the week, such as a half-off burger of the day at Stuffed! along with a $4 pint of the week at Bottlecraft. Taking advantage of San Diego's year-round sunshine, the market offers 3,000 square feet of outdoor patio space decorated with olive trees and communal seating, perfect for a quick meeting over coffee or casual al fresco market dining. Liberty Public Markey also has live music every Sunday.