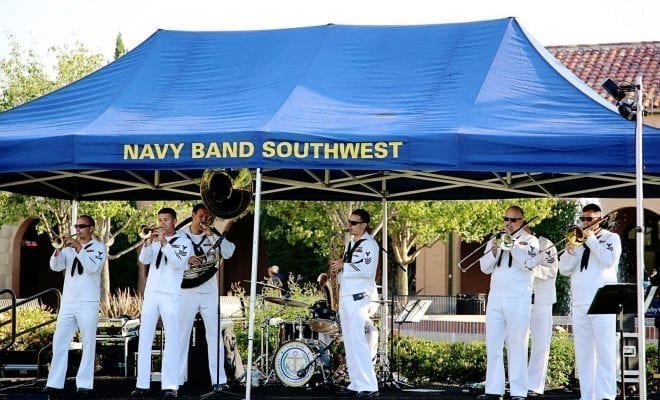 Entertainment & Events
Second Annual Taste of Liberty Station
By
|
Stroll the storied corridors and promenades of Liberty Station for a night filled with live music, entertainment, local artwork and featured eateries from around the neighborhood. The second annual Taste of Liberty Station will be held Wednesday, April 18, from 5:00 p.m. to 9:00 p.m. in the heart of Liberty Station. Attendees can peruse the grounds and experience the bites of more than 20 local eateries such as Solare Ristorante, The LOT, Banyan Kitchen + Cafe, Soda & Swine and many more.
"The Liberty Station Community Association is excited to host the Taste of Liberty Station for the second year in a row," said Marco Li Mandri, Executive Director. "We are looking forward to hosting residents and visitors of San Diego to explore all that our beautiful community has to offer.  With the variety of businesses participating in the event, there is something for everyone to enjoy on this exciting night."
Attendees can purchase a "Liberty Pass," that grants them access to all the food tastings at the event—mapping out all the participating restaurants, businesses and art galleries to make it easy for "Liberty Pass" holders to wander through Liberty Station. Guests over 21 have the option of purchasing a "Bubbly Pass" to sample sparkling wines in the Bubbly Garden presented by Liberty Public Market in the Central Promenade.
After indulging their palates, attendees can explore the ARTS DISTRICT at Liberty Station as it comes alive with interactive art exhibits by local artists and artisans showcasing their work. Visitors are encouraged to browse the many artisan goods throughout the neighborhood on this evening.
Parents have the option to utilize Kid Venture's "The Drop," program, an indoor outdoor venue open for kids to safely play and run around, ensuring great quality alone time for the adults. The fun and safe facility provides kids with an imaginative and creative way to play giving parents the option to enjoy the event on their own.
The family-friendly event allows guests of all ages to connect through culture, art, food and community experiences. "Liberty Pass" tickets are priced at $30 prior to the event and $40 at the door. Tickets for the Bubbly Garden presented by Liberty Public Market Presented by Liberty Public Market are priced at $15 prior to the event and $20 at the door. To purchase tickets, visit here.
For more information on this year's event or information about Liberty Station, visit www.libertystation.com. For updates about the neighborhood, connect on Facebook/LibertyStation, Instagram @libertystation, or Twitter @liberty_station.