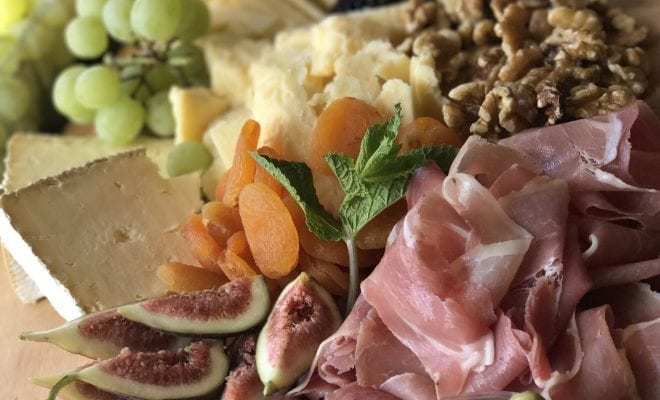 Dining
Banyan Kitchen + Cafe & Chi Chocolat: Fresh Cuisine and Gourmet Chocolate
By
|
There's no better way to start the New Year than with new goals and new experiences, and if you're looking for a new restaurant or café to try for a light bite or an extra sweet treat, Banyan Kitchen + Cafe and Chi Chocolat, neighboring cafés located in Liberty Station, combine fresh cuisine and decadent chocolate for the best of both worlds.
Banyan Kitchen + Cafe, a restaurant and full-service catering company, offers fresh cuisine inspired by the cultures and flavors of the world made with locally sourced, organic food and produce for  exceptional culinary experiences for every occasion. Owned by wife-husband team, Tess and Jesse Brown, Banyan Kitchen + Cafe offers custom catering options, allowing them to fuse their clients' vision with the best quality products available. Their pre-event tastings ensure quality and perfection in every bite. The custom catering options and the café's selection of dishes happily accommodate vegan and gluten-free needs with a wide selection of vegetarian and vegan dishes made with quality organic ingredients.
"We both share a passion for rich flavors and delicate blends. Our goal is to make our clients' vision come to life with creativity and exceptional execution," said owner Tess Brown. "We treat all of our clients like family to create the perfect plate, perfect setting and perfect event."
Banyan Kitchen + Cafe offers breakfast and lunch menu items at the café with unique daily specials and vegan and gluten-free options.  The space, adorned with original artworks in support of local artists, offers a relaxing space for guests and is available for hosting events and private parties, with seated luncheons and dinners for up to 40 guests and standing room receptions for up to 75 guests.
Chi Chocolat, Banyan Kitchen + Cafe's sister café and a premier artisan chocolatier, offers fresh gourmet chocolates, great for—other than personal consumption, of course—unique gifts for those with impeccable tastes or for amenities, wedding or corporate gifts. The selection of decadent treats includes artisan truffles and bon bons, chunky slabs of premium chocolate and succulent enrobed fruit selections for those big, high impact occasions. The entire range of Chi Chocolat's exclusive collection is available for purchase at the café or by order over the phone, with premade arrangements and custom packages available.
All chocolates are handmade at the café with only the finest high-quality bulk chocolate, fresh cream, herbs and spices. With no added preservatives, these sweet treats are packed with antioxidants and heart-healthy properties, making our favorite guilty pleasure a little less guilty. The unique gourmet chocolates range from rich dark chocolate ganache truffles topped with Hawaiian sea salt to spicy sweet chili tangerine bonbons infused with Pasilla peppers. The café also offers specialty coffee beverages made with locally roasted espresso beans, as well as wines and champagnes for pairing with the perfect chocolate choice for a little indulging.
Banyan Kitchen + Cafe and Chi Chocolat are located at 2690 Historic Decatur Road in Liberty Station. To find out more about Banyan Kitchen + Cafe, visit www.banyankitchensd.com or stay connected on Facebook.com/BanyanKitchenCafe and Facebook.com/ChiChocolat.