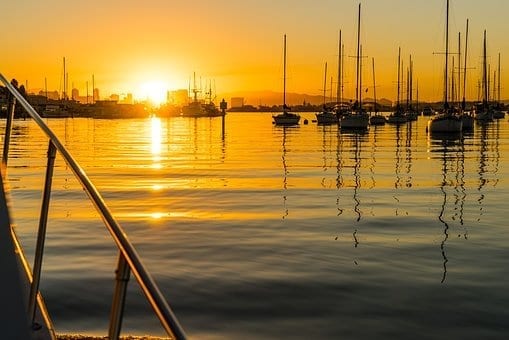 Dining
Top 4 Restaurants to "Dock & Dine" in San Diego
By
|
San Diego is home to dozens of waterfront restaurants between the Harbor, Mission Bay, Coronado, Shelter Island and more. But why fight traffic and look for parking in busy coastal neighborhoods when you can "Dock and Dine" instead? Whether you boat to brunch or take a sunset sail to supper, there is no better way to eat out in San Diego.
Dan Hasbrouck, President of San Diego's Freedom Boat Club, shares that dock and dine is one of the most popular activities for his members. "San Diego has unbeatable year-round great boating weather and some incredible waterfront restaurants. Along with fishing and boating with the family, our members love to use the boat club for dock and dine."
Located on the sparkling waters of San Diego's Mission Bay, Paradise Point Resort & Spa's signature restaurant, Tidal, offers a coastal-inspired menu from Chef Andrew Reyes. Favorite menu highlights include: warm house made island rolls with whipped roasted pineapple honey butter; Chef Andrew's daily cheese and charcuterie selection; local big eye tune poke; confit Spanish octopus; soy braised beef cheek; and lava salt crust diver scallops. Tida is set in what used to be a private beach house, built by Hollywood producer Jack Skirball, and features an expansive patio with fire pits and 180-degree views of the bay.
Dock Tip from Hasbrouck:  "The best way to dock here is to put your bow towards the north and park on the outside of the dock. As you get closer you well notice that the dock has a curve to it like a crescent moon."
Guest Slip Information:
Maximum 60 lineal feet. Call Action Beach Rentals at 858-581-5939 for availability.
Bali Hai was the first Tiki temple erected on Shelter Island and still offers a taste of the South Pacific with tiki cocktails and island fare. While Bali Hai is most famous for their dangerously strong Mai Tais, check out some of their other potent and delicious cocktails or share a Scorpion Bowl for two. Don't miss their Ahi Poke, served with avocado, seaweed salad, masago and wonton. Sunday brunch is Bali Hai's busiest dock and dine day, with boats sometimes being docked two deep!
Dock Tip from Hasbrouck: "if your boat is less than 30 feet, I recommend docking on the inside of the dock. This will give your boat more protection while docked from passing boat wake."
Guest Slip Information:
90 lineal feet total. First come first served; for use by diners at Bali Hai.
Why pay for valet parking at the Harbor Island favorite of Island Prime and C Level when you can dock for free? Part of the Cohn Group, these restaurants have some of the best food on the San Diego Bay. Crowd favorites include Chef Deborah's Pepita & Sesame Crusted Brie with honey-roasted garlic and jalapeno jelly at C Level, as well as the Prosciutto Wrapped Center Cut Filet Mignon at Island Prime. Also check out the dessert "trios" such as the platter of three mini ice cream sandwiches! The beautiful location and excellent food is only tempered by the difficulty of docking – they have a require you to call in advance and submit paperwork in order to dock.
Guest Slip Information:
The marina offers slips for diners at no charge. Call Sunroad Marina at 619- 497-5251 in advance to receive the appropriate paperwork to participate in Dock & Dine.
Make your way over to Coronado to Peohe's, located at the Ferry Landing. In addition to their seafood-centric menu, Peohe's also offers a delicious Sushi Bar available on a first come, first served basis. If you don't score a table at the Sushi Bar or on the patio, don't worry – tiered seating in the dining room means every table can enjoy the view! Try their decadent Mahi Mai'a prepared with macadamia nuts, bananas & Frangelico, coconut ginger rice, or their Surf & Turf Sushi Roll, a lobster California roll wrapped in filet mignon.
Insider Tip from Hasbrouck: "This dock sits right next to an open speed channel and there will be turbulent boat wake that makes its way to the dock. I recommend tying up your boat so that none of the fenders touch the dock. Bring an extra dock line or two to help you do this. It is always a good idea to have an extra fender as well."
Guest Slip Information:
First come first served.