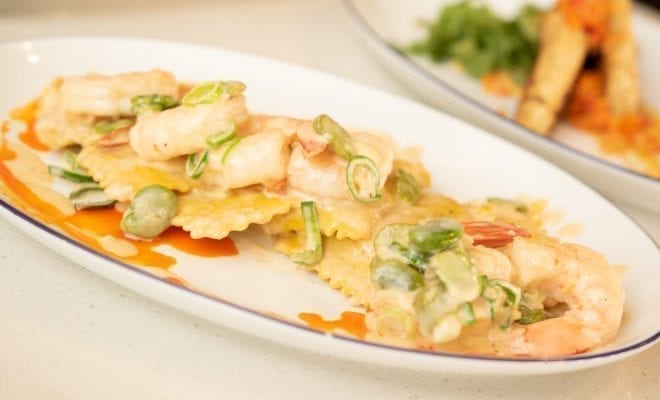 https://theguildhotel.com/wp-content/uploads/2019/05/guild-98-2-1000x1000.jpg
Dining
4 New Downtown Restaurants You Have To Try
By
|
New restaurants are popping up all the time in San Diego county but we're here to let you know that Downtown San Diego specifically is crawling with delicious food and unique atmospheres to grab a meal. A lot of you readers are well aware that there are ample choices for an exquisite meal that you may even frequent, but we're here to refresh your list of go-tos and break you out of that comfort zone. If you aren't local to the area, then here are some of the hot new spots to try.
This spot is open to all the locals in San Diego and is an elegant start to our list. Located on Broadway Street in Downtown, this chic new hotel restaurant is set in a Riviera-style courtyard boasting historic charm and marble-top tables. Not sure what we like more, the sophisticated lobby cocktail bar or the aesthetically pleasing courtyard dining area. This spot has a smart-casual dress code and sports fresh, local ingredients. If you're in the mood for mouth-watering Mediterranean food in a pleasant outdoor environment, then pop on over for a nice meal. Consider checking out the website or take that leap of faith by going over there after you're finished reading this sentence.
We know what you're thinking, "what about the most important meal of the day?" We got you covered. Morning Glory is a global brunch and cocktail restaurant located right off the 5 freeway on Date street which is a few blocks over from Front Street. With its convenient location and variety in selection, this breakfast spot will prove worthy of a great weekend rally on your "Sunday Funday." Like many breakfast joints, Morning Glory is open for limited morning hours starting at 7 am for you early risers and closing down shop at 3 pm (for those of you that take so long getting ready that your "brunch" starts at 1:30 pm). A vast selection of morning libations including fizzy lifting drinks to caffeine and liquor is complemented by global food items ranging from classic flapjacks to fried rice. We can't do it justice by just talking about it, so you'll just have to see for yourself.
This new spot serves hot and delicious ramen to every lucky customer who walks through their doors. Yes, they dished out 200 free bowls of ramen on their grand opening, but don't worry, their portions are still hefty and affordable! If you like thick al dente noodles and flavorful pork then we suggest you give this tucked away restaurant a try. They're located on Broadway between 5th and 6th street. It should be the one with the line out the door.
This new restaurant throws an elegant twist on American comfort foods in a business casual bar setting full of high tops and booths that are perfect for a social lunch or dinner. They have a wide array of signature cocktails and a constantly rotating, innovative menu while consistently using fresh and seasonal ingredients. Catch them at brunch this weekend until 3 pm!
We hope you found this short list of new eats to be helpful. Have a great day and happy eating, readers!