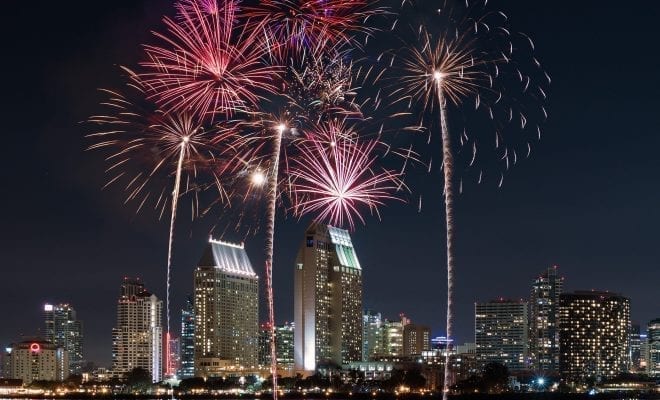 Dining
4 Indulgent Restaurants with Unforgettable 4th of July Views
By
|
San Diego is one of the best cities in the country to celebrate the 4th of July. With sunny skies, coastal views and ample spots to watch the fireworks, there couldn't be a more ideal location to raise a glass and toast to Independence Day! If you're looking for a great spot to watch the fireworks, be sure to read our 2018 Guide to Fireworks locations. Interested in doing something a bit different or indulgent? We've picked four of the most unique destinations for 4th of July this year:
Enjoy a front-row seat to the Big Bay Boom fireworks show on San Diego's Boardwalk when an exclusive seating area on Sally's Fish House & Bar's front patio is reserved. Fit for five people, sit back and relax while watching the largest display of fireworks on the West Coast. Spend a minimum of $500 on food & beverage for the evening and enjoy locally sourced seafood, craft cocktails and California fine wines. Ticket price of $100 reserves a seating area and remaining $400 of minimum is paid at event check-in. Private seating area will be available beginning at 7 p.m. followed by fireworks beginning at 9 p.m.
As fireworks fly over the sparkling waters of Mission Bay, sit back and relax on the sandy beach at the newly renovated Paradise Point Resort & Spa. Reserve a bonfire pit complete with a s'mores kit for the perfect summer 4th of July celebration, or enjoy the fireworks from the outdoor patio of signature restaurant, Tidal, featuring stunning bay views.
Take in the Big Bay Boom Fireworks show from 40 stories above the San Diego Bay at the tallest waterfront hotel on the West Coast, offering unrivaled views. Join Manchester Grand Hyatt in Top of the Hyatt from 6 – 10 p.m. to celebrate 4th of July. Delight in sips including unlimited beer, wine, champagne and premium liquor from the bar and dining on BBQ cuisine from the themed dinner buffet. The celebration continues inside with a festive atmosphere and free event parking in Grand Hyatt San Diego's garage, based on availability. The event is ages 21+. Seating is limited; reserve your seat here.
Walk upstairs and stretch out on Park 101's Tamarack View Deck, featuring a rooftop lounge with fire pits and cozy seating areas. Here you'll find gourmet snacks and great views of the vibrant Carlsbad fireworks displa., Enjoy the open-air atmosphere, along with food and drink specials available throughout the day!