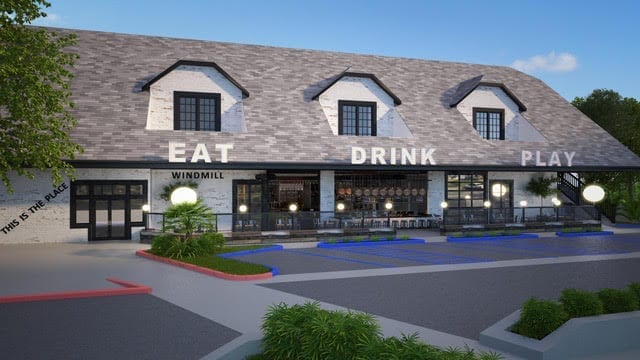 Dining
Carlsbad's Windmill Food Hall Announces Vendors
By
|
Welcome to the summer season, when the sun shines a little brighter and fun is always around the corner. For our San Diego foodies, this exciting season is no exception for sub-par eating. Our team has news for anyone looking to experience a truly unique dining experience. In August, the highly-anticipated Windmill Food Hall will open its doors. Located in Carlsbad, the new location will be housed in the city's iconic roadside windmill landmark.
James Markham, founder of Windmill Food Hall, has a vision that he wants to share with all of you. Markham is well-known for his previous successes across the country in the food industry. Many of you may be familiar with his previous restaurants MOD Pizza, Pieology, Project Pie, and Crackheads. Known for his ambition and authenticity, Markham is prepared to bring a new taste to the dining scene of San Diego.
The venue will offer traditional bar seating, a welcoming outdoor area, and a room called The Library with relaxed, communal seating and a central fireplace creating the perfect atmosphere for any occasion. Other features to look for include vintage interior design inspired by the 30s-40s era, family-friendly games, and a unique payment system that will allow guests to come and go from multiple vendors, as well as receive table service without paying until the end of the visit.
As for the food, we will let the vendors and their creations speak for themselves. Markham hand-picked each vendor to bring an eclectic range of options to his project. With choices that will make everyone in your party happy, the growing list of vendors includes Bing Haus, Bread and Cheese Eatery, Cross Street Chicken & Beer, Doughballs Pizza, Lobster West, Rolled Up and Thai Style Kitchen. Between all these vendors an extensive menu of Asian-inspired desserts, specialty breakfast sandwiches and coffee, gourmet grilled cheese, made-to-order pizzas, gourmet street tacos, New England style lobster rolls, and traditional Thai cuisine can be found in one location. Plus, Crackheads, a standalone breakfast spot will serve up indulgent breakfast sandwiches and coffee.
Unlike many food halls, this one will serve as a gathering space not only for daytime but for evenings as well. Windmill Food Hall brings a fresh slew of culinary options to Carlsbad that will be both family-friendly and just the spot for 'girls night out'. With a multitude of options for seating, entertainment, and food, your evening should be nothing short of unique.