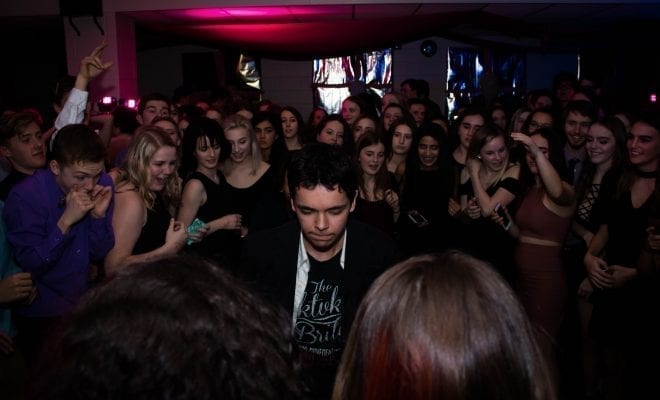 Music
San Diego's Best Bars with Live Music
By
|
We live in San Diego, which means we have a lot of options when it comes to music, beer, and places to hang out. From clubs, to brunch spots, to trendy coffee shops, San Diego ensures that you will have a fun day out no matter what you choose to do.
Bars that play live music are a fun way to spend your days and evenings, enjoying your free time with the best company. We've compiled our favorite bars with live music. You'll find anything from local heartthrobs, Indie newbies, touring bands, and an occasional jazz contender.
Make your way down to The Casbah, an upbeat location on Kettner Blvd, where you can enjoy a night out and listen to your favorite music. This extraordinary location goes all the way back to 1989 and has had the privilege of hosting Nirvana, Lemonheads, and Smashing Pumpkins. With a venue that fits over 200 people, there is plenty of room on the patio, pool tables, video games, and of course a full bar. The Casbah hosts musical talent at least six times a week, so you can always fulfill your craving of discovering new music. The Casbah is open from 8:30pm-2am, unless otherwise noted. Check out the shows coming up at the San Diego location so that you can plan a night out of listening to music, sipping on a vodka soda, and relaxing with your favorite people.
The Merrow is small enough to feel like you can be a known character if you want to, but big enough that you can actually breathe. Follow them on "Tap Hunter" for their selection of craft beers, and rest at ease knowing that this dive bar doesn't serve dive beer. Happy hour runs every day until 8PM, so come early and grab a couple of drinks before watching the creative geniuses hit the stage. In addition to local bands from electronica to acoustic and everything in between, The Merrow hosts Burlesque shows, movie nights, and karaoke. 
At Winston's, there's no 'typical' night. With a wide variety of musical genres including hip-hop, soul, jazz, Latin, bluegrass, and so many more, the only thing common is people gathering to be inspired by musical geniuses. Local and touring bands alike set up their gear at this prime beach bar location. Come for happy hour (daily from 1-6PM) and stay for a night of top-notch music at a venue that's been blasting its sound for over 30 years.
The Tin Roof is one of the best places to discover new talent, and to sit back and grab a drink. Along with giving new musicians a place to perform, there are also delicious bites and drinks for you to enjoy on your night out in the city.
Take advantage of their happy hour deals from 3-7PM on weekdays, or come in for Taco Tuesday and splurge on half a dozen $2 tacos and a couple of $3 cervezas.
The eclectic environment will have you dancing around and enjoying your weekend with your favorite drink in your hand. Tin Roof is located in an 1880's building in downtown, adding to the historic and lively vibes found at this music safe haven. Come in for lunch, dinner, or a late night adventure where you can discover your passion for music.
Their tagline includes "giving musicians a place to play and a place to hang when they aren't on stage," so come–hang out with the stars! Make sure to come early to grab a seat, and enjoy the show!
Every week you can enjoy the music at Patrick's Pub located in the Gaslamp. Enjoy the classic blues or rock and roll while listening to your favorite tunes. Join them for local artists or musicians from all over the country, coming in to provide you with the best entertainment. Patrick's Pub is known to be cozy and has the appearance of an Irish pub, while having relaxing blue's music in the background. Patrick's is the best place to come to for a night of variety in music, and drinks, allowing you to fully kick back and relax after a long week. Happy hour is every day until 8pm, and you can indulge in the daily shot specials that are provided.
Don't let the name fool you, this bar and music venue is only for those 21 and up. If you're looking to come across a few new indie bands to add to your record collection, look no further. Although there isn't any food at Soda Bar, they do have a full beer and cocktail selection, to get you the drink that you're craving while listening to live music. Check their calendar to find an act to invite your friends to! 
Spend an evening in Oceanside at Pier View Pub, and enjoy a peanut butter stout and live music that's affordable! With tickets as low as $5, this pub and music venue is the perfect spot to discover new bands without breaking the bank. Come on the weekend for live music, or during the week for free all-you-can-eat peanuts!