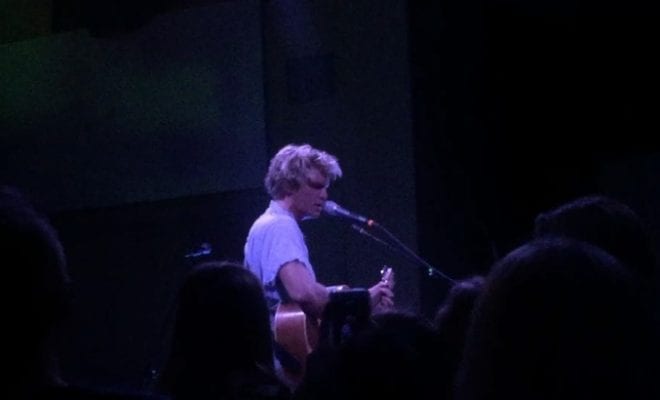 Music
Cody Simpson Review from The Irenic
By
|
Australian pop-star Cody Simpson is back and better than ever. On October 19th, Simpson entertained the San Diego locals at The Irenic to share his new album, Wave One, with his new band Cody Simpson & The Tide. As people entered the secluded venue, guests would run to the front of the stage to ensure the best standing space for the musician. Bay Ledges opened for Simpson and set the tone for the rest of the show, with their upbeat and unique vibe. As soon as Simpson took the stage, you could hear the fan screams from miles away.
Simpson opened his show with the hit Wave One and the crowd at the intimate venue absolutely loved it. The consisted people of all ages, specifically millennials who are loyal fans to the Australian native. With an impressive career, Simpson has collaborated with Justin Bieber, Ziggy Marley, and many other music professionals. Earlier in 2017, Simpson had the pleasure of performing for the Queen at Buckingham Palace and was named the United Nations Development Program's Ocean Ambassador. His album shows Simpson's love for the ocean and the importance of taking care of our planet. His album has a vibe that is different than anything he's ever created.
As guest at this event, it was prominent that Simpson is extremely dedicated to his fans and has a passion for the ocean, along with his music. His humble stage presence made his music and message so simple, he knew how to relate to his fans and keep them entertained as he showed off his insane vocals to the crowd. His range h
as only gotten stronger since his first album, and that does not go unnoticed. He also did some upbeat covers of songs that everyone knew and loved, his acoustic choices truly showed off of what Simpson is capable of vocally. His stage presence matches his album perfectly, with a somewhat "laid back" vibe, but while being interactive at the same time. A local attendee Megan Clark shared with us, "Cody Simpson has been my celebrity crush since I can remember. He has really evolved as an artist, and when my friends and I heard he was touring again, we jumped at the chance to see him perform. It's also a plus that he is super easy on the eyes," she giggled as she turned back to her friends.
Simpson created an atmosphere at The Irenic Center that showed his fans that he is back and he's staying for good. Simpson has shown the San Diego locals and the rest of the world that he is a stunning performer and his passion shines through when he is singing and he has true loyalty and love his new and old fans that appreciate what he stands for.
Cody Simpson has created his own sound and with his drive and tenacity, complimented by his passion, his career is only going to go farther and farther. Join loyal fans and discover the passion behind Cody Simpson's new album.