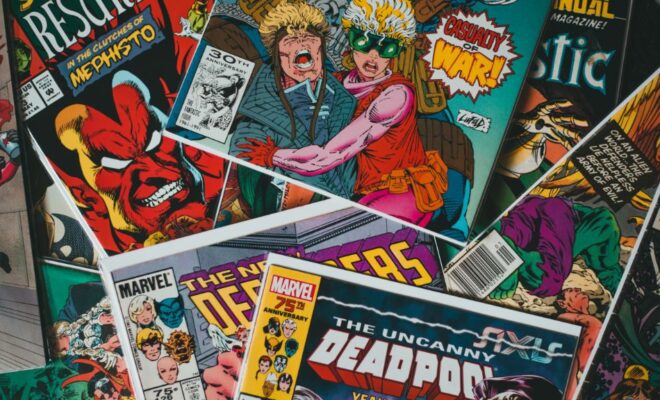 Arts
9 Things To Do For Comic-Con 2023 in San Diego
By
|
Unleash Your Comic-Con Adventure: No Badge? No Problem!
Missing out on a Comic-Con badge doesn't mean you have to miss out on the excitement of San Diego's biggest weekend event, happening Thursday, July 20, through Sunday, July 23. Whether you're a die-hard fan or simply curious about the Comic-Con experience, there are still plenty of incredible activities to enjoy, from mingling with iconic characters to immersing yourself in thrilling exhibits. Here are some of the best things to do during Comic-Con 2023:
Party with Barbie
Indulge in a one-of-a-kind party experience with the iconic Barbie at the Malibu Daydream Experience. Located at Parq Nightclub, this plastic fantastic event invites you to immerse yourself in a world of pink-infused delight. With interactive lounges, photo opportunities, appearances by Barbie characters, and delectable treats and beverages, this event is sure to captivate fans of all ages. Join the pink daydream festivities, exclusively for those aged 18 and up, and prepare for an unforgettable experience from Wednesday to Friday, between 12 p.m. and 7 p.m., at 615 Broadway in East Village.
Sip espresso with your favorite furry friends
Escape the hustle and bustle of daily life and find solace at The Cat Cafe, where you can immerse yourself in the soothing company of adorable and adoptable felines. With a limited capacity of 10 people per 50-minute session, this cozy space ensures a tranquil environment for both visitors and the resident cats. For a reservation fee of $25, you can enjoy unlimited cuddles from these friendly companions while savoring a delightful food or drink item. The Cat Cafe welcomes guests from Thursday through Sunday, between 9 a.m. and 3:50 p.m., offering a purrfect sanctuary at 302 Island Avenue, #101, downtown.
Admire Artistic Marvels at the Comic-Con Art Show
Prepare to be dazzled by a breathtaking display of original drawings, paintings, sculptures, and more at the Comic-Con Art Show, held at the Manchester Grand Hyatt. Immerse yourself in the world of creativity as you explore the exceptional artwork on exhibit. Additionally, delve into the realm of acclaimed comics and books nominated for the prestigious Will Eisner Comic Industry Awards. This event is free for all ages, allowing enthusiasts of every generation to appreciate the artistic wonders. Please note that to purchase artwork, you must be 18 or older and have proper identification. Join us for this captivating experience, running from Thursday (11 a.m. to 8 p.m.), Friday (9 a.m. to 8 p.m.), and Saturday to Sunday (9 a.m. to 6 p.m.) at 1 Market Place in downtown.
Adult Swim Festival on the Green
Attention all adult animation enthusiasts! Prepare to immerse yourself in a dynamic blend of music, comedy, meet-and-greets, and much more at the highly anticipated Adult Swim Festival on the Green. While all registered tickets for this free event have been sold out, fear not! For those aged 18 and up, a stand-by line will be available each day, ensuring you don't miss out on the excitement. From Thursday at 5 p.m. to Friday and Saturday starting at 1 p.m., you can embark on an unforgettable journey into the world of adult animation at the festival located at 600 Convention Way in downtown.
Grab themed drinks at some of our favorite local spots
Prohibition, the underground speakeasy located at 548 Fifth Ave., will prepare three Jedi-inspired cocktails: Use the Force Luke! Made with Bombay Sapphire gin, grapefruit, honey, lemon, raspberry and Fever Tree Sparkling Grapefruit; There is another Skywalker… a combination of Elijah Craig bourbon, lemon, honey and R&D Sarsaparilla Bitters garnished with grapefruit zest; and Crazy Old Ben, made with Elijah Craig bourbon, demerara and R&D Aromatic #7 & Cherry Apple Bitters. Each will be priced at $16.
Havana 1920, the intimate Cuban restaurant located at 548 Fifth Ave., will offer three cocktails for the rebels: Mon Calamari Mojito, a combination of Havana Club añejo blanco rum, fresh lime juice, yerba buena, sugarcane juice, sugarcane syrup and club soda; the Dantooine Daiquiri, made with Havana Club añejo rum, fresh lime juice, fresh sugarcane syrup (can be customized by choosing a flavored sugarcane syrup, including guava, banana, mango, coconut or passionfruit); and the Yavin 4, a combination of Bacardi Ocho, fresh pineapple juice, fresh lime juice, apricot liqueur and R&D Aromatic #7 bitters. Each will be priced at $15.
Mezé Greek Fusion, located at 345 Sixth Ave., will offer three cocktails: Darth Revan Cooler, made with Rumhaven coconut rum, cucumber, ouzo, mint, lime and sparkling water; Grey Jedi Jungle Juice, a combination of Divino Miguey mezcal, Aperol, passion fruit and fresh lemon with a Tajin rim; and Knights of the Old Republic, made with Ketel One vodka, Mr. Black Coffee, espresso, Drop Kick Bold Cold Brew, ouzo and topped with pistachio whipped cream. Each will be priced at $16.
El Chingon, GBOD Hospitality Group's "Bad Ass" Mexican restaurant located at 560 Fifth Ave. in the Gaslamp Quarter, will 'strike back' with three Empire-inspired cocktails: Vader-Rita, made with tequila, fresh lime juice and organic agave nectar; C-3PO Chamango: served frozen or on the rocks, it's made with tequila, triple sec, lime and mango puree; and Kylo's Kooler, a combination of Azuñia blanco, house-made watermelon cordial, lime and Tajin. The cocktails will be priced at $13 each or can be made "bad ass" for $26.
Explore Special Exhibits at the Comic-Con Museum
The Comic-Con Museum in Balboa Park offers fans a chance to immerse themselves in the enchantment of Comic-Con throughout the year, without the need for a convention badge. With captivating exhibits, interactive experiences, and a treasure trove of pop culture memorabilia, the museum caters to the fervor of fans of all ages. Discover the upcoming exhibits dedicated to beloved anime series like My Hero Academia and Cowboy Bebop, as well as a tribute to the iconic comic book legend, Stan Lee. Let's explore the wonders that await within the Comic-Con Museum.
Unleash Your Fun at the Petco Park Interactive Zone
Embark on an exhilarating adventure at the Petco Park Interactive Zone, located at the Petco Park Lexus Premiere Lot, just across the street from the Convention Center. This vibrant hub offers a plethora of exciting activities that are mostly free, ensuring an unforgettable Comic-Con experience. Indulge your taste buds with delightful treats from the Hello Kitty Cafe Truck and explore a mouthwatering array of themed food trucks. Prepare for a sensational collaboration between GNC and Marvel that will captivate fans. The Interactive Zone welcomes visitors from Thursday to Saturday, between 10 a.m. and 5 p.m., and on Sunday from 10 a.m. to 4 p.m. Make your way to 58 Eleventh Avenue in East Village and get ready to immerse yourself in a Comic-Con extravaganza.
Embark on an Epic Journey at Jurassic Park
Prepare to be transported back in time as you embark on a thrilling adventure to Jurassic Park, located just a 20-minute walk from the Convention Center. In celebration of the 30th anniversary of Steven Spielberg's iconic film, Jurassic Park, visitors are invited to immerse themselves in this prehistoric world. Encounter beloved dinosaurs and relive memorable moments from the movie that captured the hearts of millions. Although reservations for this free, timed event are fully booked, you can still be a part of the action! A standby line will be available, ensuring you still have a chance to experience the magic. The gates of the park will be open on Friday and Saturday, from 10 a.m. to 8 p.m., inviting you to an unforgettable journey located at 315 15th Street in East Village.
Take FLIGHT at the San Diego Air & Space Museum
Add FLIGHT to your Comic-Con itinerary, a one-of-a-kind, music-centric event happening on Saturday, July 22, from 8 p.m. to 1 a.m. at the San Diego Air & Space Museum in Balboa Park. Experience the thrill of sonic exploration as Enamour headlines the event, supported by local rising talents Burko and Sprout. Dance the night away inside the stunning inner atrium, surrounded by vintage aircraft, helicopters, and original Pan Am planes. From 8:45 to 10:45 p.m., venture through the museum's outer rim to explore antique aircraft and spacecraft, including the Apollo 9 Command Module and moon rocks. Enjoy immersive art installations, themed dancers, stilt walkers, and more surprises throughout the night. Dress up in creative outfits to embrace the theme and make this an unforgettable evening. Don't miss your chance to be part of FLIGHT at the San Diego Air & Space Museum.