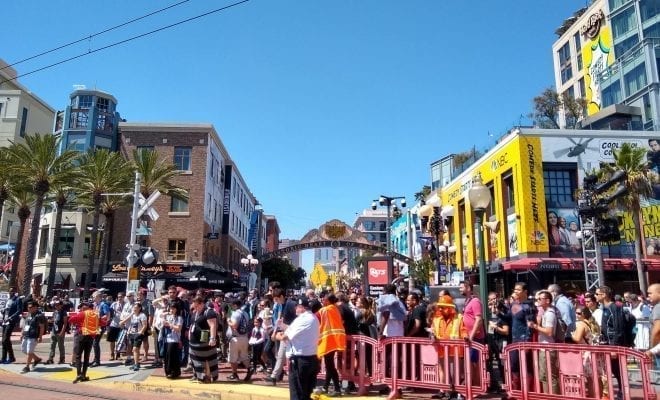 Entertainment & Events
Everything You Missed at Comic-Con 2019
By
|
With Warner Bros, Sony, Universal and Fox 20th Century Studios skipping 2019 Comic-Con, the lack of feature films this year is not surprising. Marvel's return to a prime spot Saturday evening was mostly inaccessible unless you camped overnight.
I do miss those years when Hall H was stacked with one movie after another. Paramount made it worthwhile though, springing in one of the most talked-about surprises of the Con.  The vacancies also allowed other channels to rise, such as Amazon Prime Videos and Netflix, which might appeal to some audiences.
If last year was the pinnacle of activations, led by Amazon Prime Videos' Jack Ryan, this year's activities were more sparse.  The studio looked to repeat its success with multiple smaller activations – The Expanse, The Boys, and Carnival Row.  Escape rooms became more popular this year, which also includes NBC Universal's Brooklyn Nine-Nine. A ferris wheel, which was installed outside and free to all, was a nice touch, allowing people to have a birds-eye view of the convention area.
"Terminator: Dark Fate" (November 1, 2019)
In attendance: director Tim Miller, stars Arnold Schwarzenegger, Linda Hamilton, Mackenzie Davis, Natalia Reyes, Diego Boneta, Gabriel Luna
Arnold Schwarzenegger and Linda Hamilton reunited in the "Terminator: Dark Fate" panel. Edward Furlong is set to reprise his character, John Connor. Hamilton opened the panel and talked about returning to the movie after 27 years She said that there was a richness that she could explore and rocked it as a woman of a certain age. Sarah Connor is an outsider whose life hasn't worked out, so Hamilton had to dig into places of deepest sorrows and loss. Schwarzenegger remarked that he was addicted to 'Terminator' and praised the movie as something that changed his career forever.
The footage looked badass. An enhanced human and a girl are on the run on a freeway from an unkillable shape-shifting Terminator until Sarah shows up with a bazooka and a grenade. Sarah is determined to protect her because she could relate to her; she was pursued by Terminators at her age. Lots of chases involving cars, helicopter and plane, as well as gunshots and explosions. It's not clear why Terminators are after the girl, but it appears that her life is a matter of human race survival. The movie is a certified R-rating, with adult language and violence.
"Top Gun: Maverick" (June 26, 2020)
In attendance: Tom Cruise
The 'Dark Fate' panel concluded and everyone was getting ready to leave until Conan O'Brien strolled into the stage, stole the microphone, and asked if we would like to see the biggest movie star in the world.  Tom Cruise appeared, greeted by thunderous applause.  He gave a brief speech that it was 34 years ago he was in San Diego for "Top Gun," thanking everyone for being very patient and that he's ready to show the world's premiere of the trailer.
The trailer shows Maverick as a Navy captain when he should have been a two-star admiral.  Cruise mentioned that everything we saw was real, including him flying in certain fighter jets.  The movie, which will hit theaters on June 26, 2020, is about competition, family, sacrifice, and a love letter to aviation.
Marvel presented the longest lineups. While nothing could have topped the years leading up to the "Avengers: Endgame," the studio doesn't seem to be slowing down. It continues to have a full slate, plus the addition of Disney Plus streaming service.
Phase Four scheduled movies and shows, which I caught in the playback room, are as follows: "Black Widow" (May 1, 2020), "The Falcon and the Winter Soldier" (Disney+ series, fall 2020), "Eternals" (November 6, 2020), "Shang-Chi and the Legend of the Ten Rings" (February 12, 2021), "WandaVision" (Disney+ series, spring 2021), "Doctor Strange in the Multiverse of Madness" (May 7, 2021), "Loki" (Disney+ series, spring 2021), "What If…? (Disney+ series, summer 2021), Hawkeye (Disney+ series, fall 2021), "Thor: Love and Thunder" (November 5, 2021).
"Black Widow" was described as gritty, like "Bourne." Angelina Jolie got the loudest cheers when she showed up for the "Eternals" lineup. The biggest surprises coming out are "Doctor Strange in the Multiverse of Madness" being billed as the first MCU horror movie and "Thor: Love and Thunder" inviting Natalie Portman back as the female Thor. Last but not least, Mahershala Ali was announced to be the next "Blade."
"nExt" (Fox; premiere date TBD, midseason)
In attendance: creator Manny Coto, executive producers and directors John Requa and Glenn Ficarra, stars John Slattery, Fernanda Andrade, Michael Mosley, Jason Butler Harner, Eve Harlow
From the creator of "24," this propulsive artificial intelligence thriller (along the lines of CBS "Person of Interest") looks promising, exploring the far-reaching impact of super-advanced technology in our modern lives.  Drones and Alexa are merely the beginning.  When an FBI cybercrime agent's former college professor is murdered, the trail leads to an AI program started by the now-fired Silicon Valley's tech firm co-founder.  He butts head with his estranged brother and CEO of the firm, regarding what is being done with the program.  The program, which he thought was under lock-and-key, is continued to be developed.  His brother promises that it is self-contained and has no connection to the outside world.
As can be predicted, a rogue AI is evolving and ultimately finds a way to the internet, which has chilling repercussions.  This is the type of war that is not fought in the battlefield and most difficult to combat because it's faceless, slowly destroys from within and lives will be ruined.
"Batwoman" (CW; October 6, 2019)
The pilot was shown in preview night with no one in attendance. Bruce Wayne/Batman has been missing from Gotham for three years. His cousin, Kate Kane, discovers the Batcave and asks his techie to alter his costume to fit a woman. Kate, who lost her mom and sister in a tragic car accident where Batman couldn't save them, has a complicated relationship with her father. She was sent to a military academy school and expelled under the "Don't Ask, Don't Tell" policy. Being in the military is her father's dream for her, but never hers.
When a star agent of her father's private security firm, the Crows, is kidnapped, it's clear that there's a personal connection and Kate can't escape her past, family or otherwise. The villain is a revelation. The first look of Batwoman soaring from a skyscraper in her sleek black costume and picking up the crime-fighting crusader mantle is pretty buzzworthy.
"Emergence" (ABC; September 24, 2019)
In attendance: creators Tara Butters and Michele Fazekas, stars Allison Tolman, Alexa Swinton, Donald Faison, Clancy Brown, Owain Yeoman, Ashley Aufderheide, Robert Bailey Jr., Zabryna Guevara
"Emergence" is an original drama with a supernatural element. After a plane crashes on the beach, the town's police chief discovers a frightened young girl who was not aboard the plane. The plane appears to have taken off from an isolated government research facility.
The mysterious girl appears is amnesiac and has some kind of electromagnetic powers. She's pursued by fake NTSB officials and people who claim to be her parents. The chief brings her home to stay with her family, at least until she could investigate what is really going and know her identity. There may not be a safe place for her and her family though as incidents continue to occur. The pilot closes with a scene that questions whether the girl actually knows who she is, where she comes from, and what she is capable of.
"Stumptown" (ABC; September 25, 2019)
In attendance: producers Ruben Fleischer and David Bernad, writer Greg Rucka, stars Cobie Smulders, Jake Johnson, Michael Ealy, Camryn Manheim, Tantoo Cardinal, Cole Sibus, Adrian Martinez
Based on a graphic novel, the show is about the life of a female Marine vet working as a private investigator in Portland, Oregon. She's a scrapper, sexually fluid, has PTSD, gambling debt, and a mentally challenged brother to care for. It's said that Portland has a lot of character as a town as it's emphasized as a setting.
Cobie Smulders mentioned that the training for the show was more intense than the Avengers. The fight scenes are very realistic and dirty. The cold open is bananas; Smulders emerges from the back seat of a moving car and tries to incapacitate the driver and his passenger, ending up with the car flying through the air.
"Snowpiercer" (TBS; date TBD, 2020)
In attendance: showrunner and executive producer Graeme Manson, stars Jennifer Connelly, Daveed Diggs, Alison Wright, Rowan Blanchard
An adaptation of the 2013 movie of the same name starring Chris Evans, the show takes place seven years after the world turns into a frozen wasteland and its survivors reside in a perpetually running train. The show is a tale of the haves and have-nots in various states of living conditions, from deplorable to luxurious. It explores class warfare, social injustice and politics of survival. The footage and trailer have a cinematic quality to it, depicting an avalanche engulfing the train, how it breaks through the cars, and an arm-freezing punishment.
"Carnival Row" (Amazon Prime Video; August 30, 2019)
In attendance: creator and executive producer Travis Beacham, executive producer Marc Guggenheim, stars Orlando Bloom, Cara Delevingne, Tamzin Merchant, David Gyasi
A fantasy-noir show with a Victorian style where humans and immigrant creatures mingle.  Centaurs, fairies and pucks migrate to the humans' land when their land is invaded and torn from war.  The creatures are treated cruelly in the human's world, including being disemboweled on the streets.
The show portrays star-crossed lovers of a human detective and a fairy, and an uneasy relationship between a financially struggling human aristocrat and her fae wealthy neighbor. The show parallels itself with complex issues of the real world, such as classism, racism, sexism, spiritualism, immigration and refugees. Orlando Bloom made waves when he made a comment that the Mayor of San Diego left the activation (below) abruptly when he was told the show dealt with immigrants. The Mayor disputed the account later on.
Amazon Prime Videos doubled down the effort to promote the show, showcasing it as one of the attractions outdoor. Once we entered the activations set, we're given a brochure and engraved coins in a velvet pouch. I used my coins to purchase food offered in the market; churros, pretzel, fruits and popsicle. The set was nicely built with lounge chairs and tower in the center for performances.
To enter Carnival Row, each visitor was provided a choice between two cards, human or creature.  After passing the security check, we were whisked into a marketplace with creatures selling their wares.  A face appeared on a peephole of the door and we entered the dimly lit Forbidden Lounge.  A cabaret singer and burlesque-type dancer performed on stage, where she revealed fancy wings underneath her robe.  The show ended when human police officers barging in and shut down the event.
That's a wrap… borrowing the words from 'Terminator,' I'll be back in 2020!
Check out more photos from Comic-Con 2019 below!
Copyright (2019). Nathalia Aryani.