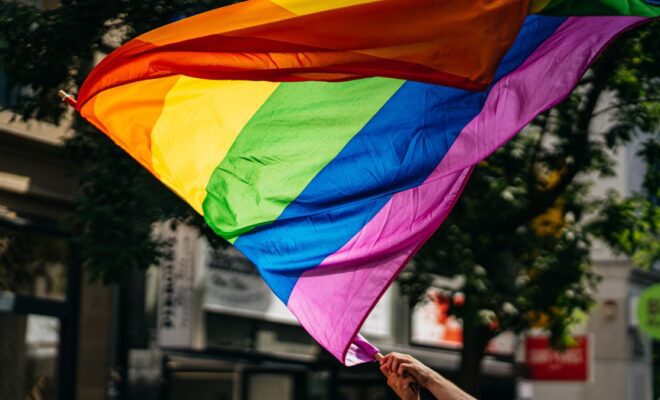 Entertainment & Events
Your Guide to San Diego Pride 2023
By
|
Every year, San Diego becomes a vibrant tapestry of colors, love, and acceptance as it proudly hosts one of the largest Pride celebrations in the United States. The annual San Diego Pride festival and parade bring together a kaleidoscope of LGBTQ+ individuals, allies, and communities to honor their identities, achievements, and ongoing struggle for equality. With a rich history dating back to the early days of the movement, San Diego Pride has become a symbol of resilience, pride, and unity.
As the summer sun shines upon America's Finest City, the spirit of inclusivity and celebration fills the air. San Diego Pride offers a dynamic and inclusive platform where people from all walks of life gather to embrace diversity, promote understanding, and advocate for equal rights. From the iconic Hillcrest neighborhood, where it all began, to the city's bustling streets, parks, and waterfront, the city is set to ignite with an electrifying atmosphere of love, acceptance, and empowerment.
Whether you're a local San Diegan or a visitor from afar, prepare to immerse yourself in a world where authenticity and individuality are celebrated without reservation. San Diego Pride is more than just a festival; it's a testament to the power of unity, acceptance, and the unwavering belief that love knows no boundaries.
About San Diego Pride
Established in 1974 under the auspices of The Center for Social Services, the inaugural Lesbian and Gay Parade in San Diego marked a significant moment in history, commemorating the transformative Stonewall Rebellion that took place on New York's Christopher Street in 1969. This pioneering event laid the foundation for what would later become San Diego Pride, an organization that officially incorporated as a 501(c)(3) nonprofit in 1994. Today, San Diego Pride continues to unite our diverse community by harnessing the collective skills, talents, and visions of its members through a variety of impactful programs.
To sustain its mission of fostering pride, equality, and respect for all lesbian, gay, bisexual, and transgender communities, San Diego Pride relies on various sources of funding. Festival ticket and beverage sales, sponsorships, and exhibitor fees serve as primary financial pillars. With these resources, San Diego Pride engages in community philanthropy, directing over $2.5 million towards initiatives that advance its cause, not only locally but also nationally and globally. Through its unwavering commitment to inclusivity and empowerment, San Diego Pride remains a vital force in championing the rights and well-being of the LGBTQ+ community.
2023 Featured Events
She Fest
She Fest delivers empowering and accessible programming and content that centers 2SLGBTQ+ women and non-binary people, creates opportunities to connect 2SLGBTQ+ small businesses to new audiences, facilitates social events that bring people together, and invests in and celebrate the volunteer leadership of She Fest committee members. This year-round efforts culminate in an annual flagship event that brings over 4,000 of our community members together to kick off San Diego's Pride week at 12:00 PM on July 8 at 1500 University Ave, San Diego, CA 92103. Learn more!
Spirit Of Stonewall Rally
San Diego's first rally was held in 1975, and the Spirit of Stonewall Rally is a time to recognize and honor leaders who are working hard to preserve the gains and meet the many challenges still facing the community. It is a time to honor origins, celebrate those who are leading the way, and call the community to action around some of the movement's most pressing issues. Learn more!
San Diego Pride 5K
Get ready to lace up your running shoes and join in the exhilarating Pride 5K Run & Walk, a highly anticipated highlight of Pride Week festivities, happening at 8 AM on July 15. Last year, an incredible 1,700 participants from across the globe came together to set a new record and raised a remarkable $40,000 for our esteemed charity partners. Each year, the San Diego Pride 5K generates substantial donations that make a meaningful impact on the vital work carried out by our charity partners, namely San Diego Pride and The LGBT Center's Youth Housing Project. Don't miss your chance to be part of this incredible event—registration is now open! Strap on your sneakers, embrace the spirit of unity, and make a difference with every stride you take. Learn more!
San Diego Pride Parade
Get ready for the extraordinary San Diego Pride Parade—an iconic annual event uniting over 300,000 people in a vibrant celebration of unity, love, and diversity. With dazzling floats, exuberant marchers, and spirited participants filling the streets of Hillcrest, this largest single-day civic gathering in the region showcases the power of acceptance and joy. Join the festivities beginning at 10 AM on July 15 at 1500 University Ave, San Diego, CA 92103, and show your support for the LGBTQ+ community while being part of an unforgettable experience that embraces inclusivity, respect, and the remarkable diversity that defines San Diego. Learn more!
San Diego Pride Festival
Embrace your authentic self and celebrate with pride at the San Diego Pride Festival, the city's largest two-day event dedicated to showcasing the very best of LGBTQ+ entertainment, interactive exhibits, cultural presentations, and community resources. Step into a vibrant world where acceptance, joy, and self-expression take center stage. From exhilarating performances to engaging exhibits, this festival is a testament to the diverse tapestry of the LGBTQ+ community. It's your time to be out and proud, surrounded by like-minded individuals who share the same commitment to inclusivity and celebration. Join us for an unforgettable weekend filled with love, empowerment, and the electrifying spirit of San Diego Pride beginning at 11 AM on July 15 at Marston Point, Balboa Park, 6th Ave and Laurel St in San Diego. Learn more!
For tickets and more information, please visitsdpride.org/pride!