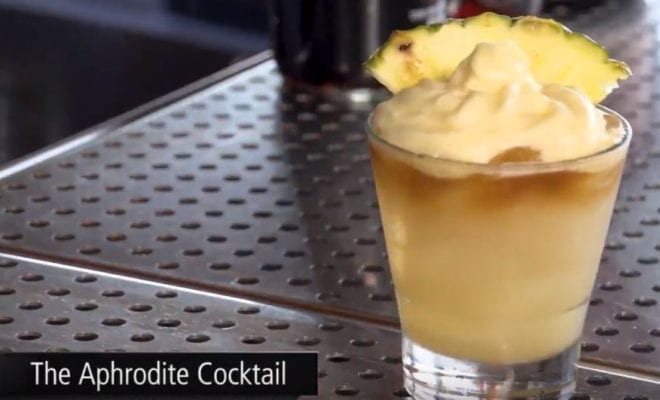 Uncategorized
Thirsty Thursday: Waterbar's Aphrodite to Close out 2018
By
|
This weekend is the last one of 2018, and many of us will be reflecting on the past year, setting goals for the new year, and ringing in the new year with a bang. Tons of local bars and restaurants will be hosting glamorous celebrations with innovative and delicious cocktails and bites. Or perhaps some of you are hosting your own New Year's Eve extravaganzas. Whether you are throwing a NYE bash, heading out for a night out on the town, or spending an intimate evening with family and friends, we assure you, you'll want to be sipping on this cocktail from Waterbar in Pacific Beach. Check out our video with Daniel from Waterbar as he re-creates their signature cocktail, the Aphrodite.
Aphrodite is an ancient Greek goddess associated with love, beauty, pleasure, and procreation. She is identified with the planet Venus named after the Roman goddess with whom Aphrodite was extensively syncretized.
This twist on the classic mai tai is sure to get your pulses racing and can be enjoyed all year round. Head over to Waterbar in Pacific Beach to sip on this perfectly balanced cocktail, or recreate one at home. This drink is the perfect way to welcome in the new year. Cheers!
Ingredients
1/2 oz lime juice
1/2 oz simple syrup
1/2 oz orjeat syrup
1/2 oz Grand Marnier
1 oz Appleton Estate
1/4 oz of Whaler's Dark Rum
Swirl of Passionfruit foam
Instructions
Fill shaker with lime juice, simple syrup, orjeat syrup, Grand Marnier, Applton Estate, and ice. Shake it up.
Fill glass with ice and strain liquids from tin.
Add 1/4 oz of Whaler's Dark Rum.
Garnish with swirl of passion fruit foam and pineapple wedge.
Enjoy!