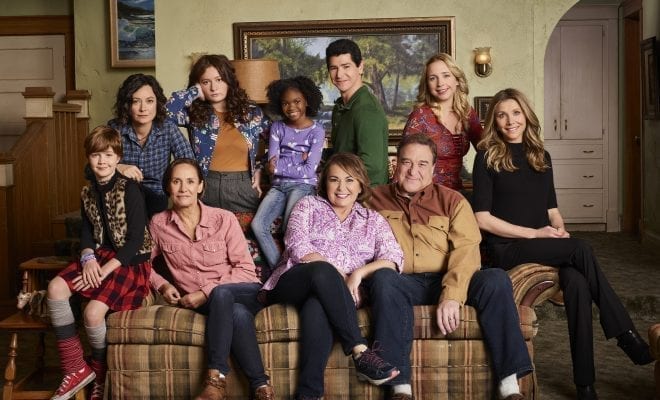 TV
'Roseanne' Cancelled After Star's Racist Twitter Post
By
|
Roseanne returned to television in March, after a two-decade absence, and it was instantly a major hit with Americans. ABC was rewarded with incredible ratings, and congratulations were being given to the stars of the beloved comedy. However, this all came to an end yesterday when Roseanne Barr, the star of the show, sent out racist tweets about Valerie Jarrett, an African-American woman who was a senior adviser to President Obama. Ms. Jarrett is widely considered to be one of Obama's most influential aides, and a key figure during his presidency. In the tweet about Ms. Jarrett, Barr said "muslim brotherhood & planet of the apes had a baby=vj." The tweet was later deleted by Barr.
Within hours of the tweets being posted, ABC pulled the plug on the show. While Ms. Barr later profusely apologized via Twitter, the damage had been done, with ABC's entertainment president Channing Dungey saying "Roseanne's Twitter statement is abhorrent, repugnant and inconsistent with our values." This sentiment was echoed by Robert A. Iger, CEO of Walt Disney Company, ABC's corporate superior, on his personal Twitter account, saying "There was only one thing to do here, and that was the right thing."
I apologize to Valerie Jarrett and to all Americans. I am truly sorry for making a bad joke about her politics and her looks. I should have known better. Forgive me-my joke was in bad taste.

— Roseanne Barr (@therealroseanne) May 29, 2018
During its brief run, the show staged a successful comeback, with a second season expected to return in September for a 13-episode run. This abrupt cancellation of the hit show with the highest ratings ever for a new TV series is unprecedented. Roseanne was bringing in upwards of $45 million in advertising revenue for ABC, with another $60 million expected for the proposed next season.
Ms. Jarret received a phone call from Iger, who wanted to let her know the show would be cancelled before he made it public. She said "He apologized. He said that he had zero tolerance for that sort of racist, bigoted comment.." In an appearance on an MSNBC town hall, Ms. Jarrett said of Ms. Barr's tweet "We have to turn it into a teaching moment."
Barr's co-star Sara Gilbert shared her disappointment with the comedians tweet. "Roseanne's recent comments about Valerie Jarrett, and so much more, are abhorrent and do not reflect the beliefs of our cast and crew or anyone associated with our show. I am disappointed in her actions to say the least," Gilbert tweeted just before ABC announced the cancellation of the show.
Emma Kenney, another star among the Roseanne cast, took to Twitter to voice her opinion on the matter.
I am hurt, embarrassed, and disappointed. The racist and distasteful comments from Roseanne are inexcusable.

— Emma Kenney (@EmmaRoseKenney) May 29, 2018
Shortly after the cancellation of the show, ICM Partners, the talent agency that represents Barr, dropped her as a client. In an email sent to all employees of the agency, it says "We are all greatly distressed by the disgraceful and unacceptable tweet from Roseanne Barr this morning. What she wrote is antithetical to our core values, both as individuals and as an agency. Consequently, we have notified her that we will not represent her. Effective immediately, Roseanne Barr is no longer a client."