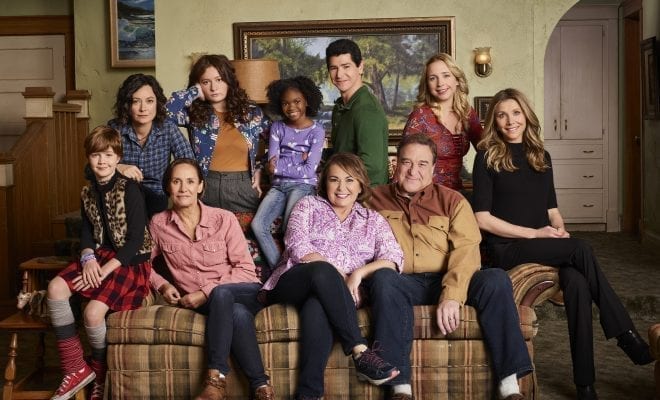 TV
Then and Now: What the Cast of Roseanne Has Been Up To
By
|
With reboots of classic TV shows being all the rage right now, the 90's classic Roseanne premiered with a nine-episode revival that included most of the original cast. The show was originally aired in the late 80's and continued throughout the 90's. It was famous for making its mark on TV history by touching on progressive topics including sexuality, blue-collar working families, poverty, and employment. Roseanne called it quits over 20 years ago, so here is what the cast has been up to since then.
Roseanne Barr
The star of the show has been up to quite a lot since the show ended in 1997. In 2012, Barr ran for president, but failed to grab the nomination for the Green Party. Subsequently, she ran for the Peace and Freedom Party and gained just 67,000 votes. In addition to her political aspirations, she has performed several stand-up comedy routines, judged at the Last Comic Standing, and starred in her own reality show about her macadamia nut farm in the Hawaiian islands. In 2015, she announced she was diagnosed with muscular degeneration, stating her vision was "closing in now".
John Goodman
Goodman played Roseanne's husband Dan, and has since filled his time with a busy film career. He starred in films like the classic The Big Lebowski, 10 Cloverfield Lane and Kong: Skull Island, along with many others. He has also done voice acting for films like The Emperor's New Groove and Monsters, Inc. He admitted to struggling with alcoholism, telling the Guardian in a 2012 interview "It was life or death. It was time to stop."
Laurie Metcalf
Since playing Roseanne's little sister Jackie, Laurie Metcalf has launched herself into countless other projects, netting her several Emmy nominations. She has also been busy on the stage, earning herself four Tony Award nominations for her appearances for Misery in 2016 and A Doll's house, Part 2.
Sara Gilbert
Originally known for playing the sarcastic younger daughter Darlene, Gilbert is now a co-host and executive producer on the CBS show The Talk. She hosts along with big names like Sheryl Underwood, Julie Chen and Aisha Tyler. She's also done cameos on shows like ER, The Big Bang Theory, and Twins, along with publishing a book. She is married to songwriter Linda Perry, who is part of the Four Non Blondes.
Michael Fishman
Roseanne and Dan's onscreen son, Fishman is now all grown up. He began starring on Roseanne at the age of six, but after the show ended, he went back to high school to study performing arts and technical theatre craft. He has also worked on several TV shows and films throughout the years. Fishman has said we can expect to see a lot of growth in the character of DJ over the course of the new season.
Lecy Goranson
Playing the older daughter Becky, Goranson stayed on for five seasons until leaving the show to go off to college. Up until now, she has starred in several projects, including Boys Don't Cry as well as an episode of Inside Amy Schumer.