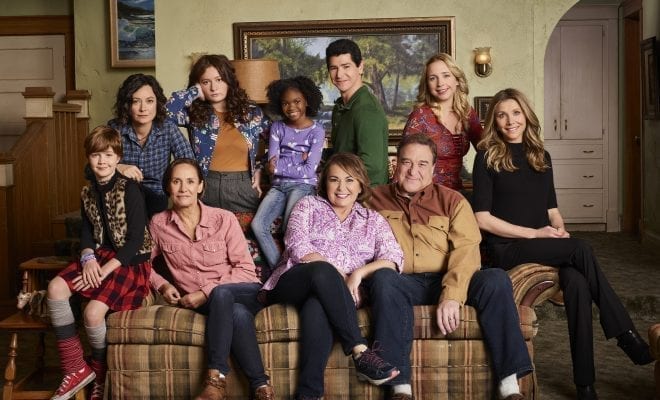 ABC/Robert Trachtenberg
TV
Roseanne 2.0 Debuts to (Mostly) Positive Reviews
By
|
I admit, I was never a rabid fan of the original TV series, Roseanne. I acknowledge that the writing and dialogue was very tight and the character development solid; the show was very watchable. But that was in the 90's and things have changed a lot since those days. So when it was announced that Roseanne would be returning, I, like many fans wondered how the show fare in several areas. The greatest questions were effectively addressing the events of the original series finale in which Dan (John Goodman, of course) died from a heart attack, David (Johnny Galecki/Big Bang Theory's Leonard) married Becky (Lecy Goranson) and Darlene(Sara Gilbert) somehow ended up with Mark (played by the late Glenn Quinn).
The March 27th premiere, made up of back-to-back half hour episodes: "Twenty Years to Life" and "Dress to Impress," addressed all of those questions. Dan's supposed death was passed off as a bad dream (it was again referenced later in the episode as fiction when Roseanne finds her novel that was never published). And, while the new episodes didn't specifically address Darlene's relationship with David, we know that they got married and had two kids before splitting up (my sources tell me Galecki will appear in an episode later this season, but that has yet to be confirmed). It also made it clear that Becky did marry Mark and that he has since died. So overall, all that was done in a relatively seamless, orderly manner.
Also, I was more than curious to see how the show (and viewers) would handle the fact that the writers have made Roseanne a very outspoken Trump supporter on the series, since she is surprising so in real life as well. The new series loudly displays Roseanne's political views through heated, yet comical 'discussions' with her sister Jackie (featuring a return of the extremely talented, Laurie Metcalf). In the episode, Roseanne takes digs at Hillary Clinton and the NFL players who took a knee during the national anthem while Jackie takes shots at Trump and Roseanne's love of guns.
As expected, social media had strong opinions about Roseanne 2.0 and let their sentiments be known. While overall, the changes were well-received, the biggest complaints were from those couldn't get past Roseanne's somewhat extreme political views. My comment to that is, "Hey, it's comedy, freakin' lighten up." Yep, it's a new age, here is Trumpian America.
post our first live taping of the season ???????? new episodes every Tuesday only on @ABCNetwork ❤ thank you all for tuning in. SO. GRATEFUL. #JohnGoodman #LaurieMetcalf @RoseanneOnABC pic.twitter.com/KqrxF9lipS

— Emma Kenney (@EmmaRoseKenney) March 28, 2018