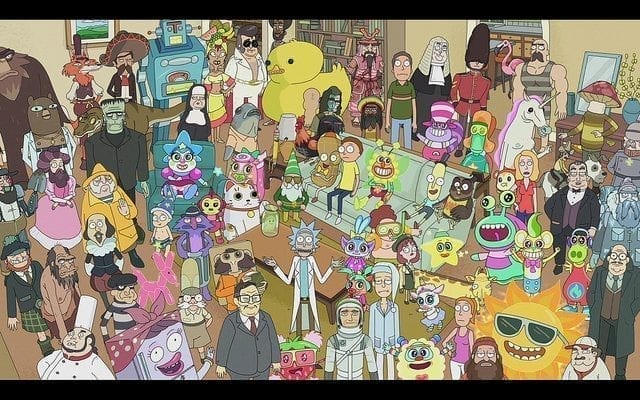 TV
Rick and Morty renewed for 70 More Episodes
By
|
Fans of the multiverse rejoice! Rick and Morty has been renewed for a whopping 70 new episodes. Debuting in 2013, the Adult Swim cartoon has quickly established itself as a major hit, with its off-color humor and captivating sci-fi animation. Co-creator Justin Roiland made the announcement via Twitter, and fans have been going crazy in response.
More Rick and Morty coming. Looking forward to all the tweets asking where it is! #theydrawingit pic.twitter.com/KZild3B9rP

— Justin Roiland (@JustinRoiland) May 10, 2018
For those that have yet to watch this brilliantly funny show, it follows the adventures of a highly intelligent but cynical mad scientist, Rick, and his apprehensive and impressionable grandson, Morty, as they travel through the multiverse.
Season 3 ended in October of last year, and many have been speculating when the next season will arrive. A couple months ago, there was a brief scare as to whether it would come back at all when co-creator Dan Harmon stated the show had not yet been renewed for a season 4 by Cartoon Network. Roiland and Harmon had noted that negotiations for renewal of the show had become complicated, but with the announcement of 70 new episodes, we now know why. A renewal of this size is fairly unprecedented, but it could essentially guarantee new material for the next decade or so. While the show has aired 31 episodes so far, this renewal will bring the show to a ideal run time of over 100 episodes, giving it plenty of time to expand from the material we have seen thus far.
Rick and Morty has firmly established its place as the current gold standard in adult animated comedy, pulling in viewing numbers similar to the likes of Futurama. Christina Miller, President of Cartoon Network, Adult Swim, and Boomerang, said "Rick and Morty is truly what a modern day hit looks like across multiple screens and multiple touchpoints."
In celebration of the new deal, a mobile pop-up shop, aptly named the "Rickmobile" will be going on tour around the country, offering Sexclusive custom-designed collectibles at more than 50 stops. San Diego residents will have their chance to snag some gear during its stop at Comic Con in July.
The premiere of season 4 has yet to be announced, but at least we can take solace in the fact that new content is indeed coming. For now, check out this Rick and Morty x Run the Jewels collaboration video.