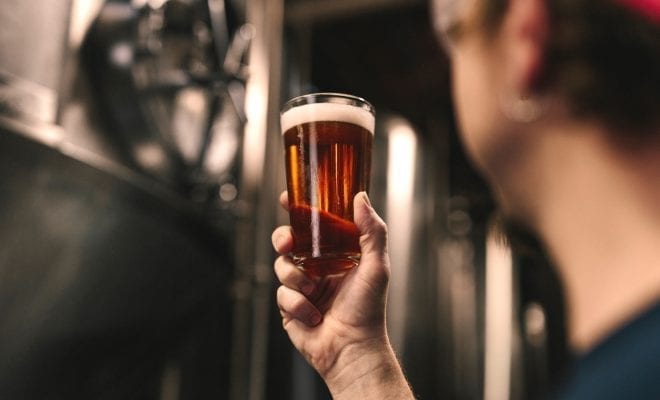 Drinking
Over 1,200 Breweries Unite to Craft a Special Beer to Help Support Camp Fire Survivors
By
|
Breweries from across the country are banding together to help out the survivors of the deadly Camp Fire that ravaged Northern California. The beer, started by the Sierra Nevada Brewing Company, will be called the Resilience Butte County Proud IPA, with 100 % of the proceeds being donated to Camp Fire relief efforts.
Sierra Nevada Brewing Company began brewing the beer earlier this week and has since shared the recipe with other brewers. In just three days, more than 1,200 breweries from across the country have signed up to brew the beer, which will go on sale sometime in mid-December.
Sierra Nevada is based in Chico, just west of Paradise, the town that was decimated by the Campfire. In a post, the brewery stated in a post: "We are working with malt, hop and yeast suppliers to provide raw ingredient donations to all participating breweries and are asking those breweries to donate 100 percent of their sales to the fund, as well."
Ken Grossman, founder of Sierra Nevada, understands the long ahead to rebuild the thousands of lives that were uprooted after the deadliest wildfire in California history. "We know that the rebuilding process will take time, but we're in this for the long haul." He continues, "Our hope is to get Resilience IPA in taprooms all over the country to create a solid start for our community's future."
Stone is proud to be participating in @SierraNevada's #ResilienceIPA charity efforts. Sierra Nevada has come up with this new beer recipe and shared it with hundreds of other craft breweries to support those who now need our help after the fire. pic.twitter.com/31mZ1fjOw0

— Stone Brewing (@StoneBrewing) November 27, 2018
Breweries involved in brewing the Resilience IPA range from small, midsize, and regional breweries nationwide, including big names like Blue Moon and Goose Island Beer Co. On Tuesday, Sierra Nevada brewed their first batch of more than 74,000 gallons, with plans to can some of it and also make it available on draft. The company estimates that in total, the project should yield about 8.6 million pints of beer.
We are answering the call started by our friends at @sierranevada and brewing #ResilienceIPA to support the Butte County community. We will donate 100% of Resilience sales to the Sierra Nevada Camp Fire Relief Fund. #ButteStrong #GivingTuesday pic.twitter.com/SIdtr9kiMY

— Goose Island Beer Co (@GooseIsland) November 27, 2018
The Camp Fire took the lives of 85 people, and that number is still growing. 19,000 buildings were destroyed, and 15 % of Sierra Nevada employees lost their homes in the fire, so this project hits close to home for them. Sierra Nevada spokesperson Robin Gregory spoke on the goals of the project, alluding to their goal of raising seven figures. He says "…if our math is correct, it's going to be a bit higher than that."
As for the beer itself, Gregory said "If it's going to be raising money to rebuild our community, we felt like it should be a taste of home. We wanted to go with that classic danky west coast IPA … (that is) fresh, piney, citrusy, hop-heavy, and nice and bright."
If you want to try this beer out for yourself, you're in luck, as more than 30 San Diego breweries have announced their support for it, and will be brewing their very own batch of the Resilience IPA. Head over here for a full list.