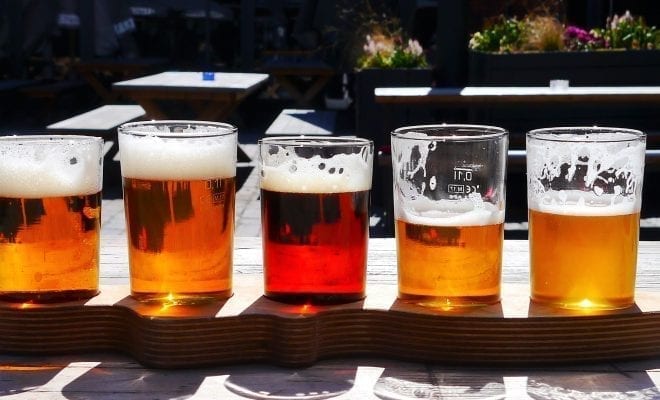 Drinking
Get in the Fall Spirit With These Pumpkin Brews
By
|
It's time to put down the pumpkin spice latte and pick up a pumpkin brew. While there are plenty of gimmicky seasonal beers out there, there's a handful of pumpkin beers that are seriously worth trying. If you want to get into the spirit of October, having one of these cold pumpkin beers in hand is a great start. 
New Belgium has always shown that they are not afraid to experiment with new and exciting flavors, as it's apparent in their Juicy Haze and Voodoo Ranger IPAs. In line with this methodology, they've created a truly superb beer with their Voodoo Atomic Pumpkin. This beer is characterized by a noticeable yet welcome bite to it, thanks to a touch of cinnamon and peppers. The initial sip will be met with a nice sweetness, followed by a gentle blast of heat that is unlike any other pumpkin beer we've tried. 
Available: Nationally
Existing on the more subtle range of pumpkin ales, Dogfish Head Punkin is a beer that is perfect for those who don't want an overpowering flavor. It is brewed with more subdued pumpkin notes, making it a nice seasonal option with a pleasant finish.
Available: Nationally
Hailing from Maine-based brewery Shipyard, the Smashed Pumpkin is a seasonal favorite that elegantly balances a cavalcade of flavors. Each sip is met with a striking spice which then fades away into a cascading sweetness. Shipyard isn't playing around with "light" beers either, as the Smashed Pumpkin is a respectable 9%. A power move of a drink if I may say so myself. 
Available: Use their beer finder
Most pumpkin beers weigh on the heavier side in terms of sipping experience, but sometimes you need an easy sipper, and that's where New Holland's Ichabod comes in. Serving as a lighter pumpkin ale, Ichabod is perfect for those backyard evenings or a nice drink choice for lunch. It has a powerful nutmeg aroma and a nice hint of cinnamon, but you won't be feeling like you're drinking a heavy beer by any means. 
Available: Use their beer finder

Perhaps one of the best all-around pumpkin ales is the Blue Moon Harvest Pumpkin Wheat. Brewed with a perfect blend of harvest spices like cinnamon, nutmeg, cloves, and allspice, it serves as a surefire choice for any seasonal beer enthusiast. The beer pairs well with beef dishes and seasonal soups, making it a good choice for a fall dinner party.
Available: Nationally