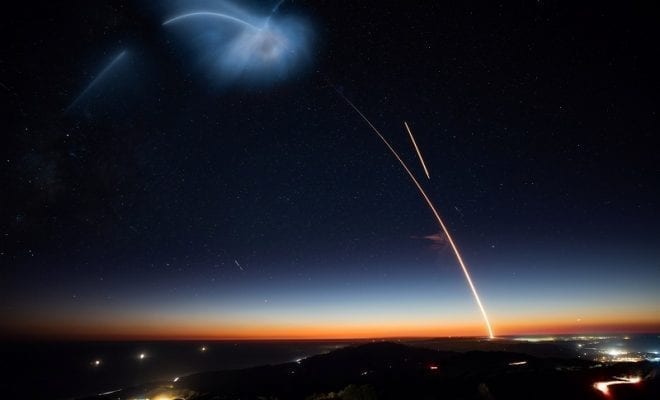 Photo by SpaceX on Unsplash
News
Next SpaceX Launch Will Carry the Cremated Remains of 100 People
By
|
SpaceX, the company behind some of the most recent rocket launches of the last decade will be performing a new endeavor in their next launch: carrying the cremated remains of 100 people for an entirely unique celestial memorial. SpaceX will be working in tandem with Elysium Space, a San Francisco-based company that allows people to honor their loved ones among the stars.
A number of families have paid about $2,500 to have a sample of their loved ones loaded onto the SpaceX Falcon 9 rocket, which will be launched into space today. 
Traveling into space on the rocket will be the remains of military veterans and aerospace enthusiasts whose families are "looking to celebrate a loved one with the poetry of the starry sky," according to a statement released by Elysium. According to Elysium's website, the remains are first placed in a specially engraved capsule, which is then shipped back to the company. From there, they say  "…we will carefully and respectfully place your capsule in a dedicated spacecraft module."
A 4-inch square satellite will hold the ashes of the 100 people within the Falcon 9 rocket. Family members will be able to track the satellite throughout space using an app on their phone. They will also be able to send a message along with the cremated remains of their loved ones. The spacecraft carrying the modules will orbit Earth for three years, before falling back to the surface.
This isn't the first time a celestial memorial has happened. Back in 1998, NASA launched a small vial of astronomer Eugene Shoemakers ashes onto the moon as part of its Lunar Prospector Mission. A similar launch was accomplished in 2012, with the ashes of Star Trek actor James Doohan and Mercury 7 astronaut on board for an honoring among the stars.
This launch is part of a "rideshare mission" organized by Spaceflight, who purchased the rocket to accommodate clients ranging from commercial business to research projects and government organizations. In addition to Elysium, sixty-four small satellites will be accompanying the launch, hailing from over 34 organizations