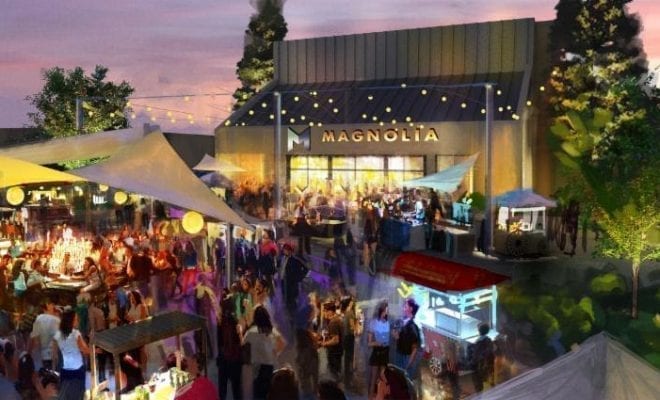 News
El Cajon Performing Arts Center to Re-Open as "The Magnolia" This September
By
|
The decade-long shuttered performing arts center in El Cajon is set to reopen in September, and will be renamed "The Magnolia." The City of El Cajon and Live Nation Entertainment formally unveiled a brand new initial show lineup for the center, along with the details of the re-imagined hub for entertainment.
The 1,210 seat theater will join Live Nation's global portfolio of over 1,700 clubs and theaters. It will quickly become a central hub for San Diego's diverse array of live entertainment. The theater is made to exhibit vibrancy, from extra-wide rows to a VIP lounge and new bars, The Magnolia is made to provide San Diegans with the very best in entertainment experiences. 
"This is a special moment for not only El Cajon but the entire San Diego region," said City Manager Graham Mitchell. "The completely renovated Magnolia represents another jewel in the continued growth of the entire region.
The contract between Live Nation and the city of El Cajon calls for the entertainment company to book the Magnolia 50 shows a year. By 2021, that number is set to increase to 65 shows. The Magnolia will be a catalyst project for a broader project of completely revitalizing El Cajon's downtown and entertainment offerings.
Ben Weeden, COO of Live Nation Clubs & Theaters division, said, "The Magnolia will offer an amazing elevated entertainment opportunity for both artists and music fans. In addition to a spectacular outdoor Plaza Bazaar featuring unique pre and post-show dining, the theater will offer new state-of-the-art sound, lighting and projection systems. We're thrilled to join the El Cajon team."
The Magnolia is kicking off its inception with an eclectic lineup featuring a wide array of talented musicians and performers spanning all realms of entertainment. Some of which include Rock and Roll stars Art Garfunkel and Dave Mason, comedian Kathleen Madigan, and even a live showing of MasterChef Junior Competition.
Magnolia's initial show lineup:
09/13/19 – Countess Luann and Friends
09/24/19 – Al Di Meola – PAST, PRESENT, FUTURE – Music of Di Meola, Piazzolla & The Beatles U.S. Fall Tour 2019
10/01/19 – Roy Orbison & Buddy Holly – The Rock 'N' Roll Dream Tour
10/03/19 – Patti Labelle in Concert
10/09/19 – Dave Mason Feelin' Alright with very special guest Richie Furay
10/10/19 – Bruce Hornsby & The Noisemakers
10/16/19 – MasterChef Junior Live!
10/17/19 – Leo Dan
10/18/19 – Pat Benatar & Neil Giraldo
10/23/19 – Engelbert Humperdinck: The Angel on My Shoulder Tour
10/27/19 – Dream Theater: Distance Over Time Tour + 20 Years of Metropolis Pt. 2
11/01/19 – Ramon Ayala y Sus Bravos Del Norte
12/13/19 – Stassi Schroeder: Straight Up with Stassi Live – Featuring Beau Clark & Taylor Strecker
12/29/19 – PJ Masks – Save The Day Live!
01/09/20 – Art Garfunkel
02/20/20 – Kathleen Madigan – Hot Dogs & Angels Tour
03/07/20 – Dennis DeYoung: The Grand Illusion 40th Anniversary Album Tour
For more details, head over to magnoliasandiego.com.