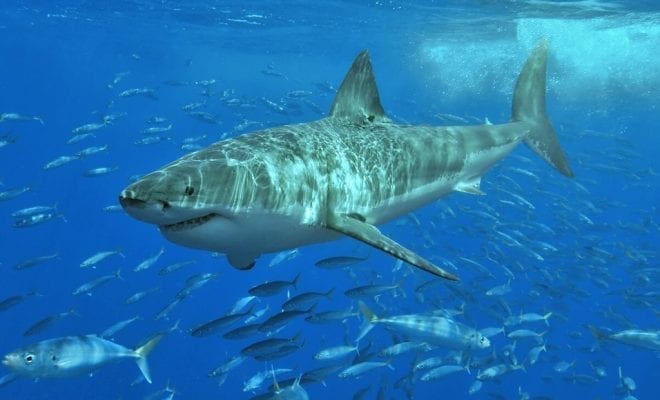 News
Young Great White Sharks Have Taken Refuge Off Central California Coast
By
|
A group of great white sharks has taken up refuge just off the coast of Monterey Bay, fascinating local media outlets, residents, and scientists alike. Usually found in the warmer waters of Southern California near the US-Mexico border, great whites have increasingly been spotted in Monterey Bay since 2014. 
Scientists predict that due to warming temperatures of the ocean, these sharks are beginning to exhibit these surprising migration patterns. Researchers at local universities have been closely following their movement, and believe that the sharks are moving to regions that were previously too cold for the species. 
The great whites residing in the Monterey Bay are juveniles, about half the size of fully grown adult sharks. Great whites can grow up to 20 feet long and are considered one of the ocean's premiere apex predators, often hunting sea lions and seals. Experts say that this particular group poses little threat to humans, as juveniles are much smaller and often feed exclusively on small fish and squid. 
Nevertheless, the youngsters have sparked numerous shark warnings in the area. Several local media news outlets have flown helicopters over the ocean to capture footage and document their movements. Local tour boat companies are also reportedly offering shark-watching trips. 
Great whites have long suffered from having the reputation of being a mindless killing machine, no doubt bolstered by the 70s classic Jaws. However, marine biologists hope to continue spreading awareness that sharks are a key component in the overall marine ecosystem. California has enacted various protections towards local white shark conservation and protection, but the species continues to be threatened by fishing, pollution, and depleting food sources. 
Estimates show that there are at least 200 adult great white sharks that currently live off the central California coast. Marine biologists have yet to determine if the numbers of these juveniles will increase. Great whites are currently marked as "vulnerable" on the IUCN List of Threatened Species. However, thanks to sanctuaries and state regulations on fishing, there is hope that they'll soon be off the list.