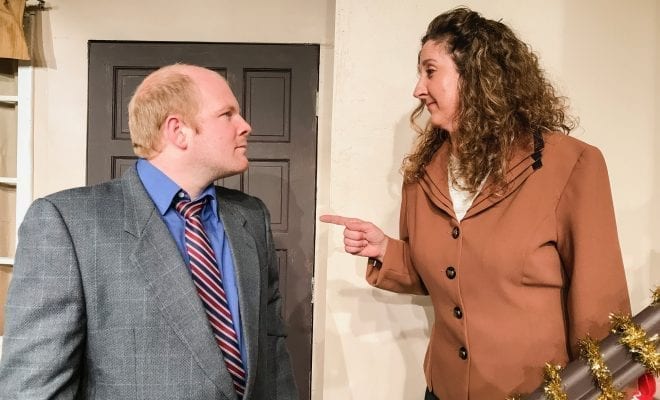 Stage Shows
Theater Life in San Diego
By
|
The holidays are the perfect excuse to get your family together for an eventful night out at the theatre. San Diego is home to some of the best productions and is here to entertain you and provide joy to attendees. Or maybe you want to be in a production yourself, and have finally struck up the courage to take that next step.
The Patio Playhouse in Escondido is a nonprofit 501c3 and is known for allowing the youth to participate in productions for no charge with the free-of-charge-youth theater. This will allow your little star to participate, without any extra cost to you. The board that puts everything together is all made up of volunteers who have a love for the theater.
Cassiopeia Guthrie, the Publicity Manager at Patio Playhouse says, "It's really tremendous to be able to be a part of an organization like Patio Playhouse. We work hard and consistently put out high caliber theatrical productions year-round, while also serving our local community via our free-of-charge youth theater program. We also partner each of our shows with different nonprofit organizations; we love this because it allows us to impact our community in other ways than simply on the stage. All of this would be special, but is even more unique when you consider the fact that we, like our other community theater partners throughout San Diego, are 100% volunteer run." Guthrie has also appeared in productions with her husband, who is also on the board. Patio Playhouse is currently working on "Greetings", a hilarious production with a little bit of a twist, that deals with family, religion, and new hopes. Check out more information on the inspiriting show here, and come out and watch as Andy watches his whole family fall a part when he brings his atheist friend over to visit. The show will be running from November 17th through December 17th.
You can also join San Diego Musical Theatre (SDMT) for their production, "Miracle on 34th Street" running from November 24th through December 24th. This show has a 1940's vibe and is back just in time for the holidays. With the best holiday tunes intertwined into this show, along with the hope and faith of a little girl who guides this heartwarming story, there is no better way to start the holidays. SDMT is also a non-profit theatre group that was founded by Erin and Gary Lewis, who have a tremendous love for theatre and wanted to get involved in the San Diego theatre environment. Join the cast of Miracle on 34th Street this November for a marvelous production filled with amazing local talent.
Located at the Speckles Theatre, you can see the magical performance of "Peter Pan". Come see the Lost Boys adventure through Never Land with the help of Peter Pan and Wendy. See the adventure unfold that you know and love, running from November 29th through December 3rd.  Bring the whole family out for a night of fun, and feel nostalgic for your childhood, watching your favorite story be told right in front of you.
Take the family out for a night of fun at the New Village Arts Theatre to see a lovely performance of "The Secret Garden". Playing all of November, don't miss out on your chance to see the story be told of an old haunted house located in England. The story will be told through Mary's eyes, a little girl who suffered the lose of both parents. Mary discovers a garden at her house, and decides to care for it, in hopes that one day someone will care for her. This heart touching story is the perfect family outing.
"Smoke on the Mountain" will be playing at the Lamb's Players Theatre until Thursday November 19th. This musical will have you jumping out of your seat wanting to dance along. This show follows the end of the Great Depression and consists of the Sanders Family Singers, with you as their audience. Don't miss this exhilarating performance of talented young performers.
You can check out the San Diego theater page as well, to see if there are any upcoming shows that might spark your interest. Come catch your favorite film put on stage, How the Grinch Stole Christmas. Make this a family event and get ready to feel nostalgic as you watch your childhood performed for you on stage.
Enjoy your holiday season, and make the upbeat and exciting theater life in San Diego a part of it.