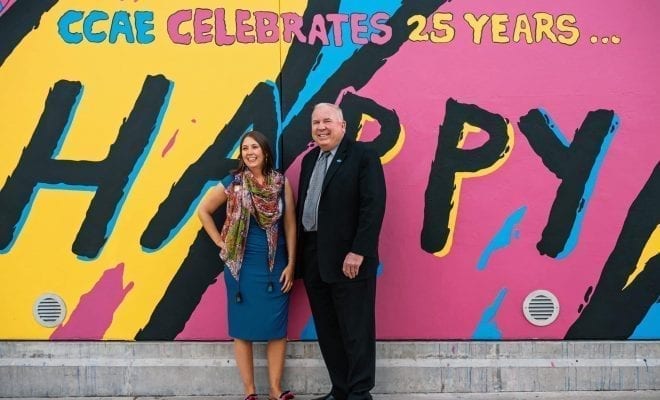 News
California Centers for the Arts, Escondido Unveils New Bridge Mural
By
|
A new bridge mural was announced by The California Center for the Arts, Escondido, in commemoration of their 25th anniversary. The Center will be dedicating an entire season to celebrating the arts and creatives throughout North County San Diego.
Designed by Southern California-based muralist Geoff Gouveia, the mural will illustrate a birthday theme with striking tones and a splash of color depicting a birthday party celebration. Goueveia has worked with the center in the past, doing work in 2018, in addition to creating artworks and murals for companies since 2013.
Always one for large scale challenges, Gouveia thoroughly enjoys producing artwork and unique concepts for the center. He draws inspiration from Spanish muralist Aryz, whose street art and murals are a source of motivation for his large mural creations. 
"I would describe my artistic style as similar to a children's book style. Some of my first influences were Shel Silverstein and Dr. Seuss for their whimsical illustrations and fun, cheeky line drawings," said Gouveia. "I put a lot of emotion in the composition, the jagged lines just to move your eyes a little bit more. As far as the figures, I wanted to do an interpretation of the acts in my style in a way that would make it read as the acts themselves but also in somewhat of an artistic style."
The California Center for the Arts, Escondido has been a guiding light for creativity and art in the North County area. The unique campus includes a 1,523-seat concert hall, a 404-seat theatre, a contemporary art museum, art and dance studios, and a variety of multifaceted meeting facilities. It is also the location for many programs and free community events for local youth and aspiring creatives. The Center was named in the Top Five for U-T's San Diego Readers Poll for "Best Live Music Venue" and the Top Five for "Best Place to Get Married."
If you want to pop in and visit, you can find The Center at 340 N. Escondido Blvd. The Ticket office can be reached at (800) 988-4253, and tickets can be purchased online as well at artcenter.org