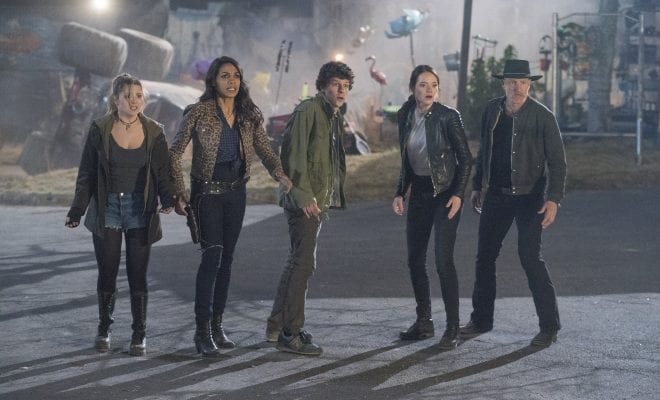 Movies
Movie Review: Zombieland: Double Tap
By
|
With new threats and new challenges, Zombieland: Double Tap is purely one for the fans of the original.
Ten years after the first film, Columbus (Jesse Eisenberg), Wichita (Emma Stone), Little Rock (Abigail Breslin), and Tallahassee (Woody Harrelson) move to the American heartland as they face off against newly evolved zombies, fellow survivors, and the growing pains of the snarky makeshift family. 
A lot has happened in the ten years since Zombieland was first released, Emma Stone is now an Oscar-winning actress and one of the biggest movie stars on the planet. Director Ruben Fleischer has had a pretty good career, including most recently Venom. And after two Deadpool films and years of trying to make a sequel, writers Paul Wernick and Rhett Reese finally get to return to the zombie apocalypse. 
In the movie, things haven't changed that much. The world is still full of zombies, some of which have evolved into new forms making them harder to kill. Columbus is still the narrator and his relationship with Wichita is in a bit of a rut. Tallahassee is still just a crazy as ever but now adding that claims he has Native American blood running through his veins. It's really only Little Rock who has changed the most. Sick of their lifestyle and family bickering, all she wants to do is to hit the road, which comes with some interesting situations and the introduction of some new characters. 
The first movie worked really hard to make the foursome entertaining and likable, but the new characters in the new movie aren't as fleshed out and pretty annoying, to be honest – except for Rosario Dawson's Nevada who is just a delight to watch. But take Zoey Deutch's Madison, for example, is the total embodiment of a dumb Valley girl who is constantly getting hazed by our heroes. But it's thanks to Deutch's sparky, committed performance, and some of the film's best lines, that Madison endures the torment. 
Overall, Zombieland: Double Tap is one of those sequels that you didn't really need but you are glad that it was made. It may not live up to its predecessor but manages to be an entertaining and fun movie altogether.