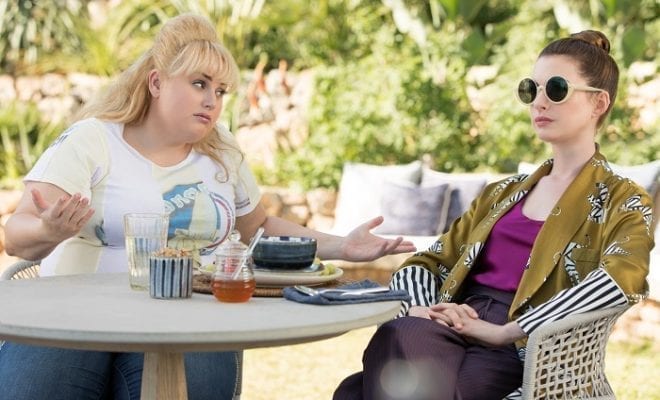 Christian Black / Metro Goldwyn Mayer Pictures
Movies
Movie Review: The Hustle
By
|
Rebel Wilson and Anne Hathaway hit their marks in their new comedy The Hustle, now playing in theaters.

Josephine Chesterfield (Anne Hathaway) is a glamorous, seductive British woman who has a penchant for defrauding gullible men out of their money. Into her well-ordered, meticulous world comes Penny Rust (Rebel Wilson), a cunning and fun-loving Australian woman who lives to swindle unsuspecting marks. Despite their different methods, the two grifters soon join forces for the ultimate score — a young and naive tech billionaire in the South of France.
Anne Hathaway clearly seems to be enjoying herself as a master honey-trap manipulator who struts her unfriendly stuff, and she is very good at it. She steals each scene with perfect icy comedic timing, then in comes Rebel Wilson, with her usual charm, who uses the script more like an outline because she has a talent for making everything she says sound unprompted, as if she was making things up on the spot based on the situation her character was in. Hathaway and Wilson are a comedy match made in heaven and they play so well off each other making things that much more believable.

The major plot twists viewers might see coming, I sure didn't though, but that doesn't mean you won't enjoy the movie any less. The humor mostly depends on their physical and temperamental differences. Hathaway relishes in her iciness and uses her self-control as a weapon. Wilson is the total opposite – profane, warm and obnoxious and uses it to her advantage. This makes for some pretty hysterical scenes.
Overall, The Hustle is a rare gem with goofy accents, humiliations large and small, and delivers plenty of laugh-out-loud hilarity to keep audiences entertained and engaged. Anne Hathaway and Rebel Wilson make such a great team that I hope they do more films in the future.
Critic Rating: 5/5 stars
What did you think of The Hustle? Sound off in the comments!