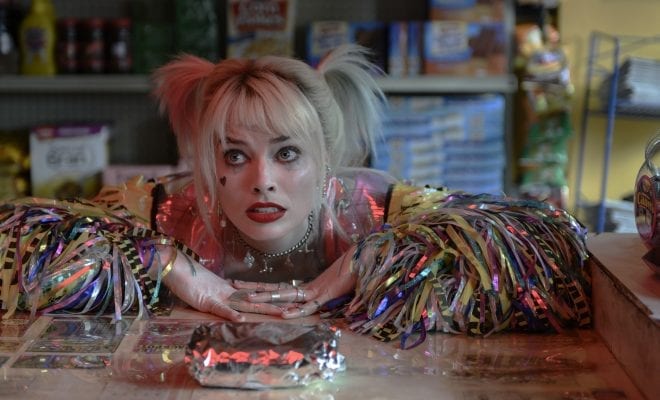 Warner Bros. Entertainment Inc.
Movies
Movie Review: Birds of Prey
By
|
Margot Robbie reprises her role as Harley Quinn and delivers another spectacular performance and is joined by a stellar female cast in Birds of Prey, now playing in theaters.
It's open season on Harley Quinn (Margot Robbie) when her explosive breakup with the Joker puts a big fat target on her back. Unprotected and on the run, Quinn faces the wrath of narcissistic crime boss Black Mask (Ewan McGregor), his right-hand man, Victor Zsasz, and every other thug in the city. But things soon even out for Harley when she becomes unexpected allies with three deadly women — Huntress (Mary Elizabeth Winstead), Black Canary (Jurnee Smollett-Bell), and Renee Montoya (Rosie Perez).
Birds of Prey continues to redeem DC and WB after several disappointing films in their supposed extended universe (except for films Wonder Woman, Aquaman, and Shazam). This movie could have easily have been given a PG-13 rating, but really glad it didn't and the film definitely earned its R rating. This film does tie-in with Suicide Squad, so I guess you could classify it as a sequel but it really isn't. Now as for why the film is called Birds of Prey I don't know because they definitely made Harley Quinn the center of the story and the other characters come in and out until they team up towards the end. The movie is told completely through her point of view with her narration which makes some sequences of events look out of order. This actually works though, as it perfectly shows the chaos in Harley's mind.
The comedy is very quirky and comes very naturally which I found very refreshing as opposed to some films where it's forced upon. The action scenes are very well done and exciting and they never slow down. The cinematography is phenomenal and really makes some sequences pop.
I think we can all agree on what a fabulous job Margot Robbie has done with her portrayal and even though of Harley Quinn and even though Suicide Squad had its ups and downs, Robbie did not disappoint in Birds of Prey. She completely deserves this role and pretty much outshines everyone. She is witty, funny, outrageous and drop-dead gorgeous. I really was interested to see what they were gonna do with the Black Canary and Jurnee Smollett-Bell was fantastic in the role and when we finally see her use her canary cry I couldn't help but shed a tear of pure happiness.
Overall, Birds of Prey was a pretty stellar movie an It left me wanting more. I'm really excited to see where they go from here and hopefully Harley will continue to join in on the fun.
Critic Rating 5/5 stars
What did you think of the film? Sound off in the comments!