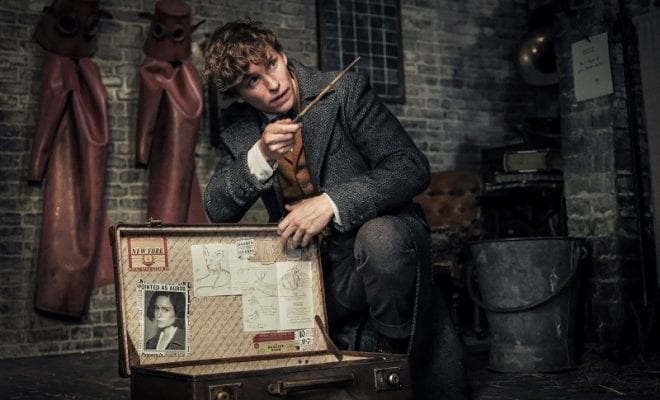 Photo Credit Jaap Buitendijk
Movies
Fantastic Beast: The Crimes of Grindelwald Review
By
|
The Wizarding World of Harry Potter gets a bit larger and more fleshed out with Fantastic Beasts: The Crimes of Grindelwald, now playing in theaters.
In an effort to thwart Grindelwald's (Johnny Depp) plans of raising pure-blood wizards to rule over all non-magical beings, Albus Dumbledore (Jude Law) enlists his former student Newt Scamander (Eddie Redmayne), who agrees to help, unaware of the dangers that lie ahead. Lines are drawn as love and loyalty are tested, even among the truest friends and family, in an increasingly divided wizarding world.
This new entry has a richly layered story that introduces new intriguing creatures, exciting visual effects, and an interesting storyline that will be more fleshed out with the final three films. J.K. Rowling's successful screenwriting is only enhanced here with her continued partnership with David Yates, who has directed six of the Harry Potter films. Yates is able to bring her words to life with beautiful visual flair.
Johnny Depp is just brilliant as the titular villain and is pretty terrifying and creepy, too, which is only helped by his sunken cheeks, a ghost-like complexion, and scary mismatched eyes. Depp has some big shoes to fill as the new villain after Ralph Fiennes memorably nailed his performance as Lord Voldemort. Instead of going for the over-the-top Jack Sparrow-theatrics we are all too familiar with, Depp outshines some of his more recent roles. Even though he is the bad guy here, Rowling gives the character some much-needed moral uncertainty making Grindelwald such an interesting character.
The emotional depth of Depp's character only gets better with performances by some of the newer additions to the already exceptional cast, like Jude Law as he takes the role of a younger Albus Dumbledore. Law's performance is full of charm with a pinch of humor, especially during his interactions with Newt Scamander. There is a lot of history between these two powerful wizards and the fact that Dumbledore once had some affection towards Grindelwald in the past help's Depp's character from becoming just another psychopathic villain with magical powers.
The Crimes of Grindelwald reunites our saviors from the first film: Newt, Tina (Katherine Waterston), Jacob (Dan Fogler) and Queenie (Alison Sudol). Jacob and Queenie's relationship offers fans a nice romantic comedy aspect while Newt and Tina are still playing the awkward will-they-or-won't-they game, which is still fun to watch. The rest of the supporting cast is good, with Zoe Kravitz doing an exceptional job with her role as Leta Lestrange, who adds a layer of mystery to her character that will make you question whose side is she truly on. Ezra Miller's return as Credence was a little disappointing, at least until the very end of the film; hopefully, his character will get more fleshed with the next three films. However, his interactions with Nagini (Claudia Kim) were interesting and we finally get a backstory to Lord Voldemort's pet snake, hopefully, that story will become clear as well.
Overall, Fantastic Beasts: The Crimes of Grindelwald is another entertaining entry in J.K. Rowling's Wizarding World universe. The characters get fleshed out in ways that are captivating and intriguing, even though not everyone gets as much attention, for now at least. There are three more films that are in the works, so who knows where this tale might go after the events of this film.