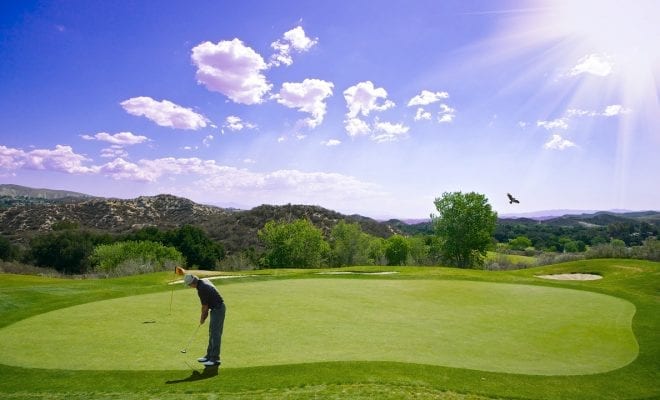 Lifestyle
Where to Golf in San Diego
By
|
San Diego is home to beautiful landscapes of lush greenery, breathtaking views, and unbeatable weather – all of which make up the perfect conditions for a great game of golf. Whether you're a newbie to the game or a golf guru, there are a plethora of stunning golf courses throughout the county that fit a variety of skill levels. Grab your clubs and head to these stunning courses for your next golf outing.
11480 N Torrey Pines Rd, La Jolla, CA 92037
These courses are the crown jewel of golf courses in San Diego. Home to the annual PGA Tour Farmers Insurance Open, this prestigious and gorgeous course will give you a true taste of real tournament play. At the South Course, you'll get to enjoy magnificent views as you walk among the native pine trees that grow along the coast. Despite the higher prices, it is top-notch when it comes to scenery. At the North Course, panoramic views of the coast will take your breath away, while it challenging fairways will put your skills to the test all at a lower price.
17550 Bernardo Oaks Dr, San Diego, CA 92128
Located in inland San Diego county, this course is perfect for those looking for a bit of a challenge. The Rancho Bernardo Inn has an amazing 18 hole championship golf course for players at an intermediate to advanced skill set. Prices vary but usually range between $85-$103 per person. Book your tee time today by clicking here.
17750 Old Coach Rd, Poway, CA 92064
On the list of Golf Digest's 100 Greatest Public Golf Courses, it's easy to see why this course is held in high regard for its quality play. Maderas features five gorgeous waterfalls, three glistening lakes, and narrow fairways over native areas that provide challenging tee-offs and engaging play. Plus, a nice mix of long and short holes will keep your game fun and dynamic.
2100 Costa Del Mar Rd, Carlsbad, CA 92009
The Omni La Costa Resort & Spa offers two 18-hole courses that are widely renowned as classic golfing challenges that have tested even the greatest of players. The Legends Course provides an open layout all skill levels can enjoy. The Champions Course has seen the likes of 37 PGA Tour events, and golfing legends have taken on the course. With stacked bunkering, native greenery, and tight fairways, this course is a true undertaking. The Omni La Costa also has family tees, making it a great option for a golf outing with kids.
12602 Oaks N Dr, San Diego, CA 92128
Oaks North, located in Rancho Bernardo, lies a beautiful executive course that is ideal for beginner to intermediate skill set players. There are several clinics offered throughout the year to those that are looking to improve their golfing abilities. With 27 holes and 3 distinct nines, this golf course offers championship level services for all experience levels.
2000 Visalia Row, Coronado, CA 92118
The Coronado Golf Course is a unique destination offering a change of waterfront scenery from other coastal courses in San Diego. This municipal course is in the middle of the Coronado island with a completely different energetic vibe. This 6,590-yard course offers beautiful San Diego harbor and downtown views and is sure to be a favorite destination for anyone that enjoys the game of Golf.
1932 Wildcat Canyon Rd, Lakeside, CA 92040
A short drive from the city, Barona Creek Golf Couse is the spot to check out if you're looking to get away from it all and truly put your mind on the game. Located in Barona Valley with a casino on the premises, this course is a top course on Golf Digest. With over 100 bunkers, a variety of California oaks, creeks, and grasses, this course is the perfect balance of beauty and challenge. Make a weekend of it by teeing off in the morning, and relaxing the evening at the Barona Resort.
---
Looking to amp up your golf game? The SD Entertainer Magazine was lucky enough to work with Adam Porzak with the Porzak Golf Academy who offered us some golf tips to improve your game. Porzak has worked under three top-50 instructors as a player and/or instructor and has years of teaching under his belt. Check out his Golf Tips here!